MoeGo Live
Changing Your Business Model With Confidence
Get ready to transform your business confidently with insights from Kelsey Ann Sexton! #ChargeYourworth #HeartAndHustle
Meet the Speaker
Kelsey Ann Sexton is an award winning Nationally Certified Groomer with almost two decades of Professional Pet Grooming experience. She owns an award winning salon outside of Nashville, TN that focuses on customer relationships for routine grooming services.
She's also a member of Foxy Roxy Supply Company's Pro Team. Kelsey was nominated for Barkleigh Honors Speaker of the Year in 2022 and has a passion for continued education in the Pet Grooming Industry.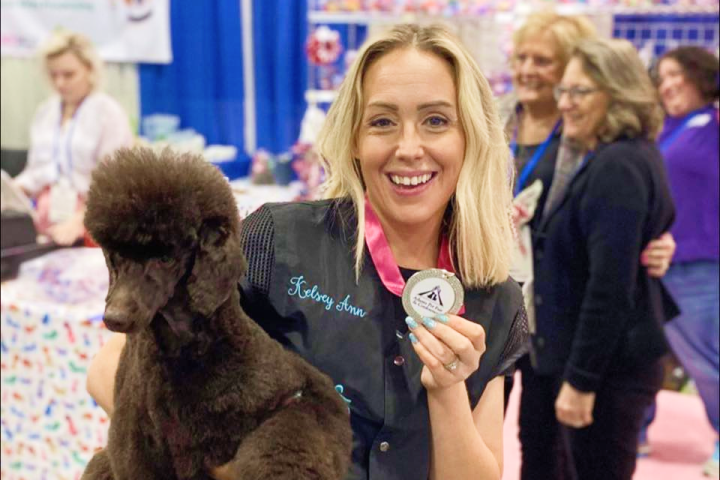 Summary
As a veteran dog groomer, Kelsey has personally faced the challenges of running a business and the repercussions of undercharging her clients. And guess what? Overbooking and burning out became her norm. Is this familiar territory to you? If so, it's time to change things up!
Join Kelsey as she takes you on an eye-opening journey to boost working capital by implementing strategic pricing policies. She introduces the idea of pricing your services based on a point system that considers factors such as the dog's size, needs, and behavior. With a well-documented approach, you'll learn how to create a fair and efficient pricing system that appeals to your clients and keeps your business thriving.
But that's not all! Kelsey also highlights the importance of separating personal from professional life, creating clear boundaries with clients, and communicating policy changes effectively. She reminds us that it's okay to take a step back, evaluate, and hold off on making decisions until we have a level head. By identifying your ideal client, budget, and deal-breakers, you'll streamline your operations and cut back on unnecessary expenses that only drag you down.
Ready to take your grooming business to the next level? Don't hesitate to push yourself outside of your comfort zone and embrace change. Soak up Kelsey's expert advice to restructure your day, maintain a positive work environment and sustain your business growth by changing your business model with confidence.
Live Q&A
How often will you reevaluate your business model?
Kelsey Ann plans to evaluate her policies, boundaries, and pricing structure every quarter and keep an active journal of the good and bad aspects. By keeping track, she can evaluate the situation and determine if any changes need to be made. She does this seasonally, as it is in line with her business routines.
What is something you'd do differently?
If something is not working, Kelsey Ann will evaluate why and possibly adjust lower-cost add-ons or specials. So far, her pricing restructure has been positive, and she has been able to take time off and renovate her business with a new intimate space in the lobby. Despite the growth process being emotionally challenging, she celebrates small wins and believes in moving forward and making necessary changes.
How do you suggest prioritizing dealbreakers?
Kelsey Ann advises fellow groomers to prioritize their deal breakers to tackle one at a time effectively. One of her biggest deal breakers was clients not pre-booking, which resulted in wasted time and energy. To prioritize deal breakers, she recommends writing down what upsets you and focusing on the most repetitive or time-consuming issues as a priority.
How do you avoid getting nervous/anxious when waiting to be booked after making a business change?
Kelsey Ann tries not to overbook with the wrong clients just to have a fully booked schedule, as it is not a badge of honor. Prioritizing and waiting for the right clientele is more important, even if it takes more time. It is crucial to know the type of groomer and clientele desired and to showcase oneself as the best groomer through social media. It is essential to have a solid savings plan and to avoid getting into debt. Additionally, finding the right mentors to improve one's mindset and business model is crucial.
Back to top
Get More MoeGo in Your Inbox!