The Best Shoes for Dog Grooming (2023 Edition)
by MoeGo on Mar 8, 2023 1:01:54 PM
Working with our furry friends can be messy and exhausting - especially for your feet. That's why we've put together a list of the best shoes for dog groomers on the market today. From waterproof materials to non-slip soles, our goal is to help you choose footwear that will keep your feet comfortable and protected all day long.
See something you like? Jump ahead to learn about a specific shoe:
What to Look For
Waterproof: As a dog groomer, you're no stranger to getting wet and wild on the job. From suds to splashes, liquids are just part of the deal. That's why it's essential to find shoes that can handle getting wet. Whether you opt for waterproof or water-resistant kicks, you'll want to choose shoes that keep your feet dry or dry out quickly.
Non-Slip: Safety first! Non-slip shoes are a must-have in grooming salons where wet floors are common. Choose shoes with good traction and stability to avoid slips and falls.
Easy to Clean: Grooming can get messy, so finding shoes that are easy to clean is important. Consider shoes made of materials such as rubber or synthetic leather that can be wiped clean with a damp cloth. Better yet, opt for footwear that can be tossed into the washing machine.
Breathable: Spending long hours on your feet can cause your feet to sweat and become uncomfortable. Unfortunately, this can be particularly problematic with waterproof shoes (like rain boots). Ideally, you'll want to find shoes that protect your feet from water and allow air flow and ventilation to keep your feet cool and dry.
Support / Comfort: Standing for long periods of time can take a toll on your feet, so finding shoes with good arch support and cushioning is important for comfort and preventing foot fatigue.
Price & Quality: Finding the right balance between price and quality is key when selecting the best shoes for dog groomers. You don't want to overspend but also don't want cheaply made shoes that won't last long.
Style & Dress Code: While functionality is most important when choosing work shoes, style is a consideration too. This is especially important if you're working in a salon that has a dress code for groomers and bathers.
Top Pick: Crocs (From the Crocs At Work™ Collection)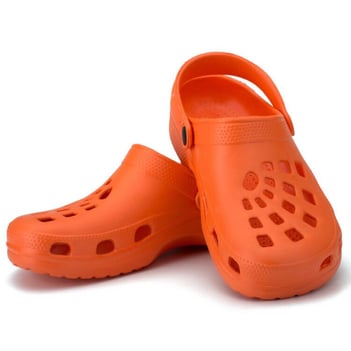 If you're looking for the best all-around shoe for grooming, Crocs are it. And styles from the Crocs At Work™ collection - like the Bistro Pro LiteRide™ Clogs make it even easier to find the perfect pair.
They're light, affordable (compared to many other options), and designed with thicker construction and better arch support than the classic version. They also have an enclosed toe and are super easy to clean with soap and water and dry out quickly.
Price: $40 - $70
Pros:
Affordable (Relatively speaking)
Comfy
Slip-resistant
Easy-to-clean
Dry quickly (open heel)
Cons:
Feet can still get wet (open heel)
Feet susceptible to hair splinters
MoeGo is made just for groomers and helps with scheduling, payments, customer communication, and more. Put a pep in your step and schedule a demo today! 👟
Classic Rain Boots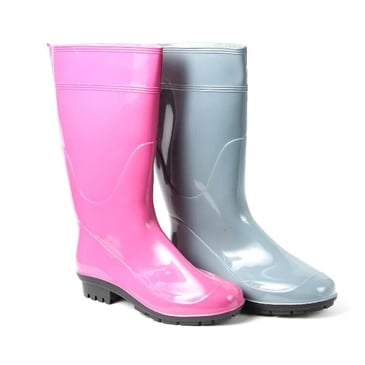 If you're tired of soggy socks, rain boots might just be your new best friend. Rain boots are great because they are designed to be completely waterproof and are also resistant to slipping. And don't worry about wear and tear - rain boots are made of durable materials that can handle frequent cleaning.
Rain boots are a budget-friendly option for dog groomers. You don't need to break the bank to get a decent pair - even ones from Walmart will work well for most grooming situations.
However, keep in mind that rain boots may not be the best choice if you're looking for breathability. They can make your feet sweat, so they might not be suitable for all-day wear. But if you're dealing with big and lively dogs, rain boots can save your feet from getting soaked.
Price: $20 - $50
Pros:
Affordable
Slip-resistant
Easy-to-clean
Waterproof
Protection from hair splinters
Cons:
Heavy
Uncomfortable (after long wear)
Sweaty feet (Not breathable)
Sloggers
Sloggers (such as these Waterproof Comfort Shoes) are another fan favorite among groomers - and for good reason. These waterproof slip-ons are not only affordable but functional too.
They have an "All-Day Comfort" insole that keeps your feet comfortable during long shifts, and a heavy duty lug tread for traction. Plus, they're easy to clean - just hose them off! These shoes are made in the USA with a durable sole that contains up to 50% recycled material. So you can keep your feet happy while also doing your part for the environment.
For a waterproof shoe, Sloggers are also known to be more breathable than traditional rain boots.
Price: $30 - $50
Pros:
Affordable
Slip-resistant
Easy-to-clean
Waterproof
Protection from hair splinters
Cons:
No half sizes
Less durable than other options
Uniform Boots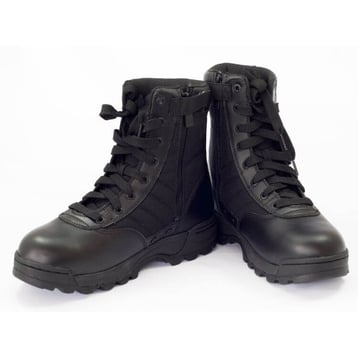 Uniform or tactical boots are a less obvious but good option for dog groomers, such as these Women's A.T.A.C.® 2.0 8" Storm boots from 5.11. Typically worn by medics and first responders, uniform boots are designed to be durable and comfortable, providing support and protection during long hours of standing and walking on hard surfaces. They typically have slip-resistant soles and are waterproof or water-resistant, making them ideal for messy grooming environments.
Tactical uniform boots are expensive but they are incredibly durable and built to last. They're also one of the only options that provide ankle support. Many uniform boots are also surprisingly breathable.
Price: $140 - $180
Pros:
Typically waterproof or resistant
Ankle support
Typically anti-slip
Durable
Protection from hair splinters
Cons:
Heavier than other options
Expensive
Not as easy to clean as other options
Waterproof / Resistant Sneakers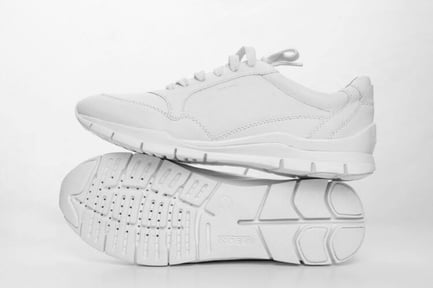 Sneakers are a common choice for groomers (especially if required by dress code). That said, wearing sneakers isn't always the most comfortable option because they tend to get wet and aren't always easy to clean. They also tend to perform worse on slippery surfaces unless specifically designed to be slip-resistant.
Waterproof sneakers, on the other hand, can be a great compromise. There are a few brands that offer waterproof sneakers, such as Vessi and Sketchers.
These Work Relaxed Fit: Skech-Air SR shoes from Sketchers, for example, are water resistant and specifically designed for professionals who spend a lot of time on their feet - like nurses, groomers, etc. They're also slip resistant and are pretty comfortable.
Vessi, on the other hand, offers completely waterproof sneakers such as these Everyday Move shoes. They're more expensive than Sketchers, on average, but are breathable, light, and flexible as well.
Price: $100 - $150
Pros:
Comfortable
Lightweight
Waterproof / resistant
Slip-resistant
Accommodates dress codes
Cons:
Pricey
Less easy to clean than other options
Less durable than other options
More Tips to Keep Your Feet Happy
Use anti-fatigue floor mats for additional comfort! These mats are designed to reduce fatigue and provide cushioning for your feet while standing on hard surfaces. They can be especially helpful for long shifts.
Make any shoe more comfortable with orthopedic insoles. If your shoes don't offer enough support or cushioning, orthopedic insoles can help. Look for ones with arch support, shock absorption, and moisture-wicking features to relieve pressure on your feet and reduce discomfort.
Keep an extra pair of socks (or two!) on hand in case your feet get wet. As a dog groomer, it's not uncommon to get splashed with water or other liquids during grooming sessions. Keeping spare socks handy can help you stay dry and prevent blisters from forming.
Consider copper compression antifungal socks. If your feet get and stay wet or sweaty, try copper compression antifungal socks. They wick away moisture and prevent fungal infections like athlete's foot. Copper fibers in the fabric also keep your feet fresh and odor-free.
Different clogs for different dogs: wear rain boots for big breeds and comfortable shoes for small ones. Different shoe types provide protection and comfort depending on the dog's size. Rain boots work best for larger breeds that produce more water splashes, while smaller breeds allow for more flexible and comfortable shoes.
Choosing the right shoes for dog grooming is an important decision that can help keep your feet comfortable and protected while on the job. From Crocs to waterproof sneakers, each type of shoe offers unique benefits depending on what you need. Additionally, anti-fatigue floor mats and orthopedic insoles can be used to make any pair of shoes more comfortable, while copper compression antifungal socks protect against foot fungus. Ultimately, it's up to you as a groomer to find the best footwear for your needs - but with this guide in hand, you'll have all the information needed to make an informed decision.


🐶 If you liked this blog, we think you'll like this one too! Check it out: The Best Professional Dog Clippers, According to Experts
Similar Blogs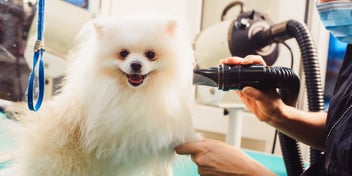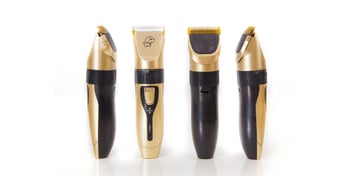 If you're a professional dog groomer, you know that having the right tools is essential to getting...
READ MORE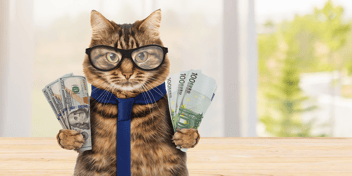 With no-shows and last-minute cancellations being a huge problem for groomers, we created a...
READ MORE