MoeGo's Online Booking Just Got Better!
by MoeGo on Aug 4, 2023 2:06:29 PM
MoeGo's Online Booking just got better! We are delighted to unveil an exciting new update for MoeGo's Online Booking platform that will improve the way you manage appointments and pet information.
Our commitment to enhancing your pet care experience has led us to introduce a feature that allows your clients to update their information seamlessly during the online booking process.
Additionally, the new automated vaccine records check ensures that pet records are up-to-date to help you streamline business operations. Let's dive into the details of this remarkable update!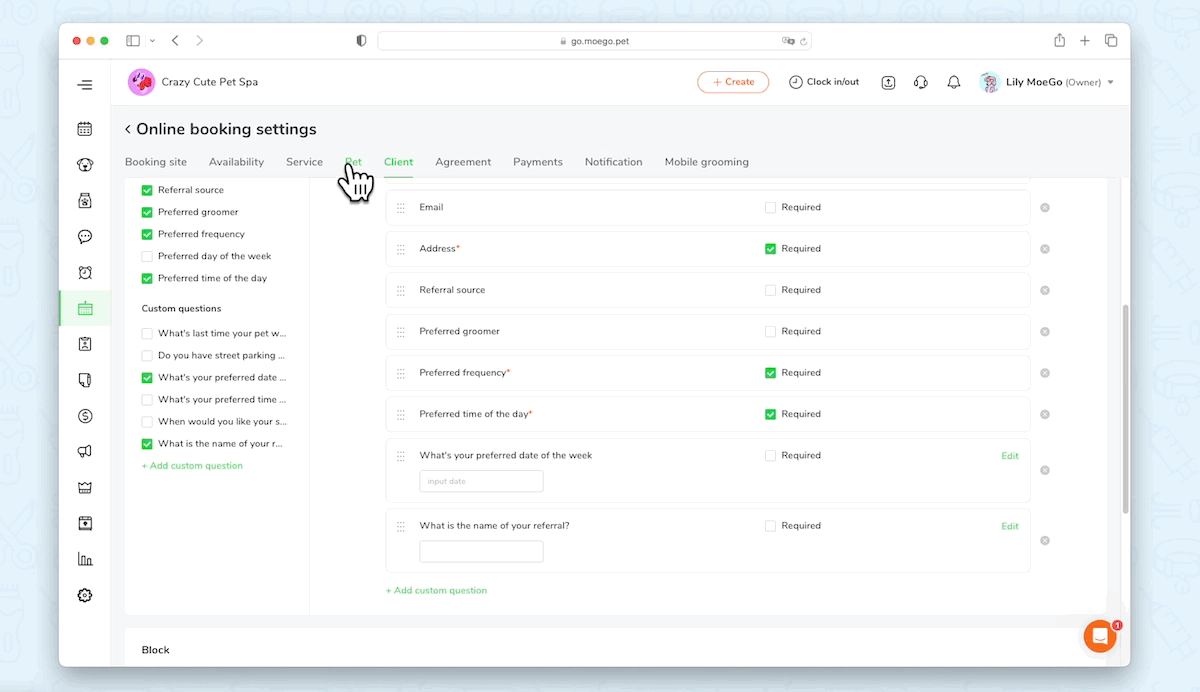 What's New
1) Clients Can Edit Pet Info During Online Booking
Gone are the days of outdated information! With this update clients can now easily edit their existing pet details while making an appointment through our Online Booking platform. This ensures that you have the most up-to-date information about your furry clients.
2) Automated Vaccine Records Check
Pet safety is important - and it's easy for pet parents to forget to update information like vaccine records. You can now configure the system to automatically check for expired or missing vaccine records during the booking process.
If any vaccine information needs updating, clients are reminded to provide the necessary details. This feature not only ensures the health and well-being of your pets but also creates a safer environment for all the furry companions at your facility.
Benefits for Business Owners
MoeGo is designed to make day-to-day business operations and customer service easier for pet groomers, and this update is aimed at exactly that. Here what we hope to accomplish with this update:
Streamlined Workflow
Online Booking - and making it easier for pet parents to update their information - makes more time for groomers to do what you do best – providing exceptional care and service to your clients. By making the pet info updates less manual and reactive, this feature streamlines your workflow, giving you more time to dedicate to your four-legged customers.
Better Data Accuracy
Accurate and updated information is crucial for providing the best possible care to your furry clients. The automated vaccine records check ensures that all pets meet vaccination requirements, reducing the risk of errors and potential health issues within your facility. With precise information at your fingertips, you (and your customers) can have greater peace of mind.
Improved Pet Care
With clients updating their information directly, you have access to real-time data, making it easier to identify special requirements, conditions, or behavioral considerations. This personalized approach makes it easier for groomers to provide the attention and care their customers need and deserve.
Frequently Asked Questions
Is the update available on mobile and desktop?
Yes, but make sure you're updated to the latest version of the app if you are a mobile user.
Does all the updated information need to be reviewed by the business owner?
The new information will be added directly to the client and pet profiles. This includes any missing details and updated vaccine information. The system will only show conflicts in the data that clients have submitted, allowing you to review and decide which information to accept.
How can I review the updated client information?
Navigate to the Online Booking page > Booking request. If the information submitted by the client conflicts with the information currently in their profile, you will see a red dot next to the client's avatar in the booking request list. Click on the client's name with the red dot to review the changes. You can then choose which updates to accept by ticking the relevant information box and clicking "Update profile." Accepted changes will be immediately synced to the client and pet profiles.
Can I customize the auto-acceptance settings for client information updates?
Yes, you have the flexibility to customize the auto-acceptance settings according to your preferences. By accessing the "Automation" section, you can choose from three options:
Auto-accept all requests and profile updates
Auto-accept the requests that do not have profile updates
Auto-move booking requests to the waitlist after 48 hours
Our Commitment to Always Improving MoeGo
At MoeGo, we are dedicated to providing a seamless and stress-free pet care experience for both pet parents and business owners. Our Online Booking update empowers clients to update their information effortlessly while ensuring that every pet meets vaccination requirements.
We're always improving MoeGo to make it easier for pet groomers like you to succeed, so subscribe to our blog and be sure to join our Facebook group to stay in the loop on our most recent updates!