The Ultimate Guide to Pet Grooming Business Websites
by MoeGo Nicole on Apr 19, 2023 1:11:53 PM
Your pet grooming website is crucial for marketing your business and making a paw-sitive impression with customers. It can attract new business and make it easy for them to learn more about your services and book their next grooming session with you.
This article will cover the best practices for creating an effective website for pet grooming businesses - from what to include on your website to SEO and more.
A successful website will showcase your brand and convert visitors into paying customers. With effective branding, you can also cater to the types of customers you want to attract.
Jump ahead:
What should I put on my dog grooming website?
Home Page
Your website's homepage is the first thing visitors see when they come to your pet grooming business website. Think of it like a digital business card, where you introduce yourself and showcase what you have to offer.
Since many potential customers make their buying decision based solely on your homepage, it's important to include everything they need to become paying customers. You should also make it easy for them to navigate to other pages on your site, in case they're interested in learning more.
To make your home page engaging and appealing, you want to include key elements, which we've outlined below:
🐶 MoeGo is built with pet groomers in mind, and helps with scheduling, online booking, customer communication, and more!
A High-Quality Banner Image
Your homepage banner image (or "hero" image) is one of the first things visitors see when they come to your website. This image usually takes up a large portion of the page, directly below your top navigation bar.
It's important to choose an eye-catching and memorable image that conveys the essence of your brand - because first impressions really do matter! Pick an image that captures what you want customers to remember about your business and make it the hero of your homepage.
Consistent Branding
Consistency is key when it comes to branding, and your website is no exception. Studies show that it takes between 5 and 7 impressions for customers to remember a brand, and color alone can improve brand recognition up to 80%.
Use a consistent business logo, colors, and fonts throughout your website to reinforce your brand identity. And make sure you're using the same consistent branding in your shop, van, social media, etc. This will help visitors recognize your business and differentiate you from competitors.
In short, you want customers to identify the website as distinctly your brand when they land on it.
Examples of Websites with Strong Branding:
A compelling brand image doesn't have to be complex, and Throw Me a Bone exemplifies this fact. With a high-quality but minimalist aesthetic, the first image on this website is eye-catching but doesn't distract the customer from finding what they need in the top navigation, such as the services or booking links.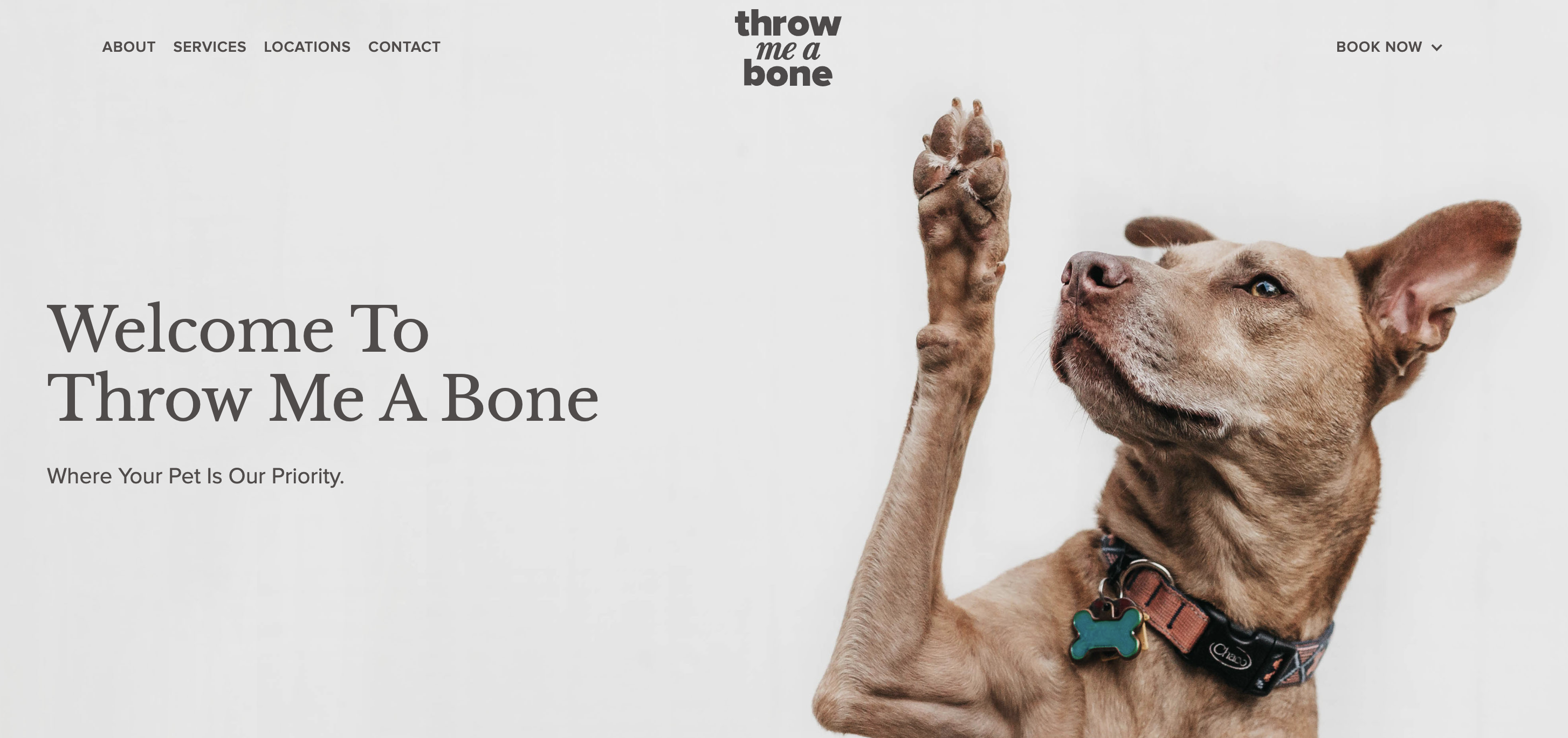 Hair of the Dog is another NYC based grooming business with a strong brand identity that carries through from their website to their vans. This consistency makes them immediately recognizable online and off and differentiates them from competitors.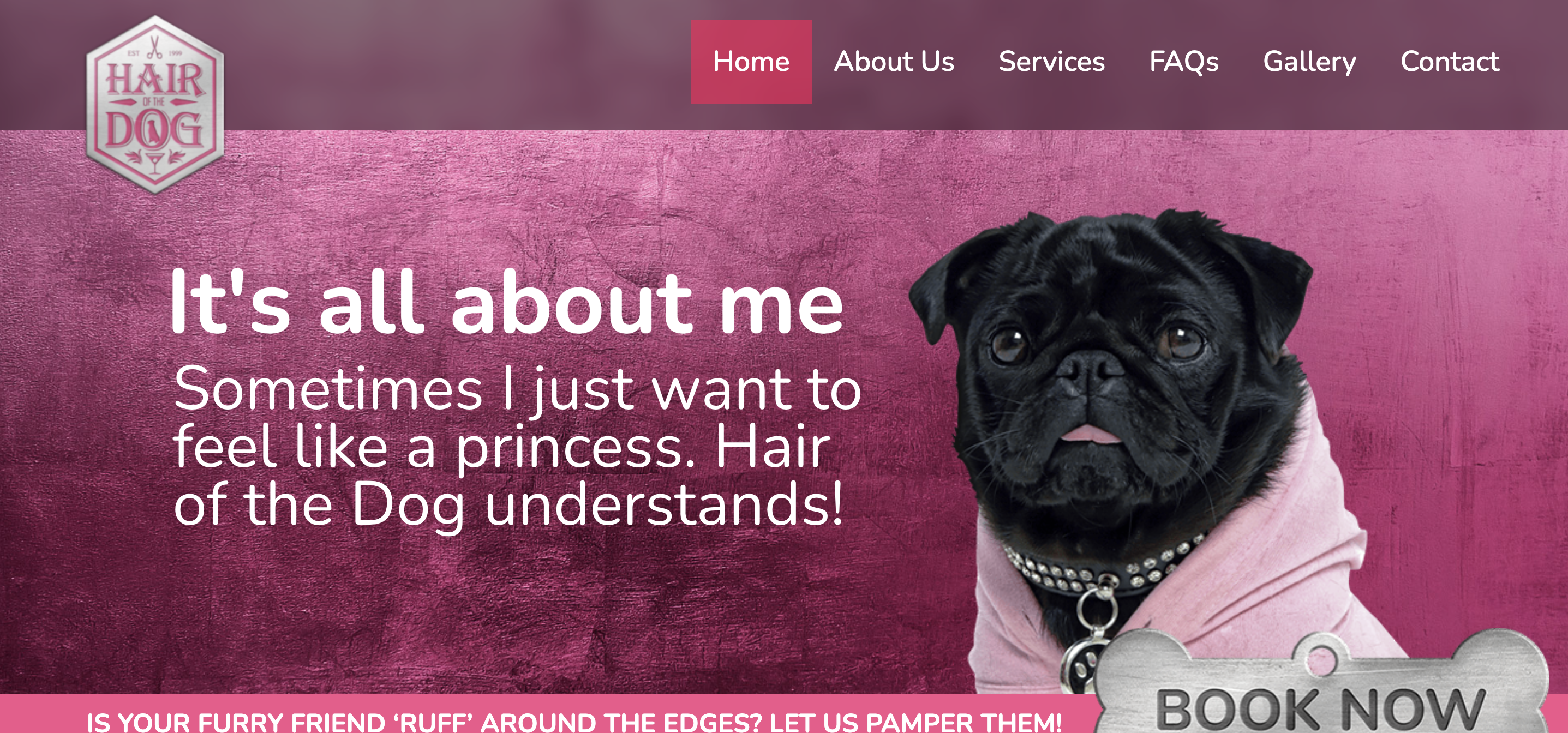 America's Paw Spa brings a distinctly playful look and feel to their website, from images to the website font. What makes this brand identity successful is its consistency. The "spa" theme is carried through the images of dogs in bath towels and robes throughout the site, along with the use of "paw" puns and branded colors. It's also easy for customers to call, get a quote, and book their appointments from the home page of the website, which demonstrates attention and care for both current and future customers.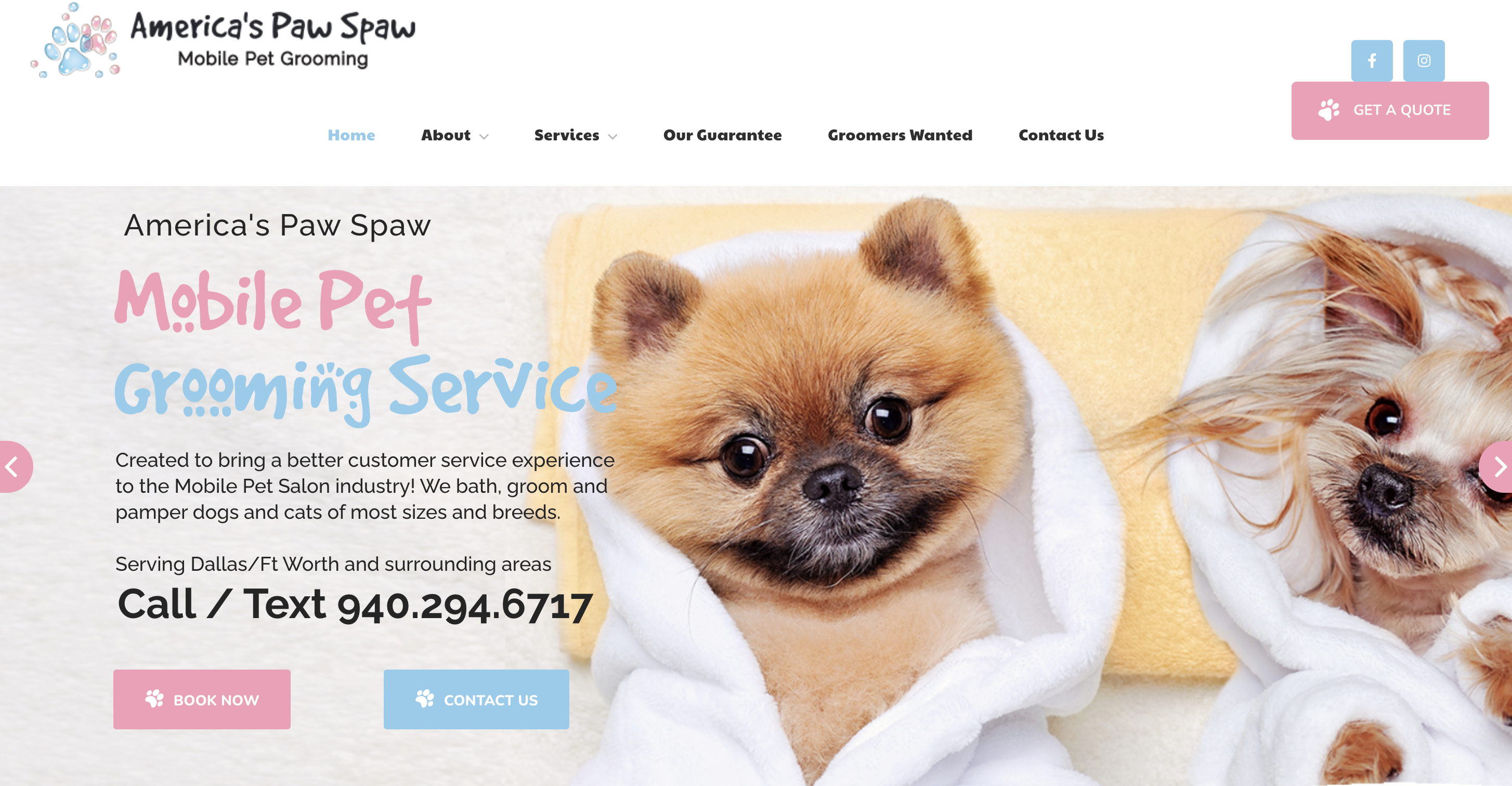 An Overview of Your Services
Include a clear and concise list of your services on the homepage, so they know exactly what to expect when they schedule an appointment. If your list of services is long and includes different pricing by weight, breed, etc., you can opt for a simplified menu on the home page and link to a more detailed list on a services page or your online booking page.
Customer Reviews and Testimonials
Few things are more persuasive than positive reviews from happy customers. Include a section on your homepage with testimonials from satisfied pet owners. Not only does this build credibility and trust with potential customers, but it also showcases your skills and customer service.
Pictures of Your Work
Visuals can speak louder than words—especially in the pet grooming industry. Include high-quality photos of your work on your homepage, showcasing different grooming styles and breeds. This can help potential customers envision how their own pets will look after a grooming visit.
Your Location
Make sure visitors can easily find information about your location. If you have a physical storefront, include your address and contact information on the homepage - ideally toward the top. You can also embed a Google map to help visitors visualize where you are located and get directions.
If you are a mobile groomer, include a list of the areas (cities, neighborhoods, or zip codes) you serve.
Booking Call-to-Action
A call-to-action is a button on your website that prompts people to take action. If you want new and returning customers to easily find your booking page, add a simple and clear "Book Now" or "Book Online" button at the top of your website, where it's easy to see.
Make the button stand out by using a bright or contrasting color so that people can quickly find it. You might also include the button in the navigation menu that's at the top of many websites. This helps people know where to go to book an appointment.
Links to Your Google Listing & Social Media
Including links to your online profiles (social media and Google listing) encourages customers to follow you on those platforms. It also helps search engines such as Google understand your business better by drawing a connection between your social media presence and your website.
About Us / Staff Bios
Your 'Meet the Team' or 'About Us' page is another important page on your pet grooming business website. It's where potential customers go to learn about who you are, your experience, and what makes you the best option for their pet grooming needs.
Here are some tips to help you create an effective 'About Us' page that engages potential customers and gives them an insight into your business:
Write Engaging Staff Bios
Your bio should be engaging yet professional. This doesn't mean it has to be boring or overly formal; instead, write in a conversational tone that shows off your personality and brand voice.
Use clear and concise language to describe your experience and qualifications, highlighting any relevant certifications or awards you may have received. Keep in mind that pet parents want to know they are leaving their furry friends in capable and caring hands, so make sure that comes across in your bio.
High Quality Staff Photos
Including staff photos on your "About" page is a must. This puts a face to the name and helps visitors feel more connected to your business and your team.
Make sure your staff photos are high-quality, well-lit, and taken in a professional setting. If possible, consider hiring a photographer to take some candid shots of your team at work. This helps potential customers see your team in action and highlights your professionalism.
With a good background and adequate lighting, though, you can still capture good headshots using a smartphone.
Highlighting Your Team as a People and Pet Groomers
Your 'About Us' page should showcase you not only as a pet groomer but also as a person. This might include your hobbies, interests, and why you're passionate about grooming.
Highlighting your staff's personal stories and their love for animals can help visitors feel connected to your business. Ultimately, pet parents want to feel a sense of trust when they book their first grooming session with you; showing that your team shares their love for pets can go a long way.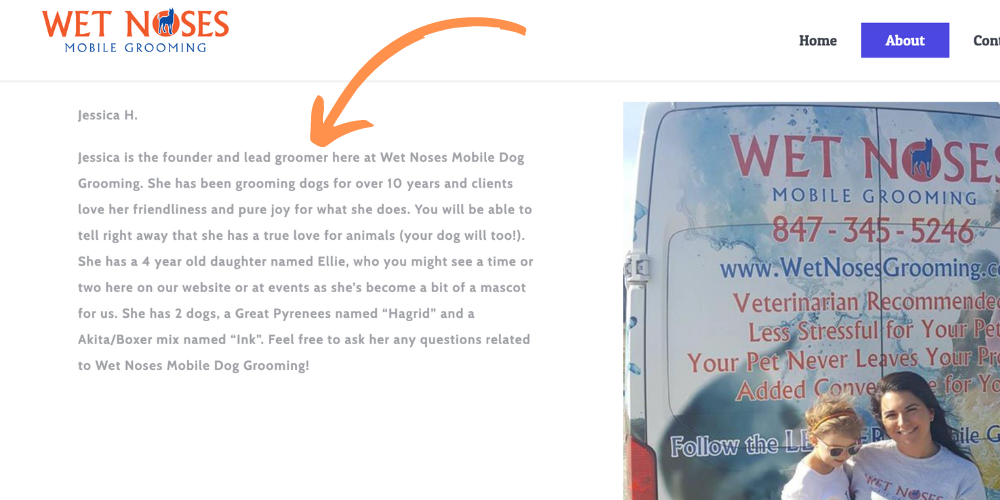 Tips for Creating an Effective "About Us" Page
Keep your bios conversational but professional

Use high-quality staff photos (good lighting and background)

Highlight your team's love and passion for animals

Include any relevant certifications or awards

Share personal stories and interests that make you stand out

Make it easy for visitors to contact you by including clear calls to action
Online Booking Page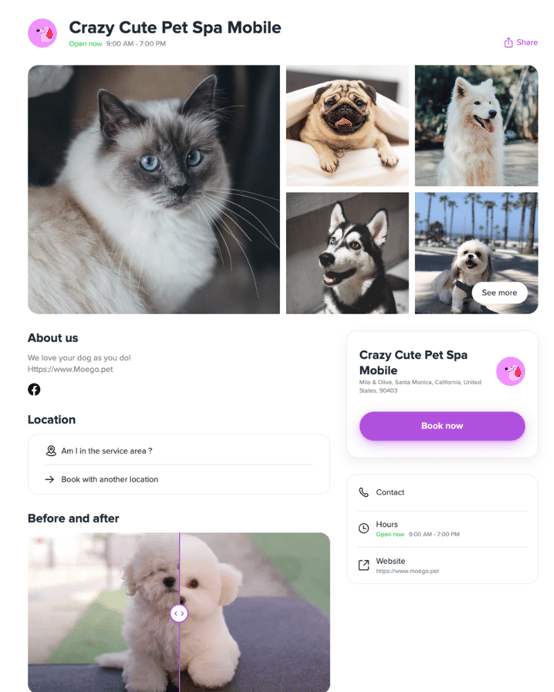 Your online booking page is where customers request to schedule services. Think of it as your online storefront. It also serves as an educational resource for potential customers to learn more about your grooming services and get specific pricing information.
If you don't have a full website, a robust online booking page can serve the same purpose and can even rank on Google when people search for your business.
What your booking page should ideally include:
Hours of operation

A full menu of services and pricing

Business features and amenities

Payment types you accept

Your phone number / contact details

Your logo

Your business description

A link to your intake form

Before and after photos
Gallery / Images
As a pet groomer, your work speaks for itself. Creating a well-curated gallery of pets you've groomed can be an effective way to sell your services to potential customers.
Here are some tips on how to create an effective gallery on your website:
Categorize Your Work

- If you have a lot of photos, categorizing will help visitors easily find the type of grooming service they need. For example, you can create categories for different breeds, coat types or cuts.

Include Captions

- Captions for each photo can provide additional context and detail about your grooming styles and techniques.

Use Before and After Photos

- These photos are a powerful way to highlight the transformation you can achieve for pets. Make sure to use clear and consistent angles to emphasize the difference from before to after.
Services & Pricing
Your services / pricing page is crucial for visitors to determine if they want to book an appointment. If you have a robust online booking page, creating a separate services and pricing page may not be entirely necessary. However, many customers will want to know pricing before they book, so including a page they can access before clicking "book now," for example, may improve user experience on the website.
Here are some tips on how to create an effective services and pricing page:
Pricing Table by Breed / Weight

- If you have specific pricing for certain breeds or pricing by weight, consider these individual "services" so customers won't expect a large dog to be groomed for the price of a small one.

Pricing Ranges

- If you don't want to include a full table of prices by breed and weight, you can also include pricing ranges to give customers an idea of how much it'll cost to groom their pup in a more succinct format.

Additional Information

- Include any other information visitors may need, such as your cancellation policy or appointment booking process. Pricing add-ons, such as additional fees for de-matting, should also be outlined on this page.
Frequently Asked Questions
An FAQ (Frequently Asked Questions) page is a great way to anticipate and answer any questions that your customers may have - before they even ask. Having an FAQ page can help save time and minimize confusion for both you and your customers.
Here are some tips on how to create a helpful FAQ page:
Identifying Common Questions
The first step to creating an effective FAQ page is identifying the most common questions you receive from customers. Consider questions related to your services, pricing, location, policies, and anything else that may be relevant to your business. (Or, any questions you're just tired of answering!)
Keeping It Simple
When creating your FAQ page, keep it simple and easy to read. Use clear and concise language to answer each question. Avoid long paragraphs or complicated jargon, and break up text into small sections or bullet points to improve readability.
Being Transparent
Your FAQ page is an opportunity to be transparent with your customers. Be honest and upfront about your policies, service limitations, and any other information that may impact their experience with your business.
Make booking a breeze with an online booking page from MoeGo!
SEO Best Practices for Your Pet Grooming Website
Search engine optimization (SEO) can improve the visibility of your pet grooming website in search engine results. By following best practices, your website stands a better chance of being seen by potential clients who are searching for pet grooming services near you.
Here are some tips on how to optimize your website according to SEO best practices:
Page Title & Description
Sometimes called "meta title and description" or "SEO title and description" these two elements are what potential customers will see in search results before the click on your site. The title and description should be updated for every important page on your website - but most importantly the Home Page. This title is not the same as the header on your home page. Instead, it is only used in search results and in the browser tab, like this:

Your page title and description should accurately reflect the content on the page and include your business name, where you are located, and what your business does. The title is especially important because it is one of many factors Google uses to rank websites in Google search.
Most page titles are comprised of three elements:
A brief description of the page

A separator (a pipe, colon, or dash)

The business name
Using this formula, the meta title for your home page, for instance, could be something like this:
[CityName] Mobile Pet Grooming | [Name of Business]
And your description could be something like this:
[Business Name] offers pawsitively luxurious pet grooming services in [City] for pups of all sizes. Schedule your next grooming session with us today!
Page Headers
Page headers (not to be confused with the page title) are the larger text at the top of the page that describes what the page is about. The primary (and most important) header on the page is the H1 (Header 1), and should succinctly describe the content of the page.
So, the H1 for your "Meet the Team page could be "Meet the Team" or "About [Name of Business]."
You can also use subheadings (H2s and H3s) to further organize your content and make it easy for readers to scan the page and find what they're looking for. So, your "About Us" page could be structured like this:
About [BusinessName] ← H1

Meet [GroomerName] ← H2

Our Vision ← H2

How We Got Started ← H2
Keep in mind that there should only be one H1 tag per page, but multiple subheadings are encouraged if the content needs to be broken down into smaller, more readable sections.
💡Tip: You can use an AI tool like ChatGPT to help you create this type of content. Just make sure to include all of the details and facts you need on the page, and ask the AI to rewrite it in the form of an About Us page for your website. You may need to tweak the content afterward or fix factual errors, but using an AI can still save time - especially if you don't enjoy writing.
Content
Write original content that is both informative and engaging. Avoid "keyword stuffing" (adding keywords about pet grooming just to rank on Google) or copying text from other sources. This could decrease your chances of ranking when customers search for pet groomers. Keep sentences short and focus on providing value to readers with helpful information about your grooming services.
Images
Optimizing images is important for both user experience and SEO performance. Include descriptive alternative text (alt-text) with each image uploaded on your site – this will make it easier for search engines to find them as well as increase accessibility for users with disabilities who might rely on screen readers to access content on your site.
Links & Website Navigation
Website navigation makes it easy for customers (and Google) to find your website pages. Try to include all of your important pages in your website's top navigation, if you can. If you are unable to do that, consider using a sitemap and linking it from the footer of your website to make it easier for people to find if they need it.

Backlinks
A backlink, or inbound link, is a link from one website to yours. Backlinks help search engines understand the relevance and quality of a website's content, and can help your website rank better in Google and also get more visibility.
That said, getting backlinks is an advanced SEO technique and isn't always easy - especially for local businesses. One way for pet groomers to acquire links to their website is through community involvement. Local event sponsorship is one way to acquire links, since many organizations will link to your business website if you donate or sponsor an event. Running charity events or food drives is another way to generate "newsworthy" attention from local news outlets and, even though links and exposure are never guaranteed, can be an effective way to get links and additional exposure for your business over time.
The Best Website Platforms for Dog Groomers
Having a website for your dog grooming business can open up potential new customers, but it's important to choose a website builder that will work best for you, your time, and your budget. Here's an overview of some of the most popular website builders available for small businesses:
Wix
Wix is easy to use and has modern templates that are customizable and come with features like an integrated blog and SEO optimization built in. It also uses an "unstructured" website builder format, which means you can drag and drop page elements pretty much anywhere you like. Generally speaking, Wix has more templates, but of varying quality.
Weebly
Weebly offers drag-and-drop tools so you can easily create a professional-looking website even if you don't have web design skills. While it may not have as many features as Wix and is not as popular among groomers, its simplistic design and user-friendly interface make it easy for busy business owners to use and manage.
Squarespace
Squarespace is ideal for creating a stylish and sleek looking website with its range of customizable templates. Compared to other platforms, Squarespace uses a structured editor (opposed to an unstructured one, which offers a bit more freedom) and has a more curated design aesthetic than Wix but fewer templates to choose from.
Wordpress
Wordpress is one of the most popular website platforms in the world for a reason, and is suited for both beginners who need an easy way to set up their site and experienced developers who want to customize their code. This customization does make it one of the more advanced website options for pet groomers, and the user interface may not be as intuitive compared to others.
Benefits of a Paw-lished Website
By implementing these website best practices, your pet grooming business stands a better chance of attracting new customers and engaging existing ones. Remember to keep your website user-friendly, visually engaging, and informative. Leverage the power of client testimonials and staff bios, showcase your services and pricing, and optimize your website with the right SEO tactics. Additionally, using user-friendly website builders like Wix and Squarespace can help you easily create a business website that reflects your brand identity and furthers your pet grooming marketing goals. With these tips in mind, you'll be well on your way to a successful pet grooming website that stands out from the competition.
⭐ Ready to get started? Get MoeGo today and take the first step toward stressless operation, extraordinary customer experience and business growth.