7 Pet Grooming Marketing Strategies (That Aren't Paid Ads)
by MoeGo on Mar 31, 2023 1:47:02 PM
Are you tired of chasing your tail trying to find new customers for your pet grooming business? It's important to have marketing strategies that can help you stand out from the pack without spending a ton of money on ads. Fortunately, there are many ways to promote your pet grooming services that won't have you barking up the wrong tree. From creating a Google listing to loyalty programs that actually work, here are a few marketing strategies designed specifically for dog groomers:
1) Optimize Your Google Listing
Local businesses can set up a listing on Google for free. This is called a "Google Business Profile" or "GBP" (previously Google My Business) and is one way your business can show up in Google Search and Google Maps.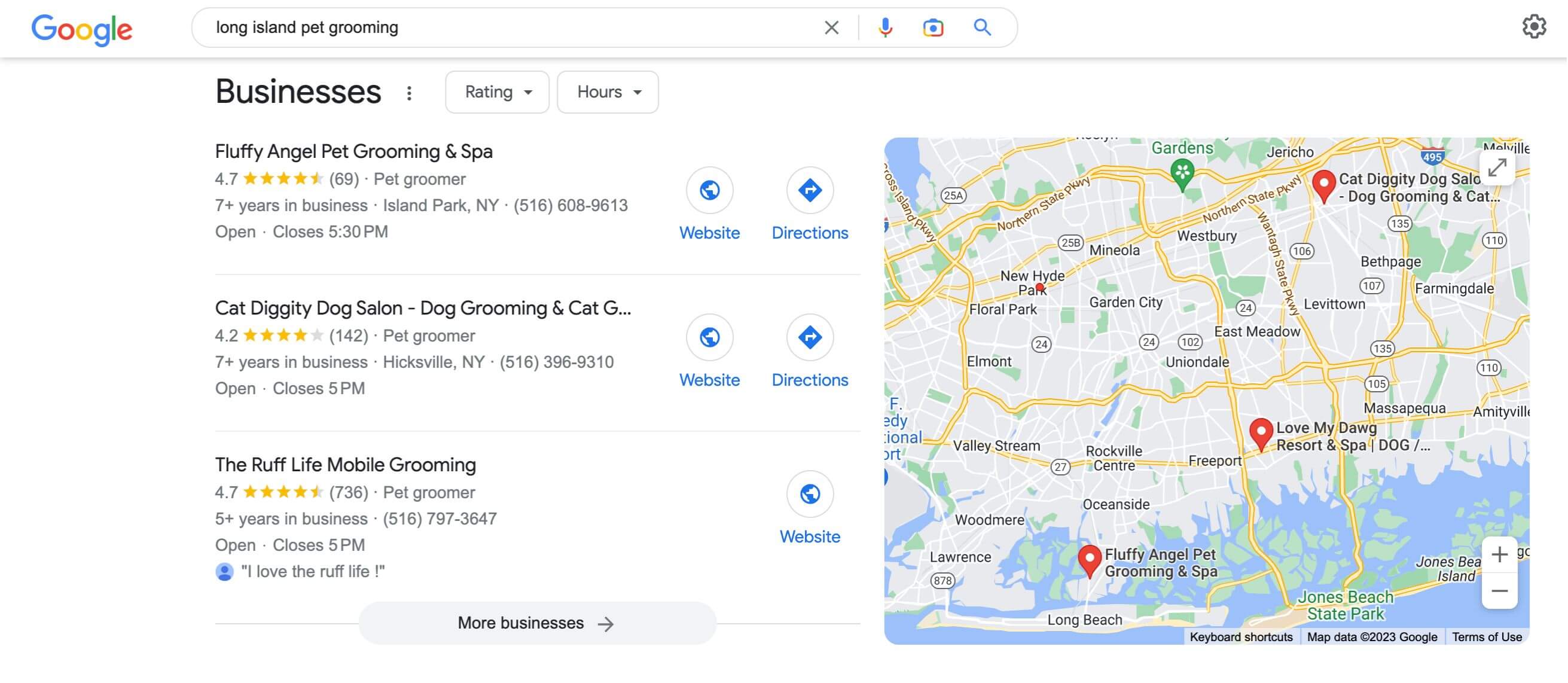 Optimizing your listing as a pet groomer is crucial for driving customers to your business from Google. Here are some tips:
Ensure that your profile is complete: Make sure that your profile is complete with your business's name, address, phone number, and website and any other relevant fields.
Use high-quality photos: Upload photos of your facility and your work that showcase your expertise, brand, and services. Customers can upload pictures too, so make sure that you are also contributing to your images on Google.
Respond to reviews: Respond to reviews whether they are positive or negative to show customers that you are engaged and want to provide a good experience, and are open to feedback. Bad reviews are inevitable, but customers are less likely to hold them against you if they see that you are willing to make it right.
Keep your listing updated: Make sure to keep your listing up to date with current services and hours of operation. This creates a better experience for your customers and makes it easier for new customers to find and contact you.
Use Google posts: Take advantage of Google posts to share updates, events, and promotions with your customers. Use high quality photos and, if you have a website, link back to it from your posts.
Monitor your listing: Check your listing regularly to ensure that your information is accurate and that there are no spam reviews. Customers can "suggest edits" to your business that may not always be correct, so make sure you're aware of any changes and are in control of your business information.
2) Ask for Online Reviews
Research shows that as many as 47% of customers write online reviews at least once a month, making those reviews an essential factor in attracting new customers. Of those who leave reviews, 85% are motivated by the desire to help other consumers or to help small businesses. Reviews on Google are particularly helpful because they are one of many factors that can help your Google listing rank for searches like "dog groomer near me."
When is the best time to ask for a review?
Timing is critical when it comes to requesting customer reviews. The ideal time to ask a customer to leave a review is soon after they have had a positive experience with your grooming business.
You can encourage customers to leave reviews simply by asking before they leave the salon or through satisfaction surveys or feedback forms. You can also use software (such as MoeGo's review booster) to send review requests via text message automatically.
How do you politely ask for customer feedback?
The finesse involved in asking for reviews can make or break your chances of receiving them. Here are some helpful suggestions for making a successful review request:
Ask for feedback first: Asking for customer feedback instead of a review can be much less intimidating for the customer.
Explain how customer reviews can benefit your small business: When satisfied customers share their experience via a Google review or on Facebook, they help people discover your business and also help your business grow.
Asking for customer reviews is an essential part of any small business's marketing strategy. Just remember to keep it simple, friendly, and professional.
🐶 MoeGo makes online booking and review requests a breeze. Get a demo to see how MoeGo can make a paws-itive difference in your grooming business!
3) Create a Customer Loyalty Program
One way to increase visibility and foster brand loyalty is through a carefully crafted loyalty program. A brand loyalty program is a marketing strategy designed to encourage customers to continue purchasing services or products from your business over and over. We've compiled a few types of loyalty programs pet groomers can use to increase repeat customers:
Create a Referral Program - Referral programs reward customers for referring new customers to the pet-care business. This method is beneficial as it turns existing customers into brand ambassadors who are likely to spread the word about the brand with friends and family. Rewards for referrals could range from discounts on services and merchandise to free nail trims, etc.
Incentivize Email Signups - Encouraging clients to subscribe to your email list is a handy way to keep in touch with your audience. Email provides an avenue to interact with customers and allows you to market new services, announce company updates through newsletters, and even remind customers when it's time to schedule their next grooming session.
Rebooking Discounts - This type of customer loyalty program incentivizes customers to book their next grooming session before they leave. You can encourage them to do this by offering a small discount for rebooking and making it easy for them to rebook before they leave the salon.
Loyalty Cards - This type of loyalty program is one of the most simple but can be very effective. It's common to find this type of loyalty program at cafes or coffee shops, and entails giving a free or discounted service after a certain number of sessions. (Example: Offering a 20% discount every 10 visits or something similar.)
4) Partner With Pet-Friendly Businesses
By teaming up with other pet-related businesses in your area, you can increase your company's reach by tapping into their existing customer base. This is called "partnership marketing."
Pet owners that visit a local veterinarian or pet shop will likely have a need for grooming services, so the partnership presents a valuable opportunity for your business. Through this type of partnership marketing, businesses can cross-promote services, share social media posts or display flyers in each other's storefronts, and even offer exclusive discounts for their partner's customers.
In short, partnership marketing is effective because it's free and is beneficial to both businesses.
How to Build Partnerships
To create a successful partnership, you will need to take the initiative to reach out to local pet shops, veterinary clinics, shelters, etc. Be prepared to explain what you're hoping to achieve and the benefits of partnering with your business.
You can also consider offering incentives such as discounted grooming services or free first-time nail trim for customers who come to you via the partnership. Many veterinary clinics and pet shops are open to collaborating with other businesses in the industry, but it's essential to establish a mutually beneficial partnership to keep the partnership(s) going.
5) Community Boards & Coffee Shops
Other pet care businesses aren't the only places your customers go. Community boards are a great place to post flyers or business cards to share your services with potential customers. Coffee shops, for example, often have these types of announcement boards to facilitate community activities and small businesses.
Be sure to include eye-catching designs and clear descriptions of the services you offer. In addition to promoting your business, you can also build relationships with other businesses in the community. A free graphics editor such as Canva can make flyers easy to design using your branded colors and logo, too.
6) Sponsor Community Events
Event sponsorships are not a free form of marketing, but can be a great way to reach customers. By sponsoring community events, pet grooming businesses can position themselves in front of potential customers - even when they aren't actively looking for a groomer. Some events allow booths or displays, where you can showcase your brand; others will simply give exposure to your website and logo.
Here are some potential benefits:
On-site presence: Set up a physical presence for your business at the event you're sponsoring, allowing you to meet potential customers.
Exposure for your logo and signage: Showcase your logo and other visual content on event fliers, website, and at the event.
Media mentions: Get a mention in newspaper, social media, or radio updates about the event.
Access to customer mailing lists: Gain potential customer leads through attendance and mailing lists.
7) Engage with Social Media
Social media platforms are a powerful tool for pet grooming businesses to attract new customers, connect with existing ones, and showcase their cuts. Here are some tips to help pet grooming businesses build an effective social media marketing strategy:
Show Off Your Skills: Use creative visuals and videos on social media platforms like Instagram and Facebook to showcase your grooming techniques, facilities, and services. Sharing positive reviews and photos of the ptes you groom can increase your credibility in the market.
Connect with Customers: Responding to customer queries, comments, and complaints via social media can establish valuable customer relationships. Encouraging satisfied customers to share images of their pets on your social media pages can generate user-driven content, highlighting your services even further.
Join Community Facebook Groups: Connect with pet lovers and enthusiasts in your local community by joining Facebook groups and pages dedicated to pet grooming. This can help you understand your target audience better and tailor your services to meet their expectations.
Create A Content Calendar: A content calendar can ensure regular publication of engaging content, including photos and videos. Consistent publishing coupled with analytics tracking can reveal the types of content that generate the most engagement.
Choose the Right Platforms: Set up social media profiles on platforms relevant to your clients, such as Instagram, TikTok, and Facebook. Use links in your bios or profiles to cross-promote your other social media profiles, websites, and blogs. Use high-quality images and creatives that capture your services' essence.
Take High-Quality Photos: Thanks to smartphones, you don't need an expensive camera to take photos that put your best paw forward. Generally speaking, try to take photos in good light and with a clean or "branded" background.
👍 If you enjoyed this blog, we think you'll like this one too! --> Debunking Myths About Online Booking