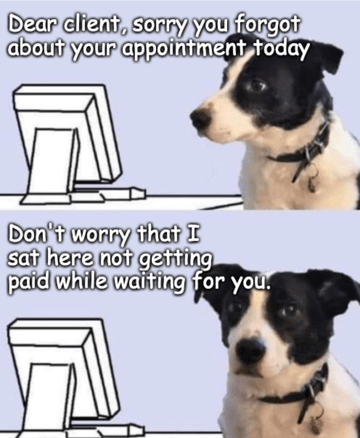 With no-shows and last-minute cancellations being a huge problem for groomers, we created a solution with MoeGo PrePayment.
---
After months of speaking with groomers across the country, we found one commonality that most (if not all) groomers complained about.
No-Shows

and

last-minute

cancellations
One grooming business had up to 63 no-shows in ONE MONTH! That is on average 2 no-shows a day. We even heard of another business having 10 same-day cancellations and 2 no-shows in a single day! That is unacceptable. Suppose your average price per ticket is $100, and 60 no shows a month is $6,000 loss! Your time, your money, and your peace of mind are sacrificed when things like this happen.
Groomers book their calendars to maximize their time grooming efficiently, they have a system in place so that if someone cancels they can fill that open spot with someone on the waitlist. Keeping an organized schedule and waitlist takes a lot of hard work.
Therefore, when someone doesn't show up for their appointment or cancels last minute, they are not always able to fill in that time slot. This more often than not means they lose money for the service that was booked, they cannot fill it with a customer who is on the waitlist, they still have to pay their employees, etc. This is time and money lost, not to mention stress added.
If this happens often in a day, week, or month, that is a lot of time and money wasted.
Unfortunately, this may be the rule and not the exception. And while I am sure there are times no-shows or last-minute cancellations are inevitable because life happens, there needs to be a solution. But how do you prohibit this from happening? How do you hold your customers more accountable and not have your time or money wasted?
This is where

prepayment

comes in!
Taking a credit card number for a deposit or full payment of the service will get you one step closer to solving this problem. While implementing MoeGo Prepayment, you can secure the revenue as soon as you approved the booking request.
Not only will it secure future revenue when the client books, but it will reduce stress from no-shows and create a faster checkout at the end of the appointment.
If you have ever dealt with this issue like our clients have, I strongly suggest you require your customers to prepay when booking at your grooming business.
Similar Blogs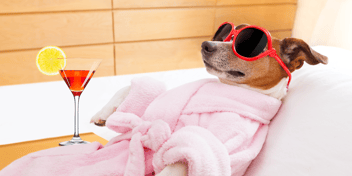 Prepare your operations with the workflow, pricing structure, and staff team that propels your...
READ MORE