Abandoned Booking List: Turn Missed Online Bookings to Loyal Clients
by MoeGo on Sep 8, 2023 1:02:55 PM
We all know the importance of providing top-notch services to furry clients, but what about those potential customers who visit your booking site but don't complete the booking? In the fast-paced world of professional pet grooming, managing bookings effectively is crucial to maintaining a thriving business. However, the grooming community often faces the challenge of abandoned bookings - appointments that are left incomplete and clients who showed initial interest. Good news: Abandoned Booking List is here for rescue. With this powerful Online Booking tool at your disposal, regaining control and maximizing our business potential is easy.
The Abandoned Booking List serves as a treasure trove of untapped possibilities. By leveraging this feature, you can turn missed opportunities into loyal customers, nurturing relationships and fostering trust.
🚀 Together, let's make every appointment count.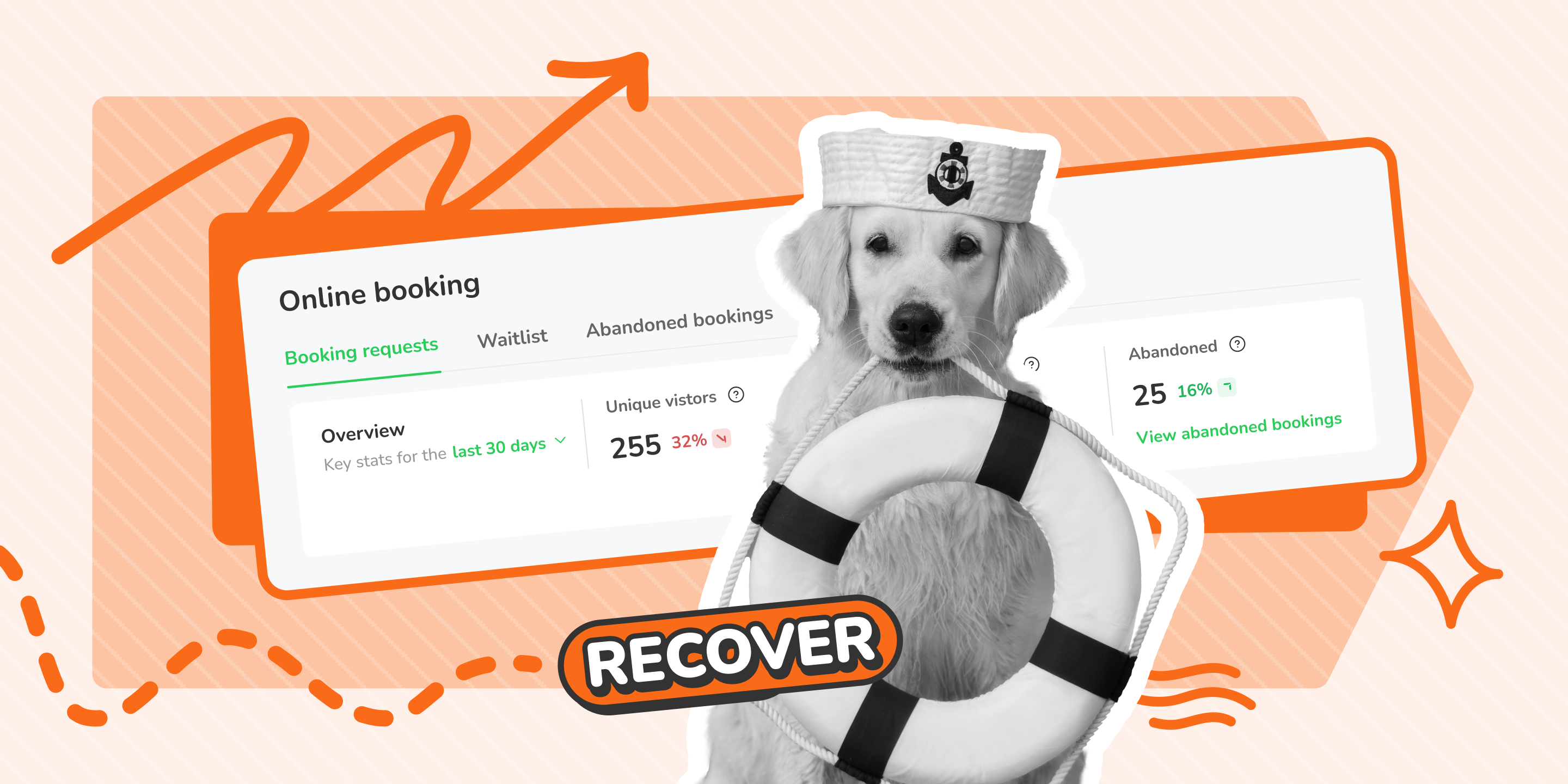 How to Make Every Appointment Count
Ready to win back customers? Visit the MoeGo Wiki for detailed steps on accessing your Abandoned Booking List
What's New:

Abandoned Booking List on MoeGo App
MoeGo App's Notification Page now features an overview of Abandoned Bookings. Here's what this means for you:
📱 Call or Message Clients: You can click on the pre-filled number on the client detail page to directly call or message the client to confirm their information
🚚 On-the-Go Access: Conveniently monitor booking conditions, even when you're on the road or away from your desk.

Streamline Your Workflow with Enhanced Filtering
We have an improved filtering system for the Abandoned Booking List. With this enhancement, you can now effortlessly filter the list based on client type, abandonment stage, status, date, and last contact time. Here's how it can revolutionize the way you manage and make the most of your abandoned bookings:
1) Effortless Online Booking Management:
🎯 Precise Client Targeting: Filter the Abandoned Booking List based on the different client types, allowing you to tailor your strategies and focus your efforts accordingly.
👀 Stage-Specific Insights: With the ability to filter by abandonment stage, you can prioritize follow-up actions based on where the potential client left off in the booking process.
⏰ Real-Time Tracking: Filter by status to quickly identify bookings that are pending, canceled, or in progress, enabling you to manage your workflow effectively.
📅 Date-Based Prioritization: With the option to filter by date, you can narrow down the list to specific timeframes, helping you stay organized and focused on turning missed opportunities to loyal clients
☎️ Optimized Follow-Ups: Filter by last contact time to identify clients who have not been contacted recently, ensuring you can reach out to them in a timely manner and prevent missed opportunities.
2) Enhanced Efficiency and Competitive Advantage
⏱️ Time Savings: Effortlessly find the information you need, reducing the time spent sifting through data.
😊 Enhanced Client Satisfaction: Personalized communication demonstrates your commitment to meeting your clients' needs, fostering trust and loyalty.
📊 Data-Driven Decisions: Make data-driven decisions by utilizing the filtered insights to refine your grooming business strategies.
✂️ Streamlined Operations: Simplify your booking management process, allowing you to focus on what you do best – providing exceptional grooming services.

Maximize Client Engagement with Mass Message Sending and Recovery Templates
We understand that running a business is a lot, and oftentimes reconnecting with potential clients can be a challenge. That's why we have added mass message sending to the Abandoned Booking List to help you better reach potential clients. Whether you want to send texts or emails, the mass messaging feature allows you to connect with multiple clients at once, while our collection of recovery-focused templates ensures your messages are persuasive and professional. Here's how this feature benefits you:
Streamlined Client Outreach
💬 Improved Efficiency: The mass message-sending feature allows you to communicate with potential clients in bulk, saving you time and effort.
🚀 Increased Reach: Reach out to multiple potential clients simultaneously through texts or emails, maximizing your chances of re-engaging them.
Personalized Messaging with Templates
💌 Personalization Options: Customize your messages to cater to each client's specific needs or preferences, creating a personalized experience.
📌 Consistent Branding: Maintain a consistent brand voice and professionalism across all mass messages, reinforcing your business's identity.
Increased Client Conversion Rates
🙌 Recovery Success: Increase the chances of converting potential clients into confirmed bookings through effective communication.
😍 Enhanced Client Engagement: With the ability to efficiently reach out to potential clients, you can actively engage them and drive more business growth.
💰 Revenue Growth: Convert abandoned bookings into revenue, contributing to the growth of your grooming business.
Frequently Asked Questions
How can I access the Abandoned Booking List within the MoeGo App?
To access the Abandoned Booking List, click on <Notifications> in the navigation bar, then select <Online booking> on the page, followed by <Abandoned> in the top navigation section. The Abandoned Booking List will then be displayed on the page.
How will I be notified of the abandoned bookings?
You will not receive any notifications for abandoned bookings. However, the number of new abandoned bookings will be marked with a red dot notification on the "Abandoned Bookings" section.
Can I combine multiple filters to refine my search in the Abandoned Booking List?
With our new filtering system, you can apply multiple filters based on client type (new or existing), steps where they abandoned, and status (recovered/abandoned/contacted).
Additionally, you can apply a single filter based on the choice of abandoned date and last contact time.
For instance, if you wish to identify all the existing clients who have abandoned the online booking process before reaching the "Select groomer" stage in the last week, you can apply the following filters: "Existing clients," "Select address," "Select pet," "Select service," and "Abandon date less than 7 days ago."
Are there different templates available for different re-engagement scenarios?
There is only one template provided for the email campaign. However, when using the recovery templates for SMS, you can click on "recovery template" to change the template until you find the one that best suits your needs.
How can I track the success of my re-engagement efforts using the Abandoned Booking List?
To track the outcome of your recovery efforts for abandoned bookings, you can check the overview dashboard. In the mobile version of the MoeGo app, you can view the number of bookings that were successfully scheduled from abandoned requests (shown as "recovered") and the recovered revenue in the last 30 days. On the desktop, you can check these key statistics for the last 7, 14, and 30 days.
Do the mass messages count towards my monthly SMS allowance?
Yes, they will count towards your monthly SMS allowance. Email campaigns will also count towards your available credits for marketing campaigns.
Are there any additional costs associated with using the Abandoned Booking List, or is it included in my existing MoeGo subscription?
This feature is available in both the MoeGo Growth Plan and the Ultimate Plan at no additional cost. If you are already subscribed to one of these plans but cannot find the list, please ensure that you are using the Online Booking 3.0 version.
Back to top