Reaching DINK Pet Parents: Arnie's Dog Spa's Success with Online Booking x Reserve with Google
by MoeGo on Oct 27, 2023 12:32:37 PM
Imagine this:
You moved to a new country.
You opened your very own grooming salon.
It was January 2020.
Fast forward just two months.
The world is plunged into the tumultuous grip of a global pandemic.
That's exactly how Arnie's Dog Spa, owned by Gurj and Nate Drake, first started. Originally from England, Gurj and Nate made the bold decision to sell everything and relocate to Utah in 2020, where they brought their vision of a premier grooming salon to life.
Yet, against all odds, Arnie's has flourished, expanding into a dedicated team of 18 grooming professionals, and is looking to open their second location next month.
From taking the brave step of moving to the U.S. to facing challenges caused by the pandemic and operating remotely from England for the first few months, their dedication and hard work have paid off. As their story unfolds, Arnie's Dog Spa stands as a shining example of what can be achieved when dreams are pursued with unwavering determination and a whole lot of love 🧡.
Gurj & Nate
Gurj & Nate Drake are owners of Arnie's Dog Spa. Originally from England, they sold up and moved to Utah in 2020, wanting to chase that American Dream.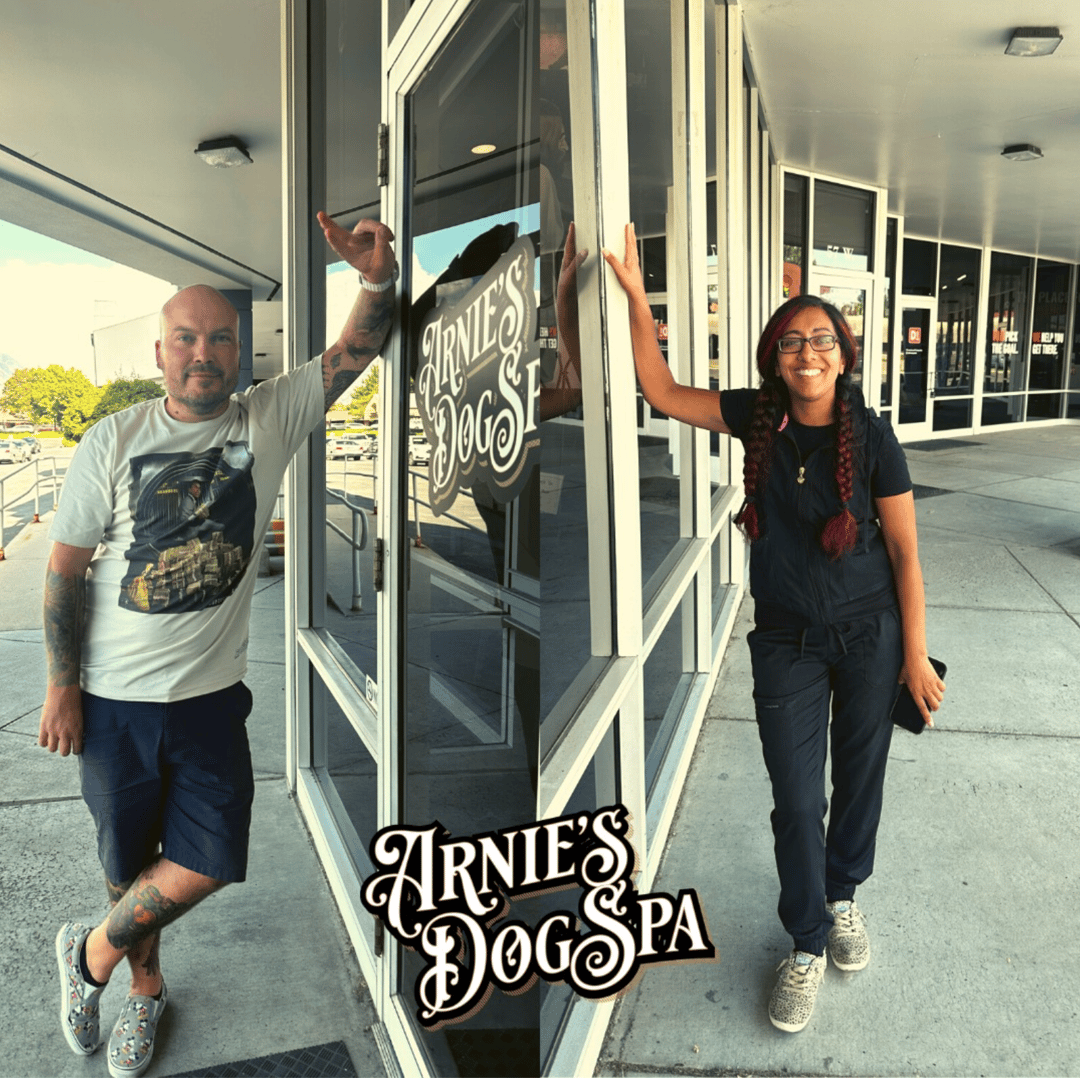 ---
The
Gurj

&

Nate

Duo:
Building a Thriving Pet Grooming Business through Collaboration
Gurj

- ✂️ A Dog Lover, Professional Groomer, and Business Owner

Professionally trained in college in England, Gurj started in home grooming. Her experience in one-on-one pet care led to the transformation of the salon. With a lifelong passion for animals, Gurj's love for pets became the driving force behind the establishment of Arnie's Dog Spa.
"You're only one bad haircut away from losing that customer."
Gurj lives by the mantra of never taking customers for granted.
As the co-owner of Arnie's Dog Spa, Gurj brings a wealth of expertise and a deep understanding of the grooming industry. With a keen eye for detail and a commitment to providing exceptional service, Gurj ensures that every pet that enters Arnie's is treated with the utmost care and compassion.
Dentist's Office to Grooming Salon for 1-on-1 Care
The location was previously a dentist's office with separate rooms for patients, and Gurj turned them into individual grooming rooms.
This setup ensures that dogs receive individual care without any wait time or the use of kennels. With a focus on quality and personalization, Gurj has created a welcoming and calm environment for both pets and their owners.
Nate

- 🖥️ A Business Operator, Photographer, and Gurj's Best Partner

Meanwhile, Nate, recognizing the importance of supporting Gurj's vision, took on crucial operational responsibilities. From handling administrative tasks to managing social media accounts and even writing website content, Nate took charge of everything that Gurj's schedule doesn't allow for, so that Gurj can focus on her passion for grooming and providing top-notch services to their ever-growing clientele.

In short, other than the co-owner of Arnie's Dog Spa, Nate is also a:
Marketing Specialist
Content Creator
Customer Support Agent
Sales Representative
Accountant
Manager
---
Result
1st salon expanded
Arnies' Dog Spa now has 4107 clients & 5153 dogs.
1st salon expanded
2nd salon opening soon
Gurj and Nate proudly operate Arnie's Dog Spa with 2 salons - they have successfully included an extra unit to their current location, and are opening their second salon on November 1st, 2023.
2nd salon opening soon
---
Online Booking x Reserve with Google: Reaching DINKWAD Pet Parents & Beyond
What is a DINKWAD?
The original acronym, DINK (Dual Income, No Kids) was widely used when describing a couples' lifestyle. Now, DINKWAD (Dual Income, No Kids, With a Dog) has become the new "American Dream" for Millenials and Gen Z.
The current DINKWAD population mostly consists of childless Millennials and Gen Z, who represent over half of the pet-owning population in the United States. Data from the American Pet Products Association also indicates that the younger generations are more than three times as likely as Baby Boomers to invest in pet grooming services such as grooming and coat styling.
More importantly, they are also known for their significant online spending habits. By offering online booking, grooming businesses can align with this trend, ensuring that customers can schedule grooming appointments in the same way they engage in other online activities.
Why Target DINKWAD?
When it comes to reaching the new generation of pet parents, Nate looks at "boujee millennials." These affluent young couples are willing to spend $100+ on their dogs without hesitation. What's more, what sets this demographic apart is not just their spending power but their genuine commitment to nurturing a lasting rapport with the groomers. They value the rapport built with the groomers through regular visits every six weeks.
Targeting DINKWAD Online: SEO & Social Media
Here's how Nate is targeting DINKWAD online:
Run targeted ads on Google
Use social media to market individual groomers and showcase their work
Create viral content, show behind-the-scenes, and build relationships
Online Booking x Reserve with Google
"Google is our friend. We use it all the time. Reserve with Google and my booking links are my top two sources for customers." -- Nate Drake
One key factor in Arnie's Dog Spa's online booking success is its integration of the MoeGo Online Booking system with Reserve with Google.
Despite being in a relatively old-fashioned area in Utah where phone bookings are common, Gurj and Nate have recognized and embraced online booking as a crucial part of their business strategy. In fact, approximately 40% of their appointments now come from online bookings, showcasing the growing preference among customers for convenient and efficient scheduling options.
The integration has allowed them to tap into the vast customer base searching for grooming services on Google Search & Map, making it one of their top customer acquisition channels.
Within just 3 weeks of the integration, a total of 81 booking requests have come through Reserve with Google. By leveraging the power of online search and booking platforms, Gurj and Nate have expanded their reach and attracted new clients who may not have discovered their services otherwise.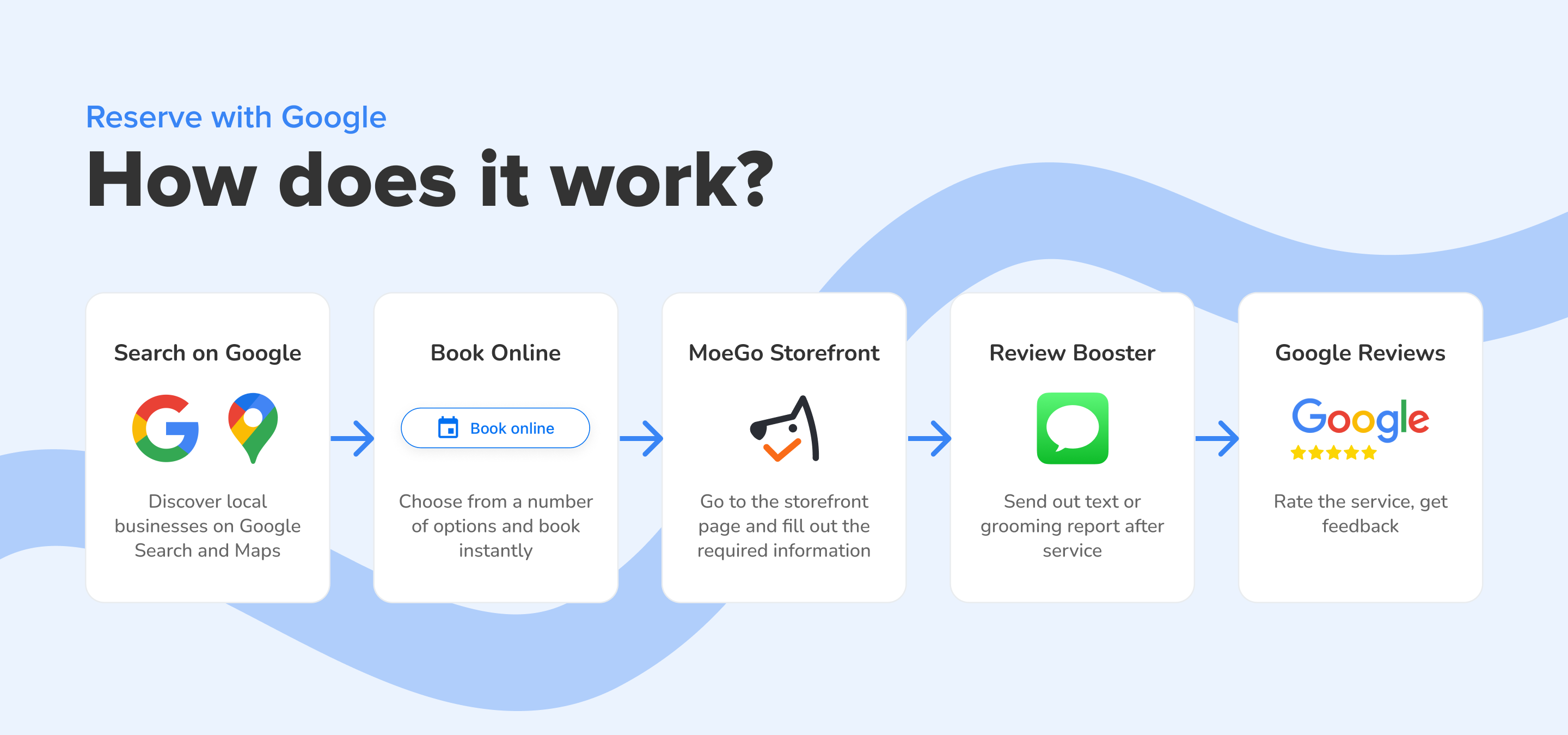 Abandoned Booking List
"So what we've been doing is sending out a mass text to the abandoned and we've been generating a lot of calls and leads that way. And it's been really great. It's been really successful." -- Nate Drake
One of their favorite features of MoeGo is the Abandoned Booking List, which allows them to follow up with customers who did not complete their booking.

By reaching out and providing personalized assistance, they have successfully won back customers who may have been deterred by not having the vaccination record or credit card handy, or not finding an ideal time slot. This proactive approach has proven effective in converting hesitant customers into loyal clients, further boosting Arnie's Dog Spa's growth and success.
---
Result
218 Online Booking Requests
There were 218 online booking requests from the past 30 days, generating a revenue of $21,000+.
218 Online Booking Requests
81 New Bookings from Reserve with Google
81 booking requests generated from Reserve with Google within 3 weeks.
81 New Bookings from Reserve with Google
Online Booking Revenue Success
In an old-fashioned, phone call-dominated area in Utah, roughly 1/3 of Arnie's Dog Spa's revenue is from their online booking system.
Online Booking Revenue Success