MoeGo x Reserve with Google: Reimagine Your Online Booking Potential
by MoeGo on Sep 29, 2023 6:33:37 PM
🧐 Where do you go when you want to find out what grooming services are operating near you? Where do your customers go when they want to find grooming services for their furry companions?
I know, we're probably all thinking - Google.

In the digital age where online searches have become the compass guiding consumers to various services, pet grooming is no exception.
For pet parents who see their pets as cherished family members, Google is often their go-to place to conduct a deep investigation on the quality of service, service variety, and feedback of fellow pet parents when booking grooming services for their furry babies. Google launched Reserve with Google to make it easy to make reservations directly through Search and Maps, and our latest integration is aimed exactly at that – introducing MoeGo x Reserve with Google.
As the very first platform in the pet industry to seamlessly integrate Online Booking with Reserve with Google, this collaboration is not merely another new feature, but a transformative development for enhanced visibility, accessibility, and convenience, benefitting both businesses and pet owners alike.

Let's go over what Reserve with Google does, how it could help your business, and what to expect from the Reserve with Google and MoeGo integration.
What is Reserve with Google?
Reserve with Google represents an intuitive integration designed to elevate the booking experience for your prospective clients. Following a simple verification process that links your MoeGo and Google Business Profiles, you'll have a "BOOK ONLINE" button on your Google Business Profile.
This button extends its reach to other places where your business appears on Google Search and Maps. With a simple click, potential clients are seamlessly directed to your MoeGo Online Booking site, streamlining the conversion of leads into valued customers.

In essence, Reserve with Google serves as a bridge that effortlessly connects businesses with eager clientele, empowering them to access your services with ease.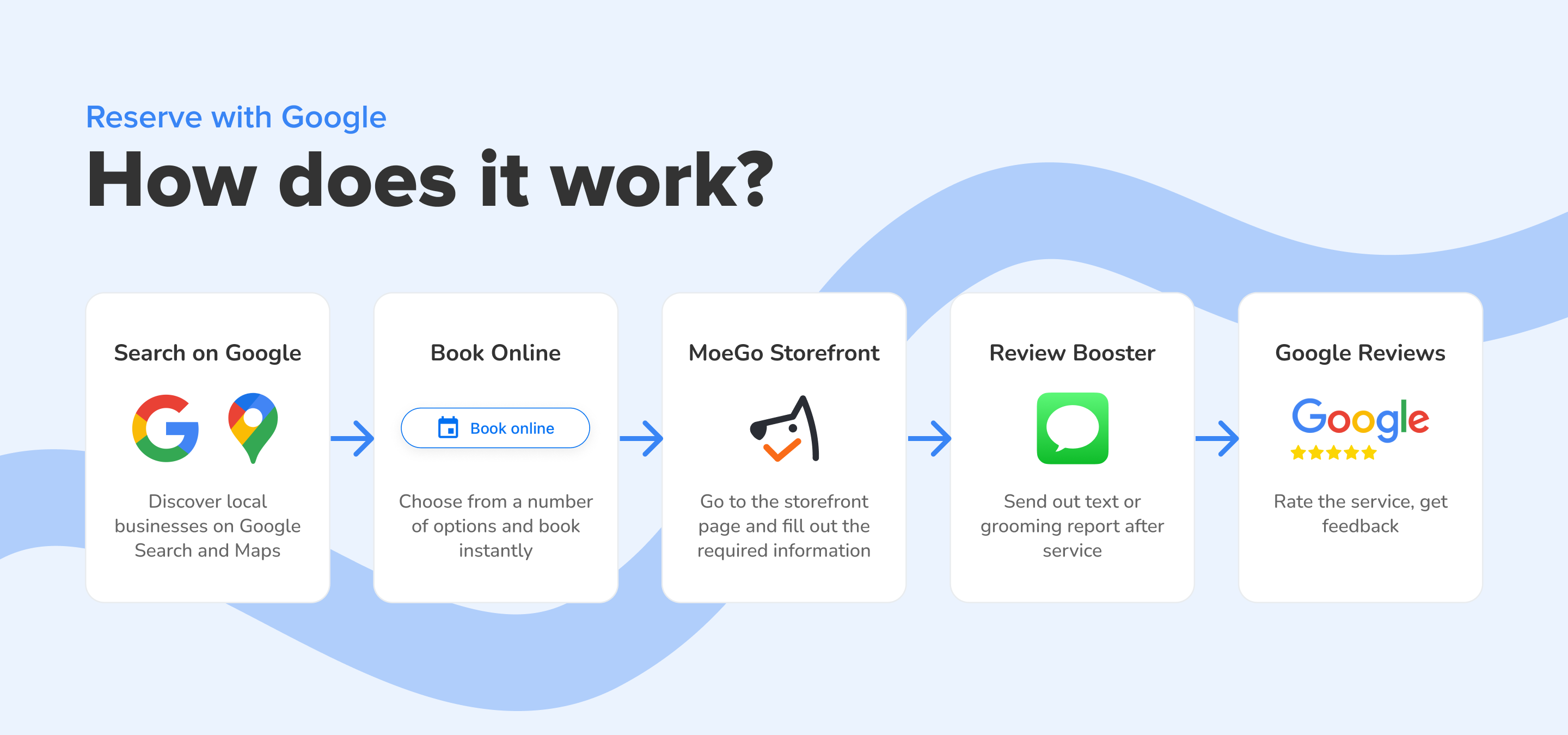 Why Use Reserve with Google for Your Grooming Business?
Elevating Your Pet Grooming Brand Image
Many of our users have already embraced tools like Review Booster and Marketing Campaign to enhance their Google Business Account reviews. They've realized how crucial their Google presence is in drawing in potential customers. Now, it's time to elevate that experience even further.

With Reserve with Google, you can significantly enhance your business's image in the eyes of potential clients. That is:
A simple click on the custom Online Booking page leads to instant access to essential information about your business, including the services you offer, pricing, and all things you want to show to your clients.


Highlighting professionalism and comprehensive services, and setting yourself apart in the competitive landscape of pet grooming services.

Tap into a Fresh Avenue of Client Engagement
Reserve with Google makes it possible for customers to find your business by looking up anything from "grooming services" to "puppy spa near me." If you're located within their search location and offer the services they are looking for, your business will be listed in the results. Here's a 3-step breakdown:
Reaching millions of potential customers actively searching for grooming services on Google Search & Maps
Offer a convenient and immediate booking option to connect with clients ready to book your services
The streamlined booking pathway enhances the client experience and boosts your business's growth and visibility in the digital landscape.

Leveraging Reserve with Google to Amplify Your SEO Efforts
Local SEO's impact on pet parents' spending is undeniable. Search, reviews, and social media recommendations heavily influence purchasing decisions, with mobile surpassing desktop in local search. The capability to book directly from local business listings, especially via one of the world's most popular search engines like Google, is paramount.

Though local SEO investment for promoting your grooming service and business name can come at a significant cost, by linking your Google Search and Maps results directly to your booking site, every click garnered adds value beyond just visibility. It leads directly to real bookings and tangible profits, ensuring that your investment in SEO translates into measurable financial gains.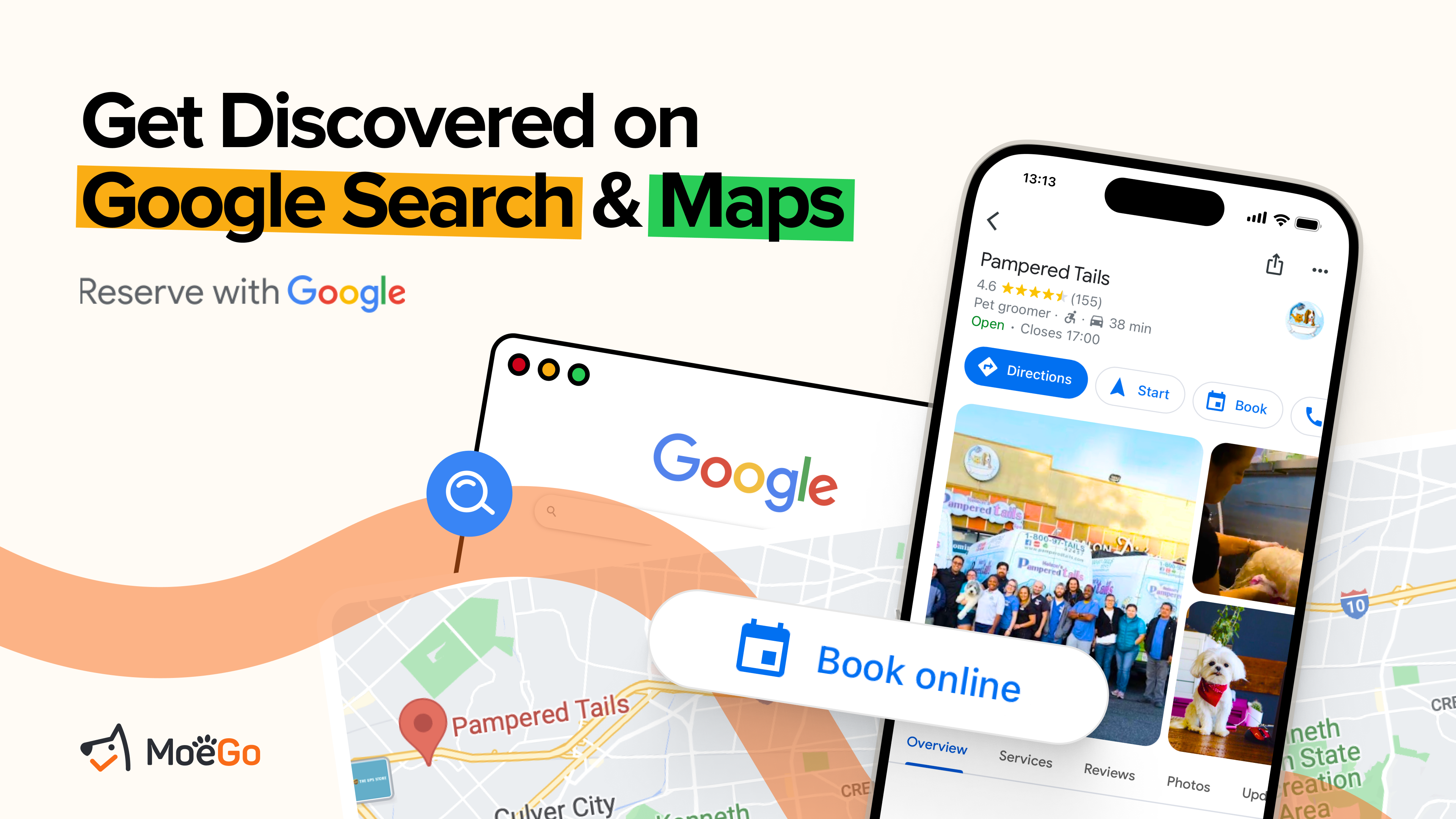 Ready to Get Started?
Visit our wiki for a step-by-step guide on how to set up Reserve with Google for your business


Frequently Asked Questions
Is Reserve with Google available to all users of the MoeGo App?
It's available to Growth and Ultimate Plan with Online Booking 3.0 users.
How can I link my account with Google?
It just needs a simple verification process on MoeGo: Navigate to Online Booking > Settings >Booking site> Integrations > Reserve with Google within MoeGo. Click on < Get Started >. We have a detailed step-by-step guide on wiki.
How does it work for my pet grooming business?
By syncing your MoeGo Online Booking site with your Google Business Profile, users can click a "BOOK ONLINE" button to instantly access information about your services, pricing, and availability. It captures customer attention precisely when they're ready to book, increasing the likelihood of securing their business.