The Best Professional Dog Grooming Dryers of 2023
by MoeGo on Mar 9, 2023 12:38:32 PM
As a pro pet groomer, you know the value of investing in tools that help you unleash your skills. But when it comes to grooming, bathing is only half the battle - drying off your clients' dogs is just as important. Fur-tunately for you, we've scoured the internet, read reviews, and asked experts to weigh in on which dryers are best (and why).
With powerful motors, adjustable air flow speeds, hot and cool settings for a comfortable grooming experience, and easy-to-clean filters, we're confident these dryers will blow you away.
Jump Ahead:
Forced Air vs. Stand Dryers
There are two main types of dog grooming dryers: stand dryers and forced-air dryers. Stand dryers have been around for a long time and are great for straightening fur, but they take a lot of time and effort. Forced-air drying emerged in the 1980s and is faster, making it popular for breeds with thick double coats.
Both types of dryers come with benefits and drawbacks. Some groomers find that brushing under an arm dryer can damage hair cuticles or cause breakage. Forced-air drying can also create knots or damage hair if the heat is too high. Plus, they can be pretty noisy which might scare some dogs.
Some groomers prefer using a high velocity dryer combined with brushing for straightening coats while others only use stand dryers for specific tasks. Ultimately, it depends on your preferences as well as the dog's needs.
In this article, we've specifically focused on finding the best forced-air dryers.
What To Consider When Choosing A Dog Grooming Dryer
Airflow and Heat: Some dryers are heatless or only produce gentle heat from the motor. Others come with heat settings. Understand your needs as a groomer and select a dryer that accommodates the range of heat settings you want and need.
Noise Level: The noise level of the dryer is an important consideration, especially if you're working with nervous or anxious dogs. While any dryer will produce some noise, a quieter option is ideal - especially if you are grooming in a small space such as a mobile grooming van.
Durability and Warranty: Durability is an important consideration, especially if you paying for an expensive, professional grade dryer. Also pay attention to the warranty coverage; some brands offer better warranties than others.
Portability: If you plan on using your dryer in different locations, then portability is a factor to consider. The size of the dryer is also important if you are a mobile groomer and will be using it in a van.
Price: Professional dog grooming dryers can be expensive, so it's important to choose one that fits within your budget while still meeting your needs. Below, you'll find dryers of all price points to accommodate any budget.
Top Pick: K9 III Dog Dryer
Price: $566 - $595
Pros:
Very powerful and can dry thick fur quickly
Two motors, two filters, and a strong flow of air
Lightweight and portable but still heavy-duty for everyday use
Tested by professional groomers and approved for quality
Easy to maintain with simple motor brush replacement
2-year warranty against defects
Cons:
The K9 III dog dryer is a powerful and professional-grade machine that can cut your drying time in half. While not the most affordable option on the market, K9 dryers are workhorses and have been a favorite of professional groomers for years.
"Many pet grooming and pet care professionals recommend the K9 III Professional Pet Grooming Dryer as the best dryer for pet groomers," says Febra Alexander, Owner of Doggy Bag Treat "[This dryer] is lightweight and has a quiet operation, making it easy to move around and use…. It also has a built-in timer that allows you to set the drying time for each pet, ensuring that the coat is properly dried without over-drying."
It is lightweight and portable, yet heavy-duty, making it ideal for heavy and double coated animals. The dryer comes with two motors, two filters, and a 10 ft hose with two different size blower tips. It also has a 120 Volt outlet for clippers. This machine has been groomer tested & approved and is available in a variety of colors.
K9 III vs K9 II Grooming Dryer
The K9 III Blower Dryer is better than the K9 II in two ways. First, it blows air a little faster and a bit cooler because it has more space for air to come in. Second, it's easier to change the motor brushes on the K9 III - you just need to remove the end caps on the dryer. On the other hand, with the K9 II, you need to disconnect wires and remove some parts from the tube which makes it harder to replace motor brushes.
Warranty & Durability
The K-9 III dog dryer has a 2-year warranty for defects in workmanship and/or motors, and a 90-day warranty for all other parts starting from the purchase date. If you need repairs or service, it's best to use their service center. To keep your product working well, it's important to do regular maintenance.
MoeGo is an all-in-one tool for groomers like you that offers easy booking, seamless payments, effective customer communication, and much more!
Honorable Mention: Metrovac Master Blaster Pet Dryer
Price: $507.99
Pros:
Can cut drying time by up to 85 percent
Powerful and durable
Compact and lightweight
No heating element, eliminating coat damage
10 ft. hose
Five-year limited warranty
Cons:
Warranty doesn't cover carbon brushes, carbon brush wear, filters or physical damage to the machine
Expensive
The Metrovac Master Blaster Pet Dryer is a powerful and efficient grooming tool that dries pets up to 85% faster. It has twin high-speed motors, is lightweight and durable, and doesn't have a heating element, so it's safe for pets. The dryer comes with a commercial hose, blower nozzle, air-flare, and cord for fast drying services. Professional groomers can increase their productivity with this machine and dry more dogs quickly.
"I highly recommend the Metrovac Master Blaster Pet Dryer for pet groomers," says Michelle Lehr, a therapy dog trainer, groomer, and head writer at Good Dog Swag. "This dryer is specifically designed with pet groomers in mind and offers many features that make it an ideal choice."
Warranty
The Air Force® Master Blaster® comes with a Five Year Limited Warranty that covers the unit and motor, and a One Year Warranty on parts, switches, and cords. Metrovac will repair or replace any defective part for free during the warranty period. However, altering the machine or neglecting maintenance voids the warranty. The warranty also doesn't cover physical damage or improper electrical connections.
Best Affordable Dryer: SHELANDY Pet Grooming Dryer (Model #1902)
Price: $85 - $159
Pros:
Variable airflow with a range of 65 MPH to 135 MPH
Can fit pets of all sizes, from tiny cats to large breeds
New technology used for noise reduction
Two options for heating temperature
Comes with a flexible hose that can be expanded up to 73 inches and four different nozzle types
One-year warranty with simple warranty claim process and free replacement
Cons:
Less powerful than other options
Less durable than other options
The SHELANDY STL-1902 pet dryer is a popular tool for drying coats quickly. It has variable airflow from 65 MPH to 135 MPH and is affordable compared to other brands. The new technology reduces noise levels and offers two heating temperature options. The dryer comes with a flexible hose that expands up to 73 inches and four nozzle types. It also has a one-year warranty with an easy claim process and free replacement if needed. Pet owners and professional groomers can rely on the SHELANDY STL-1902 pet dryer for efficient and high-quality results at an affordable price.
Affordable Alternative: GoPet Club Pet Grooming Hair Dryer [DT-401]
Price: $86.99
Pros:
Adjustable speeds and temperature controls
Puncture-resistant hose
Compact size
Affordable
Cons:
Noise level may be too loud for nervous pets
Some reviewers questioned durability
The GoPet Club Pet Grooming Hair Dryer is a powerful and efficient tool that's affordable for both professional groomers and pet parents. It generates 2400 watts of power, allowing for quick drying. The dryer has two adjustable speeds and temperatures, low volume technology, and a puncture-resistant double-reinforced flexible hose for controlled drying. With an airspeed range of 25M/S - 50M/S and temperature control ranging from 86 - 158 degrees, this dryer is perfect for achieving a polished finish on pets. Its compact size also makes it easy to store when not in use.
"There are many good options, but we recommend Go Pet Club Dog & Cat Grooming Dryer," says Richard West, founder of Puppy Hero. "The most prominent feature of this dryer is that it generates 2400 watts of power, which helps to dry your pet quickly."
Best Mid-Range Grooming Dryers
Sherbano Tsunami Dryer
Price: $199 - $230
Pros:
Powerful single-motor dryer
Gentle heat from motor warming, making it safe to use in busy salons and on delicate coats
Simple and easy to use
Comfortable grip
10 ft hose with option to upgrade to 15 or 25 ft.
Cons:
The Sherbano Tsunami Dryer is a powerful and efficient single-motor dryer designed for competitive groomers, breeders, and pet stylists who demand a flawless finish. It's an upgraded version of the former 'Monster' dryer with improved interior wind channels and high-velocity technology that outperforms most dual-motor dryers.
"One of the most powerful single-motor dog dryers you could currently find in the market…Shernbao's Tsunami Dryer is a great option for both casual users and professional groomers," says Dr. Sabrina Kong DVM, dog trainer & veterinary consultant at WeLoveDoodles. "It was engineered with safety, durability, and convenience in mind, not to mention its design is quite elegant and minimalist…"
The Tsunami dryer doesn't have a heating element, making it safe to use in busy salons and on delicate coats. It features simplified controls and an internal temperature control system that keeps airflow cool. With the most powerful single 2200-watt motor, this sleek black and red dryer produces an airflow volume of 250-cfm with super blast and variable speed up to 66,000 fpm with a dial.
Included are three nozzles, one air filter, one handle, and a hose that stretches up to 10 feet.
Flying Pig One High Velocity Dog Grooming Dryer
Price: $187 - $272
Pros:
Powerful for fast grooming
Noise-reduction
Durable
Multiple air speeds and temperatures
10 ft hose
Easy to maintain
Lightweight and portable
Cons:
Some customers found the lowest air flow setting to be too strong
The Flying Pig One High Velocity Dog Grooming Dryer is a powerful and portable dryer that makes grooming your furry friend much easier. With its 4.0 Horse power single motor, it can dry any type of coat quickly and efficiently. The durable steel frame protects the motor from damage and reduces noise.
The variable speed control panel lets you customize your drying experience with multiple air speeds and heat settings so you can choose the perfect temperature for your pet. The flexible 10-foot rubber hose makes it easy to maneuver around your pet, while the two included nozzles allow for precise drying on sensitive areas or heavy coats.
Cleaning is hassle-free thanks to an easy-to-turn knob on the back that allows you to remove or add a filter. Plus, rubber feet keep it in place on any surface while also making it lightweight and portable.
Overall, if you want a powerful dryer that's easy to clean and can handle any coat type, the Flying One High Velocity Dog Grooming Dryer may be a good option.
Best At-Home Dyer: B-Air FM-1 Fido Max 1 Dog Dryer & Groomer
Price: $63 - $79
Pros:
Heatless; won't damage sensitive coats
Affordable
4 nozzles included
Cons:


Short hose (6 ft)
Less powerful than other options
Motor may cause heat during long drying sessions
The B-Air Fido Max 1 Dog Dryer is a great new option for pet owners who want to dry their dogs' coats at home. This product has been endorsed by Cesar Millan in his Premier Grooming Collection, and is designed to use air power to repel water from your dog's coat. This means no more damp or uncomfortable dogs after baths or grooming sessions.
While it may not be as powerful as salon dryers, it's perfect for smaller breeds or dogs with thinner coats and a solid alternative to using a human hair dryer. And for pet parents, it's a great way to quickly dry your pup without leaving the house.
🐶 If you liked this post, check out this one! --> The Best Shoes for Dog Groomers
Similar Blogs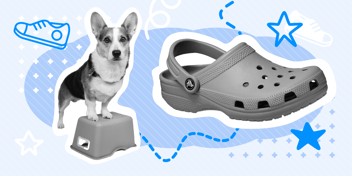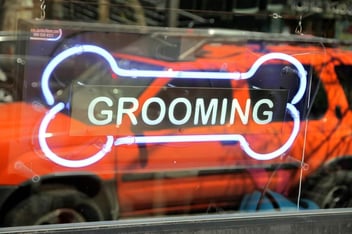 Are you a dog groomer looking for creative and fun business name ideas? If so, you've come to the...
READ MORE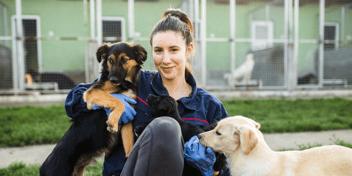 Giving Tuesday is a global holiday movement celebrating and encouraging generosity throughout the...
READ MORE