The Best Professional Dog Grooming Clippers, According to Experts
by MoeGo on Mar 3, 2023 12:17:11 PM
If you're a professional dog groomer, you know that having the right tools is essential to getting the job done. But with so many different clippers on the market, it can be difficult to determine which ones are best for your needs.
That's why we asked grooming and pet care experts what their favorite clippers are and why they prefer them. So whether you're just starting out or looking for an upgrade, we've done the research so you don't have to. Read on to learn which clippers are loved the most.
Popular & Trusted Brands
If you've spent much time searching for the right dog clippers to meet your needs, you've probably heard a few recurring names. A few of the most common include Wahl, Andis, Oster, Oneisall and Furminator - all of which offer a variety of professional-grade dog clippers at different price points (and were recommended to us by pet care professionals). In other words, if you're looking for an all-around professional-grade clipper for any coat type, you can't go wrong with one of these brands.
Jump to Our Favorite Picks:
When it comes to the best dog clippers on the market, there are a lot of choices but only one winner - at least in our books. While the Andis AGC2 ProClip UltraEdge isn't the most affordable clippers on the market, it does offer some of the best all-around performance, durability, and ease of use for professional groomers.
"The Andis AGC2 ProClip UltraEdge is my preferred dog clipper," says Bethany Tate, Pet Trainer & Managing Editor at Whole Pet. "They are strong, dependable, and adaptable, with a variety of blade selections for any style of coat. They are also simple to clean and maintain because of the removable blade design."
Why We Love It
With a mighty dual-speed motor, you can hum away while perfecting new and inventive looks for your furry clients. The detachable blade system offers wide compatibility, making it essential for any coat type that comes prancing through your door. And with professional-grade housing and a heavy-duty 14' cord as standard, you can help animals shine with sleek, polished looks. Whether you're a seasoned pro or just starting out in the world of pet grooming, this versatile clipper will be an invaluable asset to your toolkit.
Best Clippers for Thick Coats
The Andis UltraEdge is also a great option for grooming pups with thick or double coats.
"Andis clippers are designed with powerful motors, which makes them ideal for cutting through thick coats," says Kimberly Shaw, a groomer with more than ten years of experience. "Additionally, Andis clippers come with detachable blades that are easy to clean and replace, which is a great feature for busy groomers."
Megan Marrs, a dog trainer and founder of K9 of Mine, also noticed the Andis' motor. "This bad boy is a powerhouse!" she says, "With its high-speed motor, it can slice through thick coats like a hot knife through butter." She also noted that Andis is known for durability. "The chrome steel blades are built to last longer than other brands, so you can spend less time and money on replacements."
Best Ergonomic Clippers Brand:

The Oster® A6®
Oster offers a wide range of clippers, some of which boast lightweight and ergonomic design for comfortable grooming all day long - such as the Oster® A6® Slim™ or the Oster® A6® Cool Comfort™
"The ergonomic design of Oster clippers makes them comfortable to hold and use for extended periods of time, which is important for groomers who have many dogs to groom in a day," says Kimberly Shaw, "The blades are also designed to stay cool while in use, which helps to prevent overheating and discomfort for the dog."
Why We Love it
Don't let heavy clippers weigh you down! With its compact ergonomic design and high efficiency motor running at over 4,000 SPM, this clipper is perfect for all-day grooming. Plus, its patent pending vibration isolators help absorb vibration and noise, minimizing hand fatigue and providing added comfort. And with speeds up to 4,400 SPM on the highest setting, you'll be able to tackle any job with ease.
If you're looking for an alternative, consider the The Andis UltraEdge Super 2-Speed Detachable Blade Pet Clipper which also offers an ergonomic design according to experts. "This clipper is also lightweight and ergonomic," says Megan Marrs regarding Andis, "which means your hand won't be cramping up after just a few minutes of use."
Grooming can be stressful for nervous pets, and quiet clippers can help reduce pet anxiety while grooming. Quiet clippers also help reduce the risk of injury caused by sudden movements from nervous dogs, making them an essential tool in the grooming industry for gentle and stress-free care of furry clients.
That's why Michelle Lehr, CCMT -a professional groomer and head writer at Good Dog Swag - recommends her favorite quiet clippers from Oneisall. "I have used and tested a wide range of dog clippers," she says, "and the one that I personally use and highly recommend to my clients is Oneisall…Its ergonomic design ensures comfortable use, and the quiet motor helps keep pets calm and relaxed during grooming sessions."
Why We Love it:
With its low vibration and ultra-quiet design, this rechargeable clipper operates at only 50dB to make pets feel at ease during grooming sessions. (For reference, a hair dryer is typically around 80dB and a refrigerator is around 40dB.)
It's also very affordable compared to other options, such as Andis. Equipped with a built-in Li-ion battery, you can use it while charging without worrying about half-groomed dogs.
It comes with six adjustable guard combs ranging from 3mm to 18mm, making it applicable for clipping hair of different lengths. The detachable guide combs provide quick and easy comb changes, increasing versatility in your grooming routine. Keep in mind that if your furry client has long and thick hair, it's recommended to use scissors to cut it shorter before using the trimmer to prevent jamming.
Dr. Sabrina Kong, a dog trainer and veterinary consultant at WeLoveDoodles says this about Wahl cordless clippers, "The most noteworthy feature of this pet clipper - and the one that actually make me love it so much - is the fact that it's cordless and that the battery can run up to 20 strong minutes, which gives me more than enough time to give my pup or a furry client a well-rounded trim."
Why we love it:
With a long runtime and powerful motor, these clippers get the job done without any snagging or pulling. Designed for full-body clipping of all breeds, Wahl Lithium Ion Pro Series clippers are also great for touch-ups and trimming. The self-sharpening precision blades ensure a clean cut every time, while the color-coded guide comb attachments make it easy to find your desired coat length. It also comes with a 5-year warranty for added peace of mind.
Wahl is a great option for any grooming job, albeit a bit pricey. It's especially good for grooming smaller animals. "My top pick for small dogs would be the Wahl Bravura Lithium Ion Clipper," says Garrett Yamasaki, founder of trendingbreeds.com. "It's super light and cordless, so you can easily move it around."
Why We Love It:
If you're a groomer who demands reliability and performance, the Wahl Bravura Lithium Ion is an excellent choice. It has adjustable 5-in-1 blades powered by advanced lithium ion battery technology that effortlessly offer both strength and resilience. With its incredible runtime of 90 minutes, you can be sure that power won't be lacking before the task is complete.
The clipper also features a quick full charge time of 60 minutes, meaning you can continue your work without interruption even when cordless. And with its automatic speed adjustments to prevent stalling and jams, you can be sure of a smooth grooming experience for any pup.
How to Pick the Right Clippers
When choosing the right clippers for your pet, there are several factors to consider. Speed settings, sound, blade material, battery or cord, and ergonomics should all be carefully evaluated to ensure you have the right tool for the job.
Speed Settings

- Clippers come with various speed settings depending on the type and size of pet you are grooming. Choose a model that offers different speeds to suit your needs.

Blade Material

- Ceramic blades are often more expensive than stainless steel but provide a smoother and sharper cut. The material of the blade is also important to consider when grooming pets with thicker and double-coated hair.

Rechargeable Battery vs Cord

- Cordless clippers are great for convenience but may not provide enough power for full-body grooming of large dogs. If you plan to use the clippers for long sessions, consider investing in a corded model or a rechargeable clipper that can be used with a cord while charging.

Ergonomics

- Clippers that fit comfortably in your hands are important for prolonged use and to reduce fatigue. Look for a clipper with an ergonomic design, such as one with an anti-slip rubber grip.
Ultimately, no one clipper is perfect for everyone so consider which features you prioritize most when making your decision. With this guide as a starting point however, you can make sure that whichever model you choose will give your furry friends the groom they deserve!
MoeGo is a platform that helps pet grooming businesses and professionals grow. It makes operations stress-free, improves customer experience, and reduces busywork for busy groomers like you.
Similar Blogs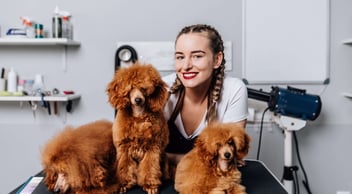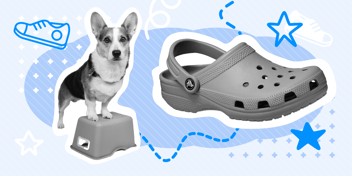 Working with our furry friends can be messy and exhausting - especially for your feet. That's why...
READ MORE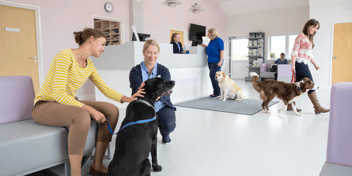 No Shows. One of the most frustrating parts of running a pet business but everyone has come across...
READ MORE