Unleash Customer Happiness with Grooming Reports
by MoeGo on Jul 21, 2023 2:23:10 PM
Customer satisfaction is the not-so-secret sauce to any successful pet grooming business. Building strong connections with your clients and delivering top-notch experiences to your clientele can lead to invaluable word-of-mouth referrals and glowing online reviews, not to mention a list of loyal, repeat customers.
In this blog, we will take a look at how grooming reports can help to create an outstanding customer experience while aligning with essential principles of quality customer service.
First Things First: What Is a Grooming Report?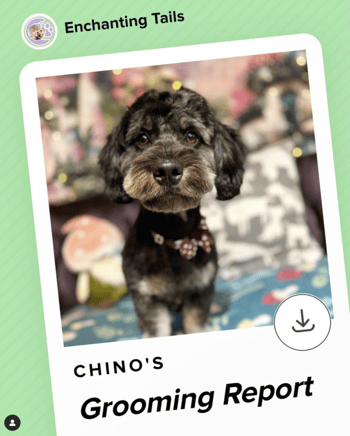 A "grooming report" (or "report card," "appointment summary," etc.) is a report designed to personalize the way groomers communicate with pet parents. It offers an overview of the pet's grooming session, including before-and-after pictures, details of the services provided, notes about the pet's behavior and mood during the grooming session, and any observations regarding the pet's well-being.
The grooming report acts like a VIP backstage pass for pet parents and is a communication tool between the groomer and the pet parent.
This helps foster transparency and trust by keeping the pet parent informed about the grooming session and the care provided to their furry companions. They can also encourage customers to rebook and leave feedback for the business via an online review, which means they are beneficial to both the grooming business and its customers.
Here are a few ways in which pet groomers can use grooming reports to redefine their customer service and make a lasting impression that pet parents will love:
1) Build Trust and Transparency with a Before and After Showcase
Establishing trust is an essential part of a rock-solid customer service game plan. Grooming reports are the secret weapon to make this happen, showing off the amazing results of your grooming services.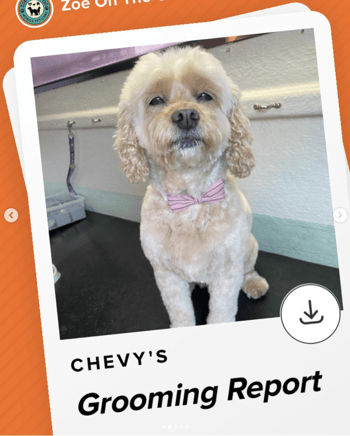 When you share before and after pictures of pets, you're providing undeniable proof of your skills and dedication to their fur baby's happiness. And let's be real, who can resist a cute picture of their precious pup?
Pictures are also a visual reminder that pet parents can take home, so the feeling of "Wow! My dog really did need a haircut!" doesn't fade when they walk out the door.
Transparency like this fosters confidence in your services, and trust is an important factor in building relationships that foster loyal customers.
2) Customer Service That Goes Beyond Grooming
Exceptional customer service goes beyond just the grooming session itself. Pet groomers know what happens behind the scenes, but pet parents do not — unless you tell them. Grooming reports offer a valuable way to document pet well-being and condition checks, allowing you to identify any issues early and communicate them to pet parents quickly.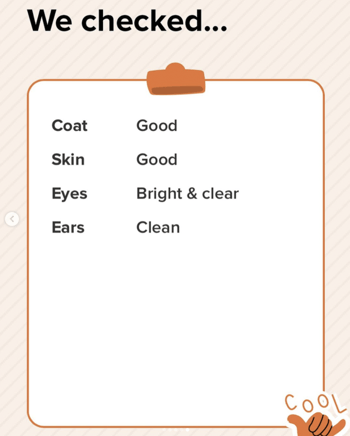 While these observations and standard procedures are necessary for groomers, this type of "above and beyond" service can easily go unnoticed by pet parents. Simply communicating the things you have checked can solve this problem.
Grooming is no replacement for a pet's annual physical, of course, but it can still save pets' lives by facilitating early action against potential health concerns. At the very least, it can give pet parents an added layer of peace of mind. It's all about showing that you genuinely care about their furry family members, aligning with the customer service principle of going above and beyond to meet customers' needs.
3) Understanding Pet Preferences and Emotions: Mood & Behavior Tracking
Personalization is key to winning over customers and providing a memorable grooming experience. Each pet has unique preferences and emotions, just like us humans do. Grooming reports enable you to track the mood and behavior of each pet during their grooming session, which can help pet parents understand their furry friends better.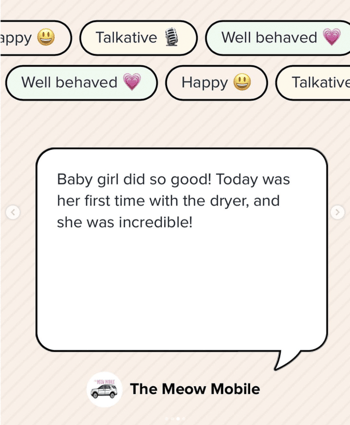 Personalization is a core principle of customer service, and adding these types of notes and observations in your grooming report is a great way to add a personalized touch and show pet parents that you are in tune with their pup's comfort.
Just like with health checks, the effort you put into ensuring every dog is happy and comfortable typically takes place behind the scenes. Reporting on pet behavior and mood is one way to show pet parents how much you are doing, even if they can't see it.
4) Streamlining Communication and Rebooking
Efficient communication is a fundamental aspect of excellent customer service. Grooming reports act as a bridge between you and pet parents, keeping them informed about their furry companions' grooming sessions and the services provided.
They are also a great way to encourage pet parents to rebook, and make it easy for them to do so.Easy and straightforward communication and rebooking options demonstrate your professionalism and dedication to delivering convenience and satisfaction, aligning with the customer service principle of providing accessible communication channels. Additionally, it is not a feature that most competitors will have, giving your business a competitive advantage.
5) Encouraging Feedback
In the digital age, online reputation and customer feedback hold significant sway. Additionally, getting feedback and using it to improve customer experience for future clients is essential. Positive reviews are like "gold" for your pet grooming business, and getting reviews is often as simple as asking for them.
When a grooming session goes well, a grooming summary is a great place to encourage customers to share their positive experiences with you and others. These reviews not only boost your online reputation but also act as powerful testimonials for potential clients seeking top-notch pet groomers
Wagging Tails and Happy Customers
Fine-tuning your customer service strategy isn't easy, but Grooming reports offer pet groomers a valuable tool to elevate their customer service and create an exceptional experience for pet parents and their furry companions.
Remember, it's all about building strong relationships with your clients, being attentive to their needs, and exceeding their expectations. Grooming Reports can become your paw-some sidekick in achieving this by providing transparency, open communication, and the means to continuously improve your services.