Lessons Learned from Laura: Rewrite the Rules of Pet Dental Health
by MoeGo on Aug 26, 2023 11:59:16 AM
This blog is brought to you by Laura Jaramillo and the MoeGo Community 🧡
No matter your initial gut answer — yes, no, maybe, how, when — the simple fact is, you've likely already discovered the unique role dental hygiene holds in the world of pet care. That's a huge step in and of itself. Dental hygiene is not only about ensuring a dog's breath is fresh; it's a vital aspect of their overall health. Just like humans, our furry companions can experience dental issues such as plaque buildup, tartar accumulation, and gum diseases. Ignoring these problems can lead to pain, discomfort, and even potential health risks down the road.
That's why we sat down with Laura, the owner of Dogdom, who is on a mission to shift this perspective. With her specialization in non-anesthetic pet dental cleaning, she offers affordable and high-quality services that go beyond traditional grooming. In this blog, we'll explore Laura's unique approach to dental cleaning and her commitment to improving pets' lives.
About Laura
Growing up in a dentist family, Laura understood the importance of oral health for overall well-being. Today, she is the owner of Dogdom, where she extends her expertise to help approximately 15 pets every week through her exceptional dental cleaning services.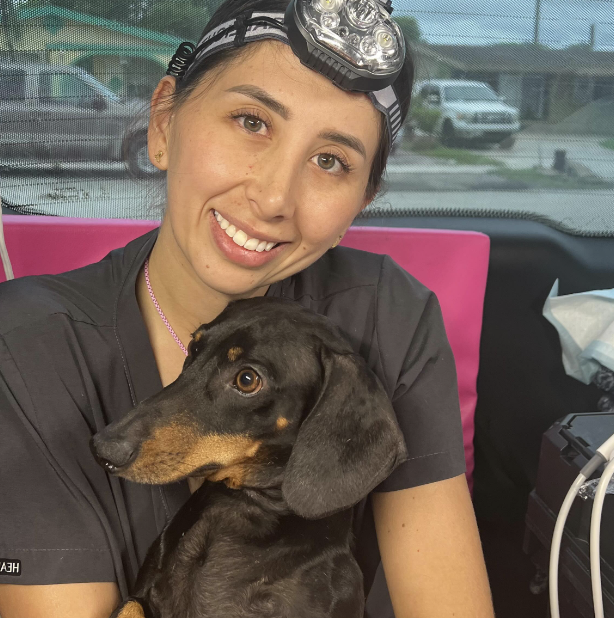 Non-Anesthetic Dental Cleanings: How Do They Work?
Non-anesthetic dental cleanings, also known as anesthesia-free dentistry or nonanesthetic dentistry (NAD), involve scaling and polishing the teeth without the use of anesthesia. Unlike traditional dental cleanings that require sedation or anesthesia, non-anesthetic dental cleanings aim to minimize the potential risks associated with anesthesia while still promoting oral health.
They're safer by skipping anesthesia's risks, yet still keep oral health in check.
Step by Step: The Non-Anesthetic Dental Cleaning Process
📋 Step 1: Initial Examination
Just like a human dental visit, the pet's mouth is examined thoroughly. This helps identify any underlying issues that need attention.
🥰 Step 2: Building Trust
The journey begins with building trust. A qualified dental care specialist, like Laura, takes time to bond with the pet. This involves gentle touch, soothing words, and creating a comfortable environment to help the pet relax.
👩🏻‍⚕️ Step 3: Scaling and Polishing
Laura uses specialized tools to carefully remove plaque and tartar from the teeth. This scaling process is crucial in preventing gum disease and maintaining oral health.
🪥 Step 4: Thorough Cleaning
Every nook and cranny is meticulously cleaned, ensuring that all surfaces of the teeth are free from debris and buildup. Plus: add some final touches with an anti-bacterial spray, to provide an additional layer of cleanliness and protection.
🦷 Step 5: Education and At-Home Care
Pet parents play an essential role in maintaining their pets' dental health. Laura gives out a set of toothbrush and toothpaste after each session and educates pet parents about proper at-home care techniques, including daily brushing, water additives, and dental treats.
The Benefits of Non-Anesthetic Dental Cleaning
Reduced Risk
The biggest benefit of non-anesthetic dental cleanings is the elimination of anesthesia. By avoiding that, the cleaning minimizes potential complications and ensures a safer experience for pets.
Reduced Risk
No Downtime
Unlike traditional cleanings that require recovery time after anesthesia, pets can resume normal activities immediately. There is no need for post-procedure rest or observation.
No Downtime
Extended Lifespan
Regular dental cleaning helps maintain pets' oral health and prevents bacteria from entering the bloodstream, reducing the risks of infections in vital organs such as the heart, liver, and kidneys.
Extended Lifespan
Cost-Effective
Non-anesthetic dental cleanings are generally more affordable than traditional cleanings performed under anesthesia.
Cost-Effective
Stress Reduction
Some pets experience less stress during non-anesthetic cleanings since they don't have to undergo the process of being sedated and waking up from anesthesia.
Stress Reduction
Potential Early Detection
During non-anesthetic cleanings, dental professionals can identify early signs of dental problems, allowing for timely intervention and treatment.
Potential Early Detection