With the shift in technology, consumers are used to doing everything online. From online ordering their favorite takeout to online booking their hair appointment, booking their pet's grooming appointment is no different. Online booking can drastically change the customer experience as well as the operations of your grooming business. Find out more about MoeGo's online booking and how much our customers love it! We even included some examples for you to check out.
---
"MoeGo online booking is elite"
MoeGo Live with Chris and Emily from The Ruff Life Mobile Grooming
watch recording
---
MoeGo
Online Booking

Tips
You have

full control over your calendar

! You always have your final approval on the appointment booked online. If you don't want to take that appointment, you can dismiss it or put it on the waitlist.

No worries about "double booking"

, it only shows your available time spots to your client.
You can

customize services

as "only available for online booking"
You can

customize your service area

(for mobile groomers)
You can only allow

existing customers

to be able to book online
You can choose to

show your "service price" or not

.
You can

set your preferences

so appointment duration and cost is determined by the breed and weight of the dog
For existing clients, it is easy to have your clients just click

"book again"

(same as last time)
You can

add additional services

at checkout, for example, "nail trims" or "blueberry facial"

Require no-show policy agreement

when checking out and take prepayment or deposit so you will no longer lose money on last minute cancellations or no show's
Simply

add the link to your existing website and social media sites

and it's a great tool to help generate more appointments, no integration necessary.


You can only show applicable service for specific pet breed and weight

You can limit the acceptable pet number for specific pet type, breed and weight
---
Take a look at some of our Customer Online Booking Examples
Diamond's Grooming - New Brunswick, Canada
Throw me a bone - New York City, NY
Dog Fashion Grooming - California
If you want to learn more about how online booking can help your business, schedule a demo with us today!
"Absolutely love the Online Booking 3.0 especially how the 'Add-Ons' are now offered."
"I set up the online booking to ask questions and take information like a receptionist would. Saves me a ton of time and it helps weed out clients I wouldn't want. I love that the application process can be customized to a great extent according to an individual salon with required info and customized questions. The biggest thing is keeping a card on file and pre paying the appointments. That has saved so much revenue in cancellations and no shows."
"The client can automatically see what is and is not available and cross check with their own schedules. I don't have to talk to them on the phone and go back and forth for 15 minutes trying to find a slot that works for the both of us."
Similar Blogs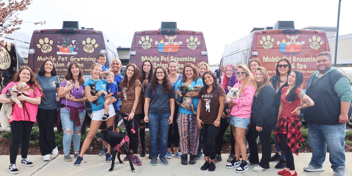 Emily and Chris, founders of The Ruff Life Mobile grooming business on Long Island, New York had...
READ MORE