Pet Grooming Business Models: Salon vs. Mobile vs. At-Home
by MoeGo on Mar 7, 2023 1:47:18 PM
As a pet groomer, you'll need to decide on the right business model if you're starting your own grooming business or making changes to your current one. That's why we've put together this guide: to outline the pros and cons of mobile grooming, traditional brick-and-mortar, and at-home salons.
Before we dive in paws first, it's important to understand there's no right or wrong answer. Business models are not one size fits all! The most important thing is that you choose the option that suits your needs (and your happiness) best.
Keep reading to learn more, or jump to the business model you're most interested in:
Types of Pet Grooming Business Models
There are three primary types of pet grooming businesses: mobile, at-home and salons (brick-and-mortar shops).
Mobile pet grooming: This type of business operates using a van or other vehicle fitted with the necessary tools and equipment to provide pet grooming services. Mobile groomers come directly to customers' homes or other convenient locations such as parking lots or parks, making it ideal for busy pet parents who don't have time to take their pets to a salon.
Brick-and-mortar salon: A pet grooming shop is a physical space that's used exclusively for pet grooming services. There are different ways to run this type of business, including owning the salon and working alone, renting space in someone else's salon, owning a salon and renting out space to other groomers, or managing the salon and hiring groomers to work there. This article mainly focuses on potential shop owners rather than assistants or hired members of the grooming team.
At-home pet salon: Home-based groomers provide pet grooming services in their own homes. Customers bring their pets to the groomer's home, which can be less intimidating than going to a salon for some pets. Home-based grooming is also ideal for customers who prefer personalized attention and one-on-one interaction between their pets and the groomer.
🐶 Are you a new pet grooming business owner? Apply for the MoeGo Care Program! It's designed to help groomers like you kickstart your success.
Mobile Grooming Pros & Cons
Mobile pet grooming has its own set of pros and cons. While it offers convenience, flexibility, and lower overhead costs compared to traditional salons, it also comes with limitations such as weather-related challenges, water usage, and vehicle downtime.
Here's a breakdown of some important factors to consider when deciding if a mobile business model is right for you:
Overhead
Running a pet grooming business from a van is usually cheaper than running a salon. Salons have lots of bills to pay every month, like insurance and electricity, especially if you have many groomers working there. But being mobile comes with its own costs too, like buying gas and getting permits to park your van. However, these expenses are typically lower than the overhead costs of a big salon with lots of groomers.
Weather
Depending on where you live, weather can determine what model is best for your grooming business. In really hot or cold places, it can be hard to work in a van even if it's climate-controlled. It's possible to heat or cool a small space, but when you open the door, the outside air will get in. Plus, using a dryer in a small space during summer can make it tough to keep the van cool and comfortable for pets.
Convenience
Mobile pet grooming is great because it brings professional pet care services to the customer's home or another convenient location. This is not only convenient for pet parents, but also for groomers.
With mobile grooming, you can set your own hours and aren't restricted to a typical nine-to-five schedule. If you want to attend a grooming show, for example, you can just work around those days. It's much easier than closing up shop at a physical location.
Water Usage
When you're grooming pets in a mobile van, water usage is limited to the capacity of your van's water tank. You might need to conserve water or even refill your tank if you're grooming a lot of large dogs in one day.
At the end of the day, you'll need to dump the gray water, but it's not always as simple as letting it run into the gutter. You may need to find a permitted location and ask if you can drain your gray water tank there to avoid getting fined (such as a car wash), unless you have a place to dump your water on your own, private property.
These things might be inconvenient, but they're important to keep in mind because they will be part of your daily routine as a mobile groomer.
Vehicle Down Time
If your van breaks down, you won't be able to work and earn money while it's being repaired. Salons have their own problems too, but they don't happen as often as van troubles. Also, if you don't plan for down time when scheduling customers, you'll have to work extra hours to make up for it once your van is fixed.
Parking
If you have extra space at home, parking is a breeze. But if not, you might need to rent a spot. Be careful though, prices can vary wildly depending on where you live. So before assuming you'll find cheap parking, do some research.
Getting New Customers
Mobile groomers might struggle to attract new customers depending on their location, even if the van has the business name and phone number on it. Traditional grooming shops have an advantage by being in busy commercial areas where more people can see them. This means mobile groomers may need to spend more on advertising or marketing to get noticed.

However, mobile groomers have the advantage of being able to choose where they work. You're not limited to one specific area, so you can reach customers in different neighborhoods. This is especially beneficial because affordable retail space may not be located in wealthier areas, which could mean fewer potential customers.
With a van, you can easily travel to neighborhoods where more people are willing to pay for the convenience and luxury of a mobile grooming salon.
MoeGo is made just for groomers and helps with scheduling, payments, customer communication, and reducing no-shows. Get a demo to learn how MoeGo can help you!
Brick & Mortar Pros & Cons
Just like mobile grooming, a brick-and-mortar business model comes with advantages and drawbacks. Here are some of the ones we think are most important to consider:
Cost
Running a physical grooming shop can be expensive compared to a mobile van. Big shops cost more to keep cool during hot months, and when using multiple dryers simultaneously, expenses can add up quickly. Additionally, phone lines and internet services for businesses are costly compared to personal ones. If your shop shares a wall with or is located near other businesses, you may require additional (and more expensive) liability insurance as well. With a mobile van, these costs are generally lower.
Business Growth
Although more costly to run, brick-and-mortar offers growth opportunities. With a bigger space, you can scale your operations quickly. For instance, having one tub and multiple cages means grooming several pets simultaneously. This also means you get 100% of the profit from the dog you're grooming and a percentage from other dogs groomed by your team.

To expand a mobile grooming business, you need to buy a new van and equipment before hiring another groomer to take more clients.

Additionally, a brick-and-mortar shop can also sell pet supplies, food, toys, treats, etc. for additional income. This is not possible with mobile grooming.
Role Flexibility
Owning a brick-and-mortar shop offers undeniable perks, especially if you prefer a fixed schedule. You can also tailor your role within the business model to suit your strengths. For instance, you can focus on styling while delegating bathing duties to an assistant if you want to spend more face-to-face time with customers. Mobile grooming limits this flexibility as you'll mostly work solo or with one assistant.
Space
For some groomers, working in a small van is a considerable inconvenience. Most shops don't have this problem. Sure, the extra space may be a "luxury" if you don't really need it - but since you'll be spending a lot of time in your given workspace, it's important to consider whether or not you're ready to groom from a small space or prefer a little more wiggle room.
Team Management
Working in a salon means you will be around more people. This could be good or bad, depending on what you like. Some people like to work with others and lead a team. Others prefer working by themselves from their own van. Working alone can feel lonely for some, but it also means less time spent dealing with different personalities in the salon.
Think about what is important to you and choose which kind of environment you want to work in every day.
🐶 You may also like:

Tips for Starting Your Grooming Business
At-Home Salon Pros & Cons
At-home grooming salons blend some of the benefits of mobile grooming and traditional grooming shops together. There are some unique considerations to factor in as well, though, including:
Travel Time
One good thing about running a pet grooming business from home is that you don't have to spend time and money getting to work. However, this can make it harder for customers to come to you, and your business won't be as visible as if you drove around in a van or had a shop in a busy area. You may need to advertise more so people know about your business - unless word-of-mouth recommendations are enough.
Overhead
When you run your pet grooming business from home, you don't have to worry about paying rent to someone else, which means fewer overhead costs than a traditional shop. You'll still have to pay for things like heating and cooling, water, and other expenses - but you'll save money by not leasing a space or buying a van.
Work Environment
As a groomer, you know some animals may not enjoy the traditional salon experience. By offering one-on-one services in a calmer setting, you'll attract customers looking for more personalized care for their furry companions. However, keep in mind that this also means you may encounter pets who are naturally more anxious and harder to work with.
Privacy
Starting a home-based business means customers will be visiting your house. It's important to consider how you feel about this before moving or starting your grooming business in or attached-to your house. Remember, there is always some level of risk when inviting strangers (and their furry friends) into your home.
To protect yourself and your property, take safety measures like screening clients before accepting appointments or installing security cameras - and make sure you are comfortable with customers being on your private property.
Growth Opportunities
Home-based businesses often have limited growth potential due to space constraints or zoning regulations in residential areas. This could limit opportunities for expanding your services or scaling up your operations in the same way a traditional brick-and-mortar shop would be able to do.
Insurance Considerations
Home-based businesses come with unique risks associated with running a commercial operation out of a residential property which might impact insurance premiums.
Choosing the Right Business Model for You
Mobile, brick-and-mortar, or at home salons all have unique benefits and drawbacks that should be carefully considered before making a decision. Ultimately, the key is to do what you love and do it successfully. Think about your goals and needs before choosing a business model that works best for you.
Whether you choose to work from home or in a traditional salon, make sure you do your research so that you're adequately prepared not only to provide exceptional service but also to protect yourself, your goals, and your happiness.
Similar Blogs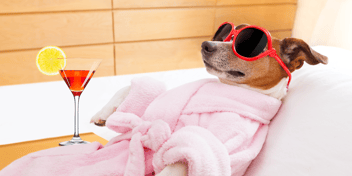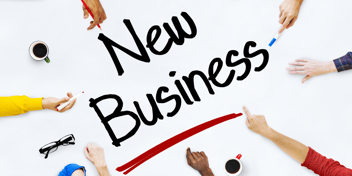 If you're thinking about opening your own grooming business we compiled the best advice from...
READ MORE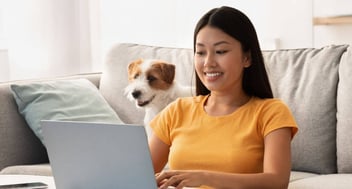 Thinking of starting a pet grooming business? You're definitely barking up the right tree, but...
READ MORE