6 Ways to Retain & Engage Customers with Email Marketing
by MoeGo on May 3, 2023 10:05:22 AM
Pet groomers work hard to deliver excellent service to their furry clients, which means time-consuming marketing efforts won't make the cut. Email marketing offers a powerful, affordable, and straightforward way to connect with existing customers, strengthen relationships, and retain their loyalty.
We'll explore the various ways pet grooming businesses can use email marketing to keep their customers engaged, boost customer loyalty, and ultimately, grow their business.
How to Retain & Engage Customers with Email Marketing
Pet groomers can use email marketing to communicate with customers by sending information on new services or products, promotions, booking reminders, and more.
Email marketing is also a great way to get feedback from customers and improve service quality, to help maintain customer service and grow the business.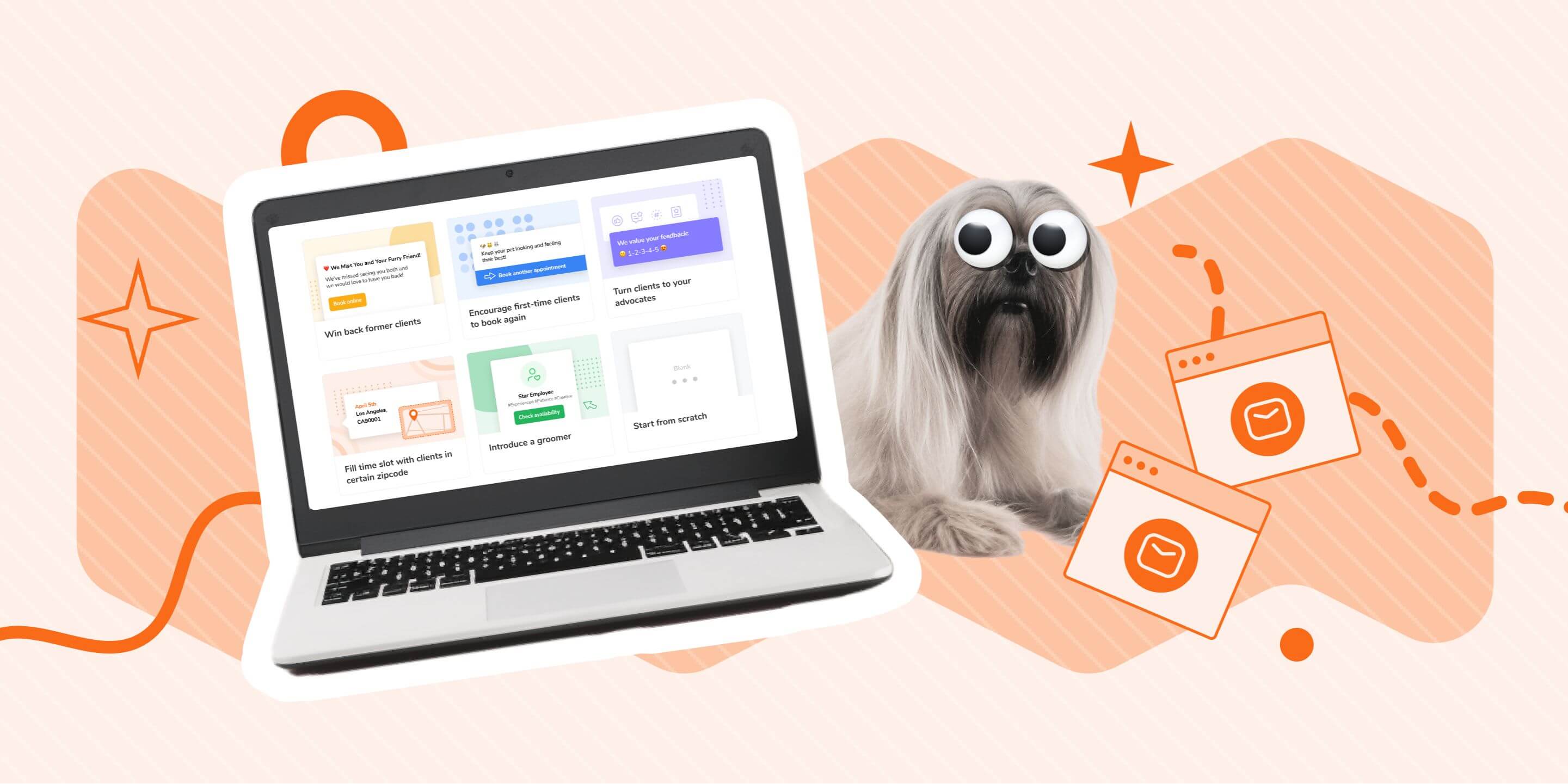 Here's a closer look at some of the ways groomers can use email marketing:
1) Win Back Former Clients
Pet groomers can use email marketing to win back former customers through personalized emails. Email reminders can be enough to re-engage customers with your brand.
If a customer left a low rating or review and has not rebooked, the email can be tailored to address their concerns. Or, you can send an email to an entire segment of customers who haven't booked within a designated amount of time.
2) Re-book New Customers
In an ideal world, new customers would rebook before they leave their first appointment. If they don't, though, you can encourage them to do so through a simple email reminder.
Rebooking is an easy way to ensure pets get their next groom on time, and reminding customers of this may be enough to turn a new customer into a regular.
3) Announcements
Pet groomers can use email marketing to announce important updates such as changes in business hours, upcoming holiday closures, new staff members, or promotions.
Email marketing helps groomers to communicate these changes in a timely manner, which ultimately contributes to better customer service and experience.
4) Getting More Reviews
Pet groomers can use email marketing to request feedback from customers about their experience. This is a great way to gather insight into areas of their business that could be improved to increase customer satisfaction.
Additionally, offers for discounts or promotions can be sent to customers who provide feedback, providing an added incentive. Email marketing can also help businesses get more positive reviews online, which in turn helps them get more new customers.
5) Optimize Your Mobile Grooming Route
Route optimization (booking clients in close proximity on the same day, for example) helps your business save time and money. If you find yourself with available slots you want to fill for a specific day in a specific area, you can target customers in that zip code, city, or neighborhood and let them know that you have booking slots available near them.
This level of customization not only helps you optimize your mobile grooming calendar but creates a positive experience for your clients too.
6) Educate Your Customers
Email marketing doesn't always have to sell your service or product. In fact, you can use emails to simply educate customers on at-home grooming best practices, tips for specific breed types, seasonal grooming information, and more.
This type of communication helps establish your business as an industry expert and builds a sense of trust between your customers and your brand.
Email Marketing Basics
Email marketing is not just about sending out random emails to your entire customer list. It involves developing a strategy that communicates with your customers, so they remain engaged and loyal to your business.
But before you can get started with your email marketing efforts, there are some basic best practices you need to know:
Keep the subject line clear and concise: We all know how cluttered email inboxes can be. In order to get customers to open your emails, make the subject clear and inviting. If you're communicating a special offer or new service, for example, say what it is in the subject line.

Have a clear call-to-action: Each email should have a clear purpose and call-to-action that encourages the customer to take a specific action, such as scheduling a grooming appointment or buying a pet grooming product.

Use your logo and branding when possible: One goal of email marketing is to remind customers about your business - and sometimes logos speak louder than words! Make sure to update your emails with your logo and brand colors when you can.
Customer Filters & Segmentation
One of the most important elements of email marketing is the ability to filter or "segment" your email list. This might include filtering by new clients, or multi-pet families. This allows you to target specific groups of customers with tailored messages that are more likely to resonate with them.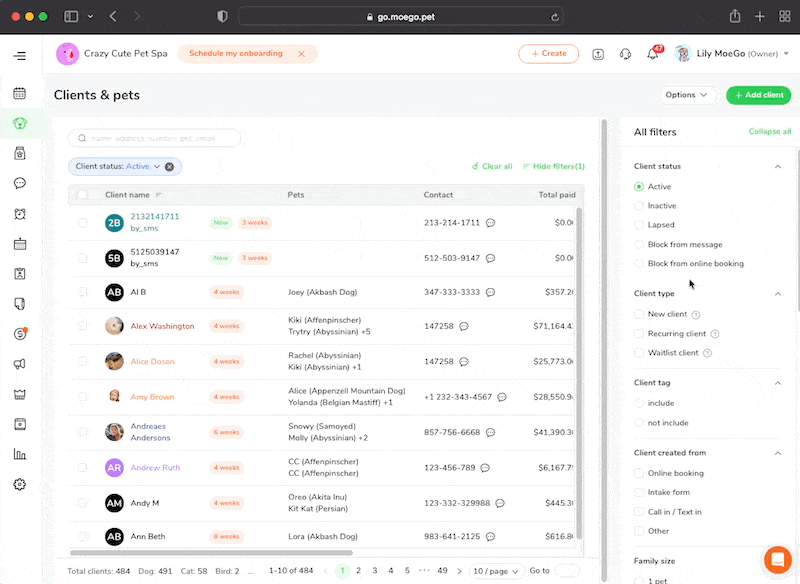 For example, if you have customers who are new but didn't rebook after their first visit, you can target them with an email that encourages them to come back. On the other hand, customers who regularly visit your business can receive emails with exclusive grooming tips or advice from the experts to help them stay engaged with your grooming brand.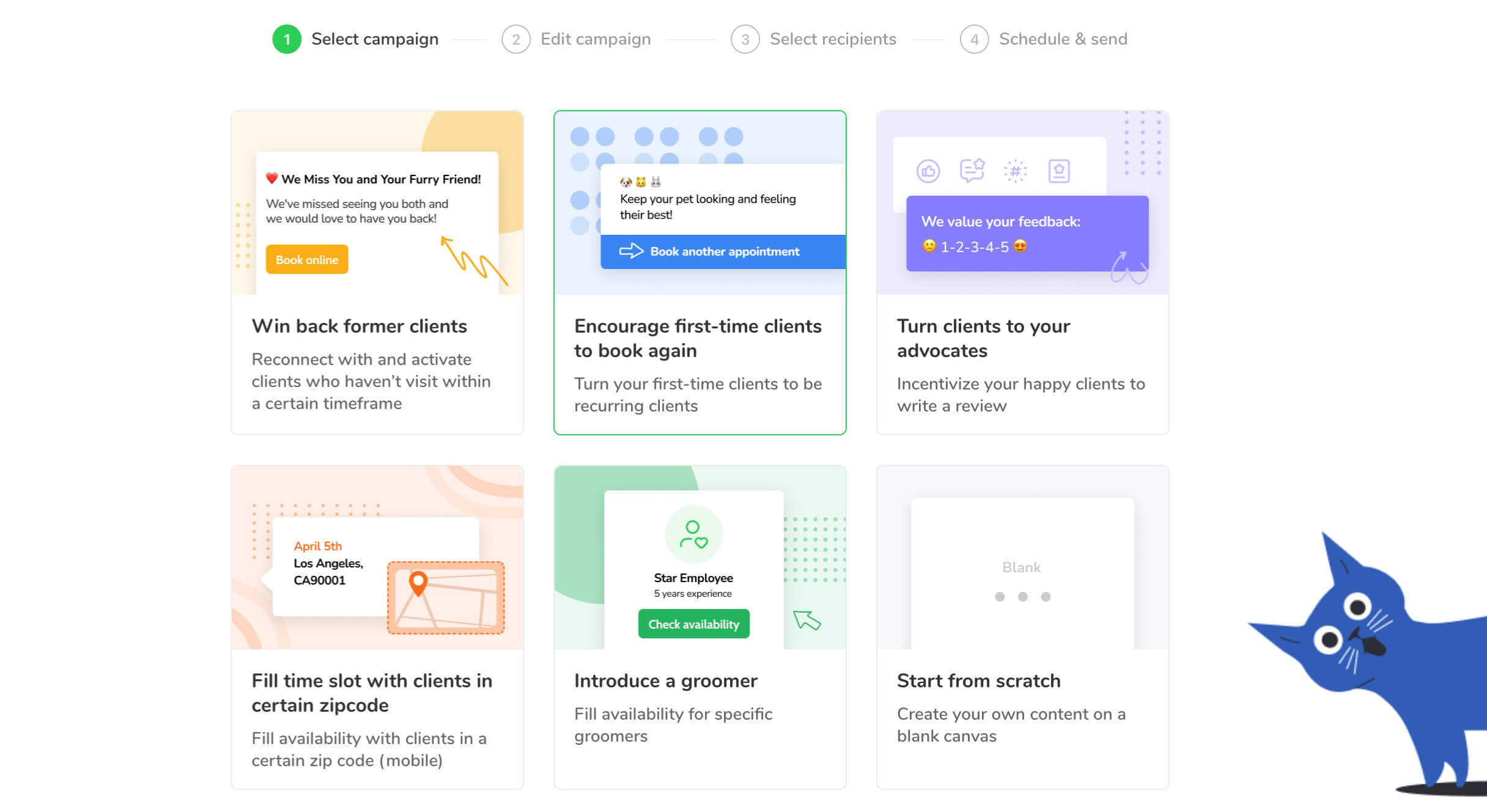 How to Use MoeGo's Email Marketing Campaigns
Inside MoeGo's Email Marketing platform, you can create personalized campaigns for customer segments, including first-time customers, customers with specific pet breeds or appointment histories, and more. Using MoeGo's Smart Client Filtering system, you can ensure that every email resonates with its target audience.
MoeGo's email marketing platform offers quite a few benefits; here are a few of our favorites:
Beautifully-designed and paw-lished templates to make your brand look great

Easy-to-use email editor that allows you to personalize your campaign according to customer needs

Built-in Smart Client Filtering system that enables you to target clients based on specific criteria such as appointment history or pet breed, creating highly effective campaigns that connect with your audience.

Built-in report metrics that evaluate the success of your campaigns, providing valuable insights to improve your marketing efforts.

Track appointments scheduled for recipients after receiving your campaign, including online booking requests and manually created appointments.
Grow Your Pet Grooming Business with MoeGo
From email marketing campaigns to online booking and customer messaging, MoeGo is built for passionate groomers who need a software designed with groomers in mind, so they can spend more time doing what they love. If you're a pet groomer looking to up your email marketing game, request a demo of MoeGo today.