The Future of Pet Appointments: Online Booking Features in Focus
by MoeGo on Oct 6, 2023 11:34:03 PM
In today's pet-loving world, there's a new force at play – millennials and Gen Z. They're not just shaping trends in fashion, food, and technology; they're also leading the charge as pet owners. In fact, Millennials and Gen Z make up the largest percentage of current pet owners (49%).
The primary demographic of pet owners comprises millennials and Gen Z. These generations are known for their tech-savviness and comfort with all things digital.
Current Pet Parent & Shopping Preferences

These digital natives have grown up in the age of the internet and smartphones, and their preferences reflect this reality. When it comes to booking pet grooming appointments, convenience and seamlessness are paramount. That's where the Online Booking system steps in, revolutionizing the pet grooming booking experience for both pet parents and groomers. By harnessing the power of the internet and smartphones, MoeGo's Online Booking revolutionizes the pet grooming booking experience, making it more convenient and seamless than ever before.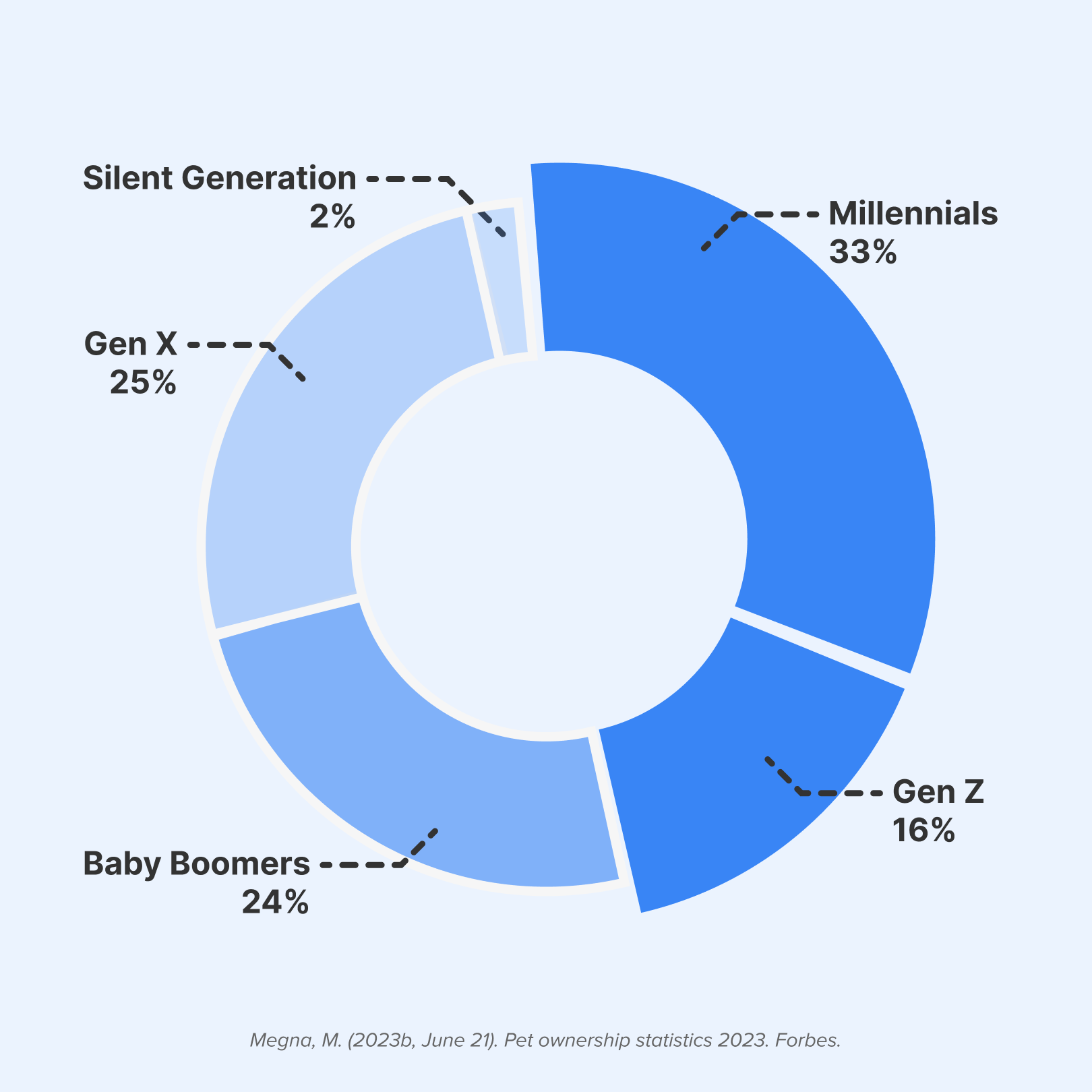 A Seamless Booking Experience for Pet Parents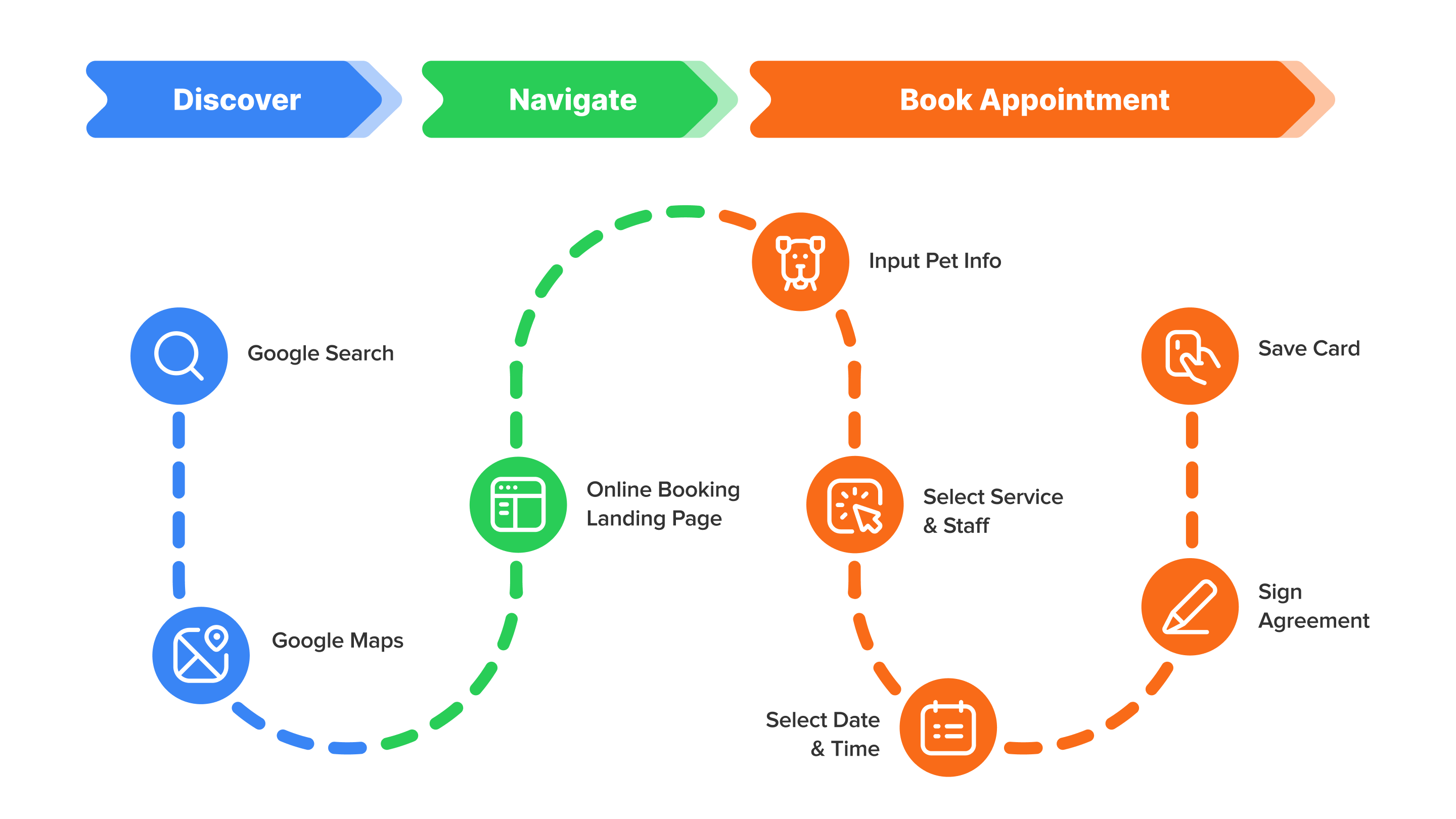 Stage 1: Discovering and Accessing Booking Options
Online Booking x Reserve with Google & More
Explore the grooming options nearby on Google Search & Maps, the businesses' websites, and social media platforms. Whether it's a click from the official website, a tap on social media, or through Reserve with Google itself, pet parents can book with ease.


Stage 2: Navigating to Online Booking
Digital Storefront: Online Booking Landing Page
Upon reaching the online booking landing page the business set up, pet parents would be directed to a user-friendly interface designed for effortless navigation. This is where the journey to a well-groomed pet begins.
Stage 3: Streamlined Online Booking Flow for an Effortlessly Book in Minutes
MoeGo's Online Booking prioritizes efficiency and simplicity. The online booking flow is designed to be intuitive and user-friendly, ensuring a seamless experience for pet parents. After providing the service area address (for mobile users), pet parents can input their pet's basic information. From there, they can easily select the desired service, choose from available staff members, and pick an available time slot. With just a few clicks, the grooming appointment is booked, saving valuable time and effort.
Client & Pet's Information Input
Whether it's vaccine records, grooming preferences, or health-related notes, pet parents will be asked to answer the customized questions you set up for them to ensure that the grooming experience is tailored to the specific needs of each pet.
For existing clients, the Online Booking system offers a convenient way to update outdated information in Client & Pet Profile when making an appointment. This feature ensures that groomers have real-time access to any changes in a pet's information, guaranteeing that the grooming session is up-to-date and tailored to the pet's requirements.
Service and Staff Selection
Choose the desired grooming service and, if preferred, select a specific staff member.
Date and Time Selection
Use the calendar to pick an available time slot that suits the pet parent's schedule.
Agreement Sign-off for Clear Expectations and Seamless Service
With the customizable agreement, we make sure that both pet parents and groomers are aligned on expectations and requirements. By reviewing and signing the agreement online, potential miscommunication or misunderstandings are minimized. This feature contributes to a seamless grooming experience, where everyone is on the same page.
Card-on-File: Secure and Convenient Payment
To simplify the payment process, the platform provides the Card-on-File option to securely store card information. With MoeGo Pay, pet parents can enjoy a hassle-free checkout experience. This optional feature saves time during checkouts and ensures a smooth end-to-end transaction.
A Streamlined Booking Experience for Grooming Professionals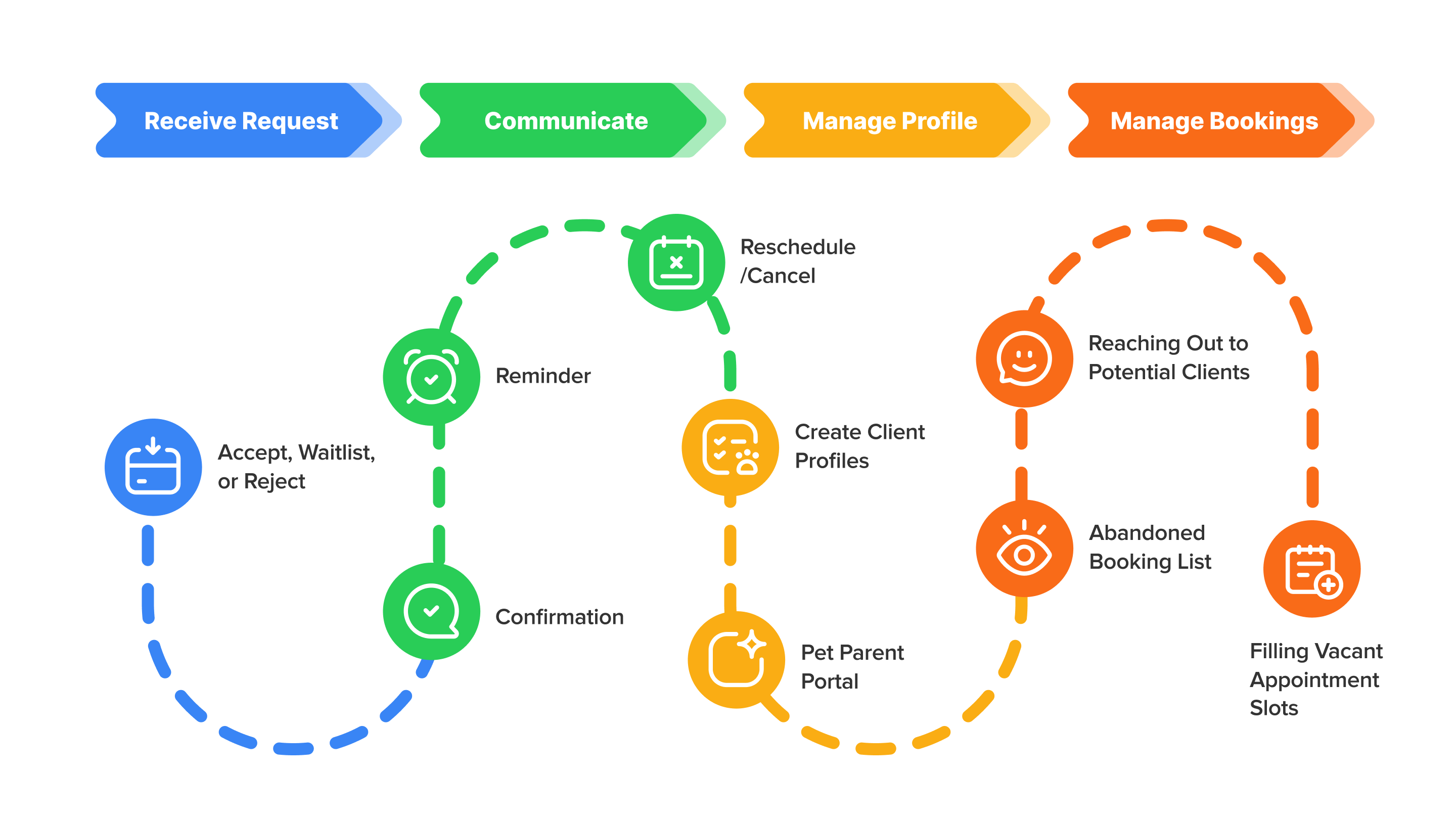 Stage 1: Receiving and Managing Booking Requests
Groomers promptly receive booking requests, ensuring they're always aware of incoming appointments and can effectively plan their schedules.
Accept, Move to Waitlist, or Reject
Groomers have the flexibility to take immediate action on booking requests, including accepting, moving to a waitlist, or rejecting requests based on their availability and preferences.
Stage 2: Streamlined Client Communication
Auto Messages Sent to Clients
You have the option to automatically send customized messages to clients through Auto Message. These personalized messages can be tailored to various stages of the booking process, enhancing communication and reducing the likelihood of missed appointments. There are mainly 4 types of messages, but you can customize them to your preferences:
1. Confirmation Messages
Once a booking request is accepted, the system automatically sends a confirmation message to the client. This message serves as a digital receipt, providing details such as the date, time, and location of the appointment. By automating this process, you can eliminate the need to manually send individual confirmation messages, focusing on doing what you love
2. Reminder Messages
To ensure clients don't forget their appointments, you can set up reminder messages to send ahead of the scheduled time. These reminders serve as gentle prompts, keeping clients informed and reducing the occurrence of no-shows or late arrivals. By automating reminder messages, groomers can focus on preparing for appointments rather than spending time manually sending reminders to each client.
3. Rescheduling or Cancellation Messages
Life can be unpredictable, and sometimes clients need to reschedule or cancel their appointments. You can automatically generate messages to facilitate this process. By providing clients with clear instructions on how to reschedule or cancel, groomers save time that would have otherwise been spent on back-and-forth communication to accommodate changes.
4. Follow-up Messages
Maintaining a positive relationship with clients is essential for repeat business. The system can send follow-up messages after appointments, expressing gratitude for their patronage and requesting feedback. These automated messages not only save time but also demonstrate professionalism and foster client loyalty.



Stage 3: Efficient Client Profile Management
The Clients & Pets profile offers seamless integration that facilitates the efficient management of client profiles for groomers. Here's how it works:
Creating New Profiles
When you onboard new clients, the system simplifies the profile creation process. You can easily input essential client information, such as name, contact details, pet details, and any specific notes or preferences.
Pet Parent Portal
The Pet Parent Portal provides a self-serve experience for pet parents to access all of their pet's information and appointments. They can view and manage their appointments, including booking, rescheduling, or canceling those that have not yet been confirmed by the business. They will also be able to see their upcoming and history appointments with businesses that they have visited.
Stage 4: Monitoring and Managing Bookings
The Online Booking system equips you with valuable tools to monitor and optimize your bookings, ensuring efficient utilization of your time and resources. Here's how you can take advantage of these features:
Abandoned Booking List
The Abandoned Booking List enables groomers to identify bookings where clients have started the booking process but did not complete it. This valuable insight allows groomers to understand potential bottlenecks in the booking process and take corrective measures to minimize abandonment rates.
Reaching Out to Potential Clients
In cases where potential clients have shown interest in booking but did not complete the process, you can reach out and follow up with personalized messages. By proactively engaging with these potential clients, groomers have the opportunity to address any concerns, provide additional information, or offer incentives to encourage them to complete the booking, ultimately increasing their client base.
Filling Vacant Appointment Slots
When you have vacant appointment slots due to cancellations or rescheduling, the system provides a means to efficiently fill those openings. By automatically identifying available time slots and notifying waitlisted clients or sending targeted messages to potential clients, you can maximize your booking capacity and boost revenue.