100+ Dog Grooming Business Name Ideas for 2023
by MoeGo on Mar 16, 2023 9:47:59 AM
Are you a dog groomer looking for creative and fun business name ideas? If so, you've come to the right place! In this post, we will provide you with more than 100 fun and inspiring names for your grooming salon or mobile business. We will also give tips on how to choose a great name that defines your brand and resonates with potential customers.
Jump ahead to see more:
🐶 Starting a grooming business? Kickstart your adventure with MoeGo's Care Program. It's designed to help owners like you achieve strong pawformance and speedy success!
Cute Names
Soggy Dog Salon
Pawlished & Primped
Clips & Coats Pet Grooming
Doggy Dos Salon
Fab n' Fluffy Doggy Salon
Bow Wow Salon & Boutique
Fabulous Furbabies Pet Grooming
Fab 'n Furry Pet Grooming
[Name]'s Manes & Tails
Shear Comfort Salon
[Name]'s Tailored Trims
Pooches 'n' Poodles Grooming
Classy Cuts Dog Grooming
Tidy Tails Dog Salon
Fur Real Pet Grooming
Puppy Paw-dicures
Pristine Pets Pampered Place
Snippety Snips
Cuddly Coiffers Pet Grooming
Pet Pawlor
Paws & Claws Groomers
Loving Lathers Grooming Salon
Pampered Paws Galore
Wags & Whiskers Salon
Class Act Canines
Brushed to Perfection Pet Spa
All Fluffed Up Pet Care Center
Spoiled Rotten Groomers & Boutique
Puppy Primped & Proper Pet Care
Prime Pooch Pet Parlor & Spa
Snips & Snuggles Pet Grooming
Dapper Names
Doggy Design Groomers
[Name]'s Pet Styling Salon
Tailored Tails Pet Spa
Tailwaggers Professional Pet Spa
Hounds Haven Grooming & Spa
Fido's Fabulous Finishing Parlor
Classy Clip Groomers & Boutique
Styled by the Hound Dog Groomers
Fixed Fur Family Groomers
Trim & Tidy Pet Salon
Doggone Dapper Dog Grooming
Furry Friends Pet Pampering
Brushed 'n Beautiful Pet Care
The Magic Mutt Professional Groomers
Pawspitality Grooming Services
Heavenly Hounds Pet Care & Groomers
Doghouse Tailwaggers
The Groom Room Pet Spa & Boutique
Bark Street Pet Spa
Pooches Posh Pet Services
Smooth Barking Dog Grooming Salon
Doggy Do's Professional Styling
The Urban Hound Groomers & Spa
Clippity Clop Dog Parlor & Shoppe
Tidy Tail Trimmers Professional Grooming Service
Spotless Paws Pet Care Center
Four Paw Fabulous Signature Grooming
Punny Names
Pawsitively Impeccable Pet Salon
Snip 'n Zip Pet Grooming
Doggy Diva Day Spa
Purr-fection Pet Cuts
Scruffy to Fluffy Grooming
Pupstyling Palace
Luscious Locks Pet Spa
Top Dog Groomers Lounge
Mutt n' Cutts Grooming Suite
Hair Today, Groom Tomorrow
Tufts and Tails
Furs 'n Fun Pet Salon
Precious Paws Pampering Parlor
Barkin' Beauties Pet Spa
Clean Bow Wow! Grooming
Perfectly Paw-dicured Pet Styling
Curly Furly Paradise Groomers
Doggone Stylish Cuts & Treats
Pampered Pets Primping Parlor
Pretty Paws Pet Palace
Clippin' & Dippin' Pet Spa
Fetching Fur-rific Grooming Boutique
The Dogfather Pet Groomers
Lickety Split Doggie Salon
K9 Klips and Kuts
Puppy Love Groomers
Doggy Delights Pet Spa
Fido's Fuzzy Fur Factory
Cool Canines Groomers
Throw Me a Bone Pet Parlor
Groomed to Pawfection
Barking Beauties Boutique
Just Fur You Groomers & Boutique
Luxurious Names
Canine Couture Grooming Palace
Deluxe Dogs Grooming Parlour
Fancy Dog Cuts of Distinction
Bedazzle the Beast Pet Styling Boutique
The Lap of Luxury Pet Grooming
Pampered Pooch Palace
Primped Pup Parlor
Royal Ruff Revamp
Fur Fabulous Grooming Boutique & Spa
High Society Pet Salon
Top Dog Fur Tailoring
Glamour Paws Pet Boutique & Day Spa
Pawfection Pet Care & Styling
Luxury Pooch Pampering
Canine Class & Couture Grooming
The Velvet Paw Grooming Salon
Plush Pup Pet Parlour
Sparkling Fur Dog Spa & Salon
The Boutique Pet Styling Loft
Regal Ruff Revamp Boutique
Posh Pawz Pet Spa
The Gilded Paw
Upscale Unleashed Pet Groomers
Pampered Pooch Pet Pawlour
Fussy Fido's Finishing Salon
High End Hounds Grooming & Spa
Luxury Look Dog Day Spa
Haute Hounds Spa & Groomers
Canine Couture Grooming Studio
🐾 MoeGo is made just for pet groomers and helps with booking, payments, customer communication, and more. Get your paws on a demo today and learn how MoeGo can help you!
How to Choose a Business Name
If you're looking to start a pet grooming business (mobile, brick-and-mortar shop, or at-home business model), your business name is the first step in developing your brand identity. Brand identity is the outward expression of your business that seeks to convey certain emotions and messages to your potential customers.
A strong brand identity helps people recognize, remember, and connect with your business. For a grooming business, this could range from creating a logo or mascot to using specific fonts and colors in marketing materials. Your business name is one of the first and most important things that will define this identity.
It also allows people to quickly recognize and recall details about your company as they browse through social media or come across other sources of information. Ultimately, strong branding enables you to stand out in an extremely competitive market and attract new customers who may not have considered you before.
Tips for Choosing the Right Name for Your Pet Grooming Business
Creating a perfect business name for your pet grooming company can be quite daunting. To help you out, here are some tips to keep in mind when selecting the paw-fect business name:
Keep it unique – Think of a word or phrase that competitors aren't using and conveys what your brand is all about. Is your business fun and playful? Or sophisticated and fancy? Pick a word or two that encapsulates your brand.
Consider your ideal customers – Your business name should resonate with the people you're trying to reach.
Brainstorm - Write down every idea that comes to mind (even if it doesn't seem like it will work). You never know what might end up sticking!
Rely on feedback – Ask friends, family, colleagues, and potential customers for their honest opinions on the names you come up with.
Make sure it's easy to spell & say - Don't make things too complicated for potential customers who may be searching for you online or asking referrals from friends.
Research competitors - Find out what other pet groomers in your area have chosen as their business names so you don't wind up being confused by potential customers as another similar one in town. Even rhyming with a competitor could make it hard for new customers to remember who you are.
Other Business Name Considerations
If you're planning to form an LLC for your grooming business, it's important to comply with the naming regulations in your state. Failure to do so may result in your business formation paperwork being rejected, which is extremely frustrating.
While business naming restrictions differ between states, here are a few things you should avoid no matter where your business operates:
You cannot use words that suggest you are a government entity, such as FBI, FDA, Treasurer or law enforcement.
You cannot imply you are a government unit such as a city or borough.
Only include licensing terms such as MD or CPA if you are licensed and credentialed to do so.
Refrain from using words associated with Olympics trademarked by IOC.
Avoid names suggesting illegal activity and discriminatory language
Choose a unique name to avoid infringing on another business' trademark or name.
When selecting a business name for your pet grooming business, it is important to not only consider the tips outlined above, but also legal considerations. Be sure to check your local state guidelines for naming a business before moving forward.
Note: We've done our best to ensure the names in this post are unique but cannot guarantee it. Check your local and state business registries to be sure the name you choose isn't already in use. Most states offer a database with this information.
🐩 If you liked this blog post, we think you'll like this one too! Check it out here: How to Choose the Right Business Model for Your Dog Grooming Business
Similar Blogs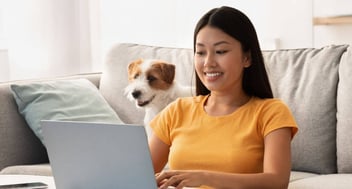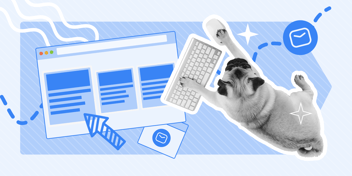 Email marketing is a paw-sitively fantastic way to connect with your customers. That's why we've...
READ MORE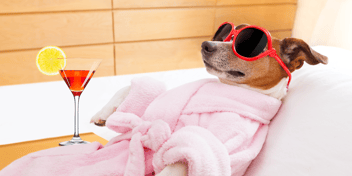 Prepare your operations with the workflow, pricing structure, and team that propels your business...
READ MORE