Tips for Starting Your Grooming Business
by MoeGo on Dec 11, 2022 11:50:15 AM
If you're thinking about opening your own grooming business we compiled the best advice from groomer owners themselves. When we asked

over 150 grooming owners

what advice they would give someone just opening their grooming business we received an influx of advice.
---
We will be putting together a step-by-step guide on opening your business but in the meantime check out the best advice from the expert yourself!
Say no when you want to
Say no to new clients, existing clients, favorite clients, etc, when you want to. Remember that is it okay to say no and that no is a complete sentence.
"Learn to say no. No, you will not tolerate rude clients. No, you don't have to feel like you must groom every nasty hard-to-handle dog. No clients do not get to negotiate your price."
Know your worth
A common theme of advice from almost every groomer is knowing your worth. Know your worth, charge your worth and never ever doubt it.
Business advice
While you may be an expert on pets and grooming, make sure you are set up on the business side of your new venture. Getting an accountant and a lawyer were two highly suggested actions you should take before opening your business. The lawyer will help you with your business registration in your state along with zoning laws, lease reviews, policy form reviews, etc. They will also be a valued asset if you ever run into a legal issue. Learn as much about business as you can, there are numerous free classes including SCORE business classes that have helped groomers nationwide.
"Make sure you have a really good accountant and attorney. Contact your area BBB for business leaders to mentor you. They can guide you through the day-to-day business stuff. The grooming side was easy. It was the business side that stumped us."
Your customers
First and foremost, make sure you know who your ideal customer is and cater to them. Don't cater to the 2 or 3 times a year clients who bring their matted dog to you every time. Make sure to take clients and pets who bring your joy. You will encounter rude clients, let them leave. For every Karen, there will be 5 new customers who want your business.
"Know who your ideal client is (person and dog alike) and stick to servicing just them and your business will be golden."
Your community
Get involved in your community! Build relationships with pet professionals in your area! Whether that be vets, trainers, pet supply stores, dog walkers, other groomers, etc. Word of mouth goes a long way in pet care and you will grow to get a lot of referrals. When you first open it may be worthwhile to visit these other pet professionals and introduce yourself and market yourself.
Don't be afraid to tell people you have a grooming business! You never know who is looking for a groomer!
"Make flyers and business cards and hand them to all the local vets, walk your dog and hand them out, go on a local paper round posting your flyers through people's doors. You can also go to dog cafés and hand them out at places like that."
Hiring
While all businesses start off at different sizes depending on their circumstances, a lot of groomers suggested that you don't hire right away. Take to time to do as much as you can by yourself and then hire when you have hit your limit. But when you do hire, ALWAYS be good to your employees. Get rid of the lazy ones and treat the good ones like gold.
"Do not hire employees out of the gate either do as much as you can alone until you really can't anymore."
Price high
This is a topic we could (and will) talk about forever. If you haven't already, it's worth reading our blog about pricing here. But, the theme we saw was to PRICE HIGH. Do not discount. I repeat, do not discount. You will think that when you start your business to start low and you increase as you learn what people are comfortable with but you should do the opposite. But do not be cheap, charge appropriately and price accordingly based on your overhead, your location, the economy, etc.
Also, charge extra for extra work. Dematting, fleas, behavior, etc. everything that is extra should cost extra. And last but not least, charge for no-shows, last-minute cancellations, late fees, etc. Set these prices at the beginning so everyone knows the expectations you have of them.
"Put your price is where it needs to be from day one."
Create policies
Create your policies, stand firm in your policies, and have the client sign off on them before they book an appointment. This means everything from pick up/late arrivals, cancellations, no-show policies, fleas, dematting, etc.) This will set the expectations for your customer and they will be aware of these policies from the first day they become a customer.
"Think of a policy form that your clients sign outlining what your business policies are for appts, no-shows, De-matting perimeters & fees, how you handle injuries and whose paying for, taking pics, anything you want your customers to know about how your business operates and this will save you issues in the future."
Set boundaries
Opening a grooming business will be a huge commitment so make sure to set boundaries for yourself. This includes scheduling time off and knowing your limits. There will be times when you want to make an exception for that one dog on your day off but make sure to stick to the boundaries you set from the beginning.
Taking time for yourself will ensure that you don't get burned out, which is a real thing. Make sure you take those days off and don't do ANYTHING work-related. Just because you're not grooming a dog doesn't mean you aren't working. Make sure to take care of yourself, stretch, eat lunch, and go to the bathroom! Schedule food breaks, bathroom breaks, and mental health breaks, they are all necessary!
"Boundaries. Boundaries. Boundaries. Set them, and be strict with them from the beginning."
You got this!
Last but not least, work hard and have fun! As cheesy as it may be, never stop believing in yourself and remember why you wanted to open this business.
"Take a deep breath, you got this!"
Similar Blogs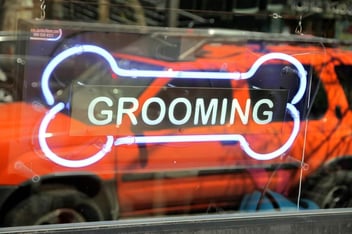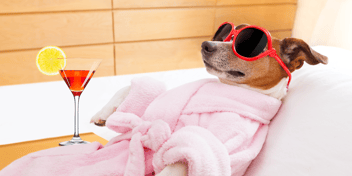 Prepare your operations with the workflow, pricing structure, and team that propels your business...
READ MORE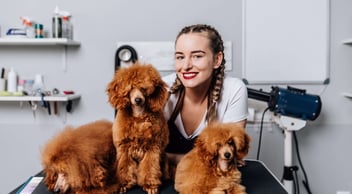 As a pet groomer, you'll need to decide on the right business model if you're starting your own...
READ MORE