From Fintech to Pet Grooming: Galaxy Grooming's Path to 500+ Clients in 6 Months
by MoeGo on Oct 21, 2023 2:53:33 PM
*To respect the user's request for anonymity, the names "Aiden" and "Galaxy Grooming" have been used as fictional placeholders in this case study.
1 van. 6 months. 500+ clients. 700+ dogs. How did it happen?
In April 2023, Aiden started Galaxy Grooming. With only one mobile van, the business accumulated 500+ clients with a total of 787 dogs 🐕, with the highest monthly revenue reaching $12,000 💵 within the first six months of opening. Recently, Galaxy Grooming has expanded into a 2-van grooming business 🚚🚛.
This case study delves into Aiden's entrepreneurial path, the strategic decisions he made, and the extraordinary success that followed.
About Aiden
"Aiden has been working in fintech before he decided to venture into the world of pet grooming. After extensive research, he made sure that with his background in process automation and UI design, he can do it better."
✂️ Background and Inspiration
Recognizing the prevalence of outdated practices in the pet grooming industry that relied heavily on pen-and-paper methods, Aiden started looking for solutions. He quickly realized a critical issue: groomers were bogged down by repetitive tasks, hindering their ability to focus on customer satisfaction and business growth.


A Fully Automated Grooming Business Operation? YES.
☎️ One Hour a Day, Keeps the Phone Calls Away
A few clicks are all it takes for Aiden to manage his appointments every night:
"I can go to sleep knowing that things will be taken care of. As an entrepreneur breaking into a new industry, I don't feel as overwhelmed."

Aiden shared that once he had configured essential elements like Online Booking, his daily grooming business management became straightforward. With the intuitive design and groomer-centric features of MoeGo, his day-to-day tasks were efficiently streamlined.
"If you have software to automate the mundane tasks, you could save the admin staff salary and then use that money to be more competitive, put it back into your equipment, pay your people more competitively, and then your business is going to run more smoothly."

He could effortlessly oversee his grooming operations by simply glancing at the app in the evenings. This light-touch management approach not only made the workload minimal but also ensured a high level of efficiency within Galaxy Grooming. It allowed Aiden to focus on strategic aspects of the business, customer satisfaction, and growth, making the management of Galaxy Grooming an epitome of simplicity and effectiveness.
🧐 "MoeGo Turned out to be a Game Changer." Why?
Automation in Nature
MoeGo's automation capabilities significantly reduced the manual, time-consuming tasks that typically bog down groomers. This would allow Galaxy Grooming to focus on customer satisfaction and business growth.
Automation in Nature
Efficient Online Booking
Aiden could efficiently manage bookings, reducing the chances of overbooking and scheduling conflicts, and ensuring a smooth customer experience.
Efficient Online Booking
User-Friendly Interface
The user-friendly interface made it easy for Aiden to adapt to the software quickly, minimizing the learning curve and enhancing operational efficiency.
User-Friendly Interface
Designed and Made for Grooming Professionals
MoeGo's platform is meticulously crafted, considering the unique needs and challenges of grooming professionals. It simplifies their daily tasks so that they can focus on doing what they love.
Designed and Made for Grooming Professionals
Aiden came across MoeGo during his online search for booking software. Intrigued by its groomer-centric and automated nature, he set up a demo session to explore its capabilities further. One particular feature, Route Optimization, stood out and proved to be a game-changer for Aiden.
By automating the booking process, Galaxy Grooming could provide flexible scheduling options, catering to the individual needs of each client. This flexibility became a key factor in attracting and retaining customers.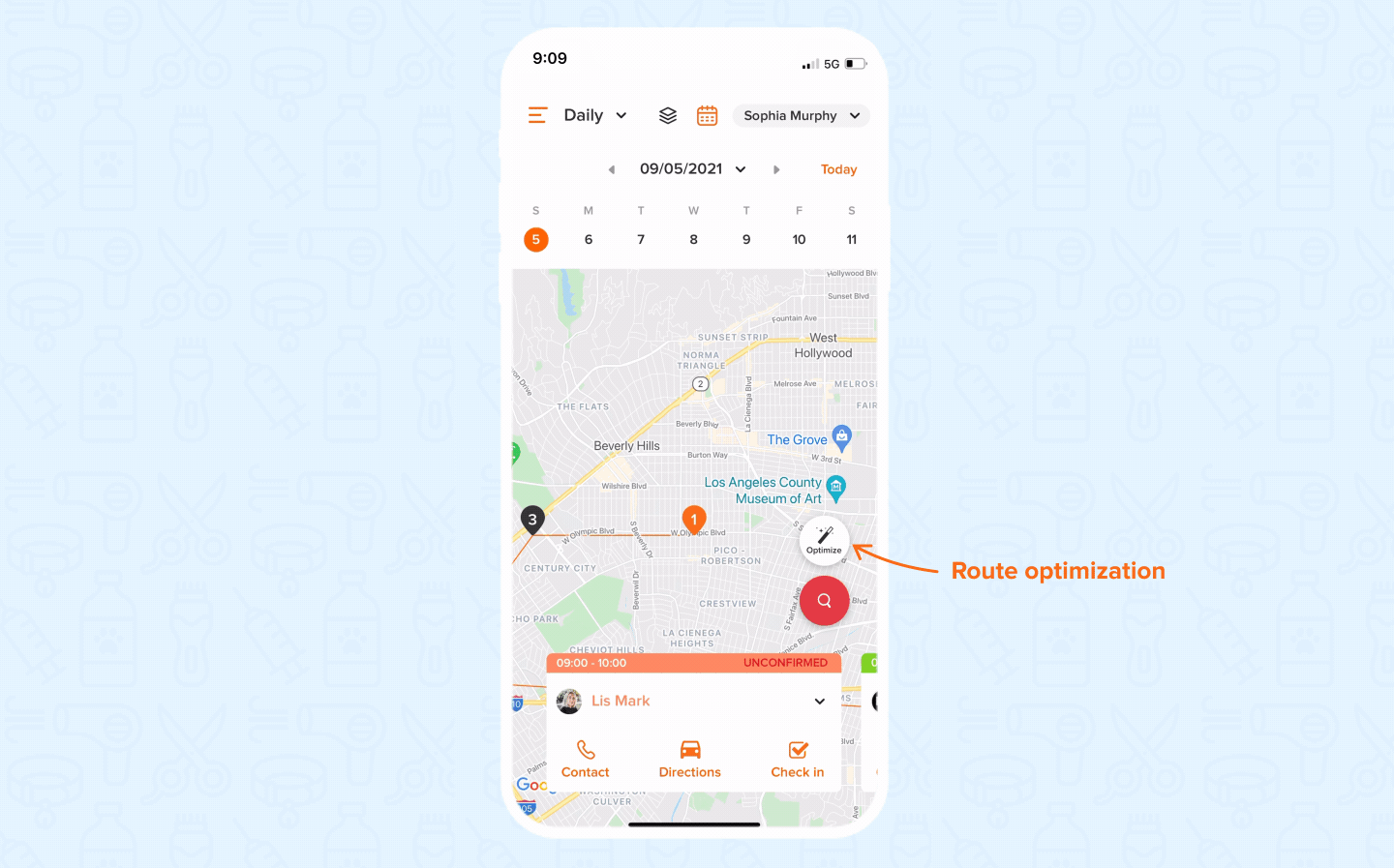 Market Positioning and Customer Acquisition
💰 Targeting the Luxury Market
Aiden positioned Galaxy Grooming as a luxury service, aiming to attract individuals who desired the convenience of having their pets groomed without leaving the comfort of their homes. He specifically targeted tech-savvy customers who valued high-quality service and sought a modern grooming experience.

👥 Attracting Customers Online & IRL
When asked about his initial marketing efforts, Aiden revealed that he allocated $100 per month toward online advertisements on platforms such as Google and Yelp. This investment proved successful, generating approximately 20% of his customer base.
Additionally, Aiden utilized social media platforms to showcase his groomers' work, leveraging their skills and creativity to attract potential clients. He also received a significant portion of his customers from retiring businesses and mobile van advertising. Here is a quick breakdown of Aiden's clientele sources:
📱 Google and Yelp ads: 20%
✂️ Retiring grooming businesses: 30%
🚚 Truck advertising: 50%
🏆 The First 6-Month Results
Within the first six months of opening, Galaxy Grooming has achieved remarkable milestones:
A total of 542 clients with 787 dogs
It serves 50 clients and 80 dogs per month on average.
The highest monthly revenue of $12,000
90% of these clients became recurring customers, demonstrating a high level of satisfaction and loyalty
Looking Ahead: Building Bonds in the Grooming Community
Aiden's journey with Galaxy Grooming not only sheds light on the pivotal role of a software solution but also underscores the tightly-knit, mutually supportive nature of the grooming community.
With his background in fintech, Aiden has always valued the importance of streamlined software tools in modern businesses. Recognizing that grooming is a field where groomers often rely on one another for guidance and assistance, Aiden has taken his knowledge a step further.
As a participant in the MoeGo Care Program, Aiden actively shares his firsthand experience with the program, highlighting the benefits of a 50% discount on the subscription fee for the first six months. "This allowed me to invest more in my business while taking full advantage of the powerful features offered by MoeGo." Aiden said.
He believes that this opportunity has provided him with a valuable opportunity to establish and grow his business while keeping costs manageable, and he wishes that all groomers could take advantage of this program's incredible offerings.
Aiden's efforts in supporting the grooming community haven't stopped here. In addition, he actively extends a helping hand to local groomers who might be grappling with tech-related challenges. He has offered his expertise to set up MoeGo for them, fine-tuning their operations to enhance efficiency and productivity. Together, they continue to build a supportive and thriving grooming community ✨.