A Groomer's Prepbook for Holiday Rush: 2023 Edition
by MoeGo on Nov 10, 2023 2:44:04 PM
As the holiday season tiptoes in with jingling bells and twinkling lights, your furry clients are also ready to sleigh the style game. From tailoring appointments to unwrapping festive grooming tips, our guide will help you navigate the holiday season with ease – because nothing says "Happy Howlidays" like a well-groomed pet and an easy-breezy salon.
In this blog, we'll dive into essential strategies, expert advice, and creative ideas to ensure that you and your four-legged customers are prepared for the holiday rush.
Let's trim the stress, not just the fur! ✂️🎄❄️
---
1. Craft the Holiday Experience In-Person and Online
Whether you're on wheels or nestled in a salon, embracing the festive spirit begins by bringing the festive vibes into your workspace. From Grooming Reports to Tipping Screens, Marketing Campaigns, and Online Booking QR Code, MoeGo brings the enchantment of the festivities to every aspect of your business. Currently, MoeGo offers Thanksgiving themes that are live until the end of November, with Christmas themes coming in December.
2. From Paws to Present: Thoughtful Gift Ideas for this Season
What's a better way to spread joy than with thoughtful gifts? We asked our MoeGo Community about the Christmas presents they're preparing. From customized ornaments to homemade treats, these gift ideas are bound to make this holiday season special for your clients and their furry companions.
🎄 Christmas ornaments: Add a personal touch with pets' names or paw prints
🪮 Mini brushing kits: Perfect for hands-on pet parents for regular at-home pampering before the next appointment.
🧣 Headbands & bandanas: Dress up your furry clients after service with festive headbands or holiday-themed bandanas.
💌 Thank you cards: Whether it's a written card or a holiday-themed email using the Marketing Campaign feature, a little note can speak volumes.
🎾 Holiday toys: From gingerbread man to reindeer plush squeaky, sprinkle some festive bliss into the playtime of your furry clients.
💰 Special promotion: A coupon for the really really loyal clients.


3. Pre-Booking for Peace of Mind and Customer Loyalty
Pre-booking appointments is one of the top tips we received from our MoeGo Community for the busy holiday season. By allowing clients to schedule in advance, it not only helps manage your schedule more effectively but also provides peace of mind for both groomers and pet parents.
Preventing Last-Minute Scheduling Hassles
One of the main advantages of pre-booking is that it helps avoid the chaos of last-minute scheduling. As appointment requests flood in like snowflakes in a seasonal flurry, having clients booked in advance allows you to better plan your day and allocate resources efficiently.
Ensuring Customer Satisfaction and Peace of Mind
By offering pre-booking options, you provide peace of mind to pet parents, knowing that their furry companions have secured a spot in your busy schedule. This reassurance can alleviate any anxieties they may have about availability during the holiday rush, ultimately leading to happier and more trusting clients.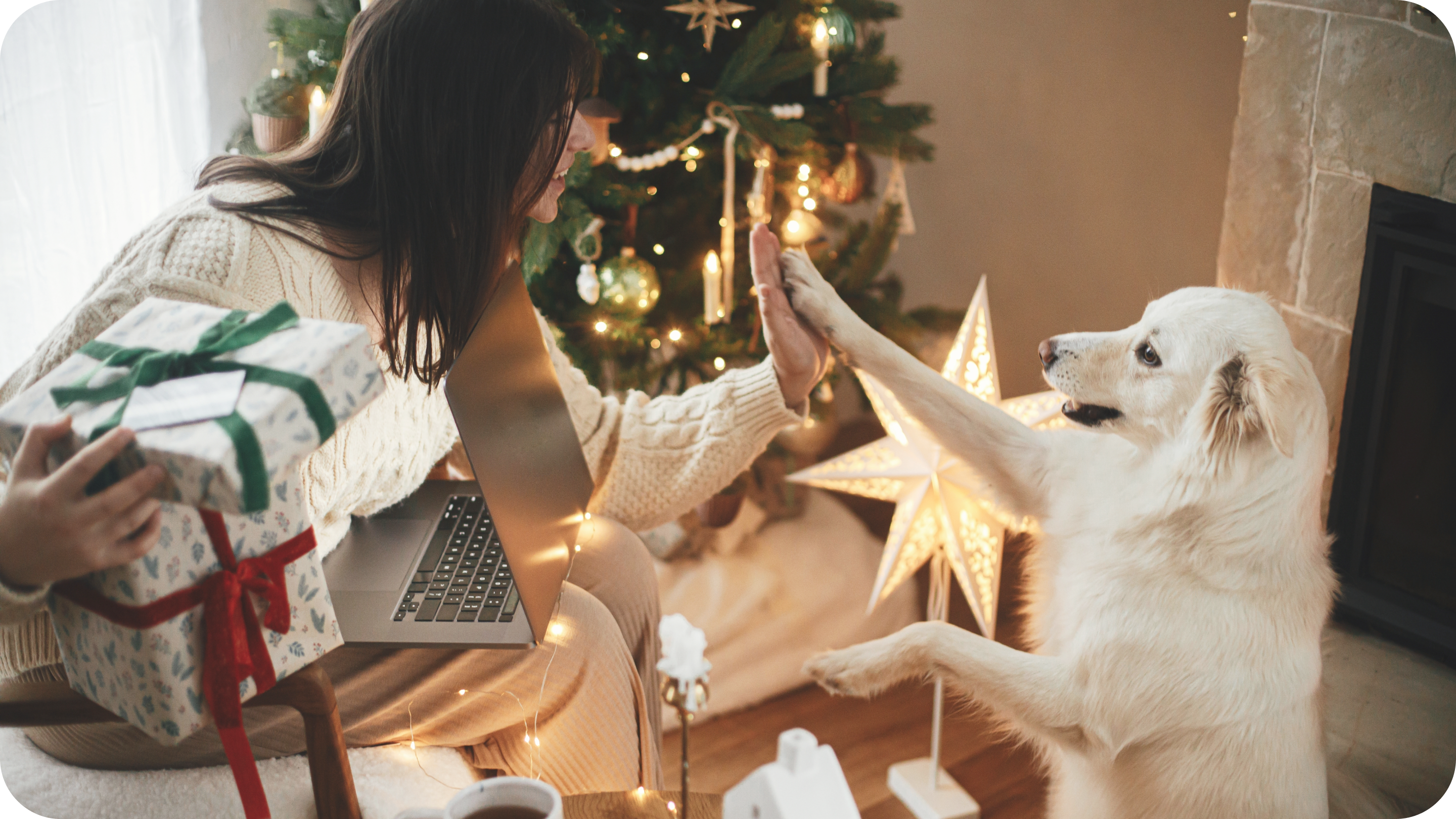 4. Prioritize Hygiene during the Holiday Peak
During the bustling holiday season, it's crucial to prioritize hygiene and elevate your sanitation routine to ensure a safe and clean environment. Pay special attention to high-touch surfaces such as doorknobs 🚪, countertops 🗃️, and grooming tools ✂️, as these areas are more prone to germs. Implement a robust disinfection routine using pet-friendly sprays to effectively eliminate any potential pathogens.

Additionally, regularly checking and maintaining proper air ventilation in your space is essential to provide our furry guests with fresh and clean air. By taking these proactive measures, you can confidently welcome both pets and their owners during the holiday peak, providing them with peace of mind and a hygienic experience.




5. Groomer's Wellness Within
We understand that it's easy to get caught up in the hustle and bustle of grooming appointments to make sure every pet looks their best during the holiday season. However, amidst the busy schedule, it's crucial to prioritize your own wellness.

Remember to take a quick lunch break to refuel and maintain sustained energy throughout the day. Additionally, plan brief moments for yourself to recharge – whether it's taking a few minutes to stretch or even sneaking in a power nap, especially if you're on the go with a mobile grooming setup. These simple, periodic mindfulness check-ins are a vital gift to yourself during the festive rush. By taking care of your own well-being, you'll be better equipped to provide top-notch grooming services and ensure a positive experience for both pets and their owners.
---