2 Salons, 11 Vans, and Thriving: How Pampered Tails Doubled Growth
by MoeGo on Sep 15, 2023 6:17:00 PM
This success story unfolds the secrets of how, armed with innovation and perseverance, Pampered Tails doubled in size, operating 2 salons 🏠 and a fleet of 11 grooming vans 🚚🚛🚐. Yet, This achievement wasn't a mere stroke of luck; it stemmed from a commitment to "quality over quantity," customer satisfaction, and the transformative power of technology.
At the core of Pampered Tails' journey is the owner Nelson Quintero, an immigrant from Venezuela who started as a bather and transformed his dream into a thriving reality. From navigating with map books and sending invoices via mail to today's streamlined operations, MoeGo played a pivotal role. Together, we'll explore how Pampered Tails harnessed the power of tech excellence with MoeGo to optimize efficiency, foster growth, and double in size.


About Nelson Quintero
Nelson's inspiration for Pampered Tails began when he adopted his dog, Trinity, in 1998. After moving to the US in 2002, he channeled his love for dogs into his grooming career.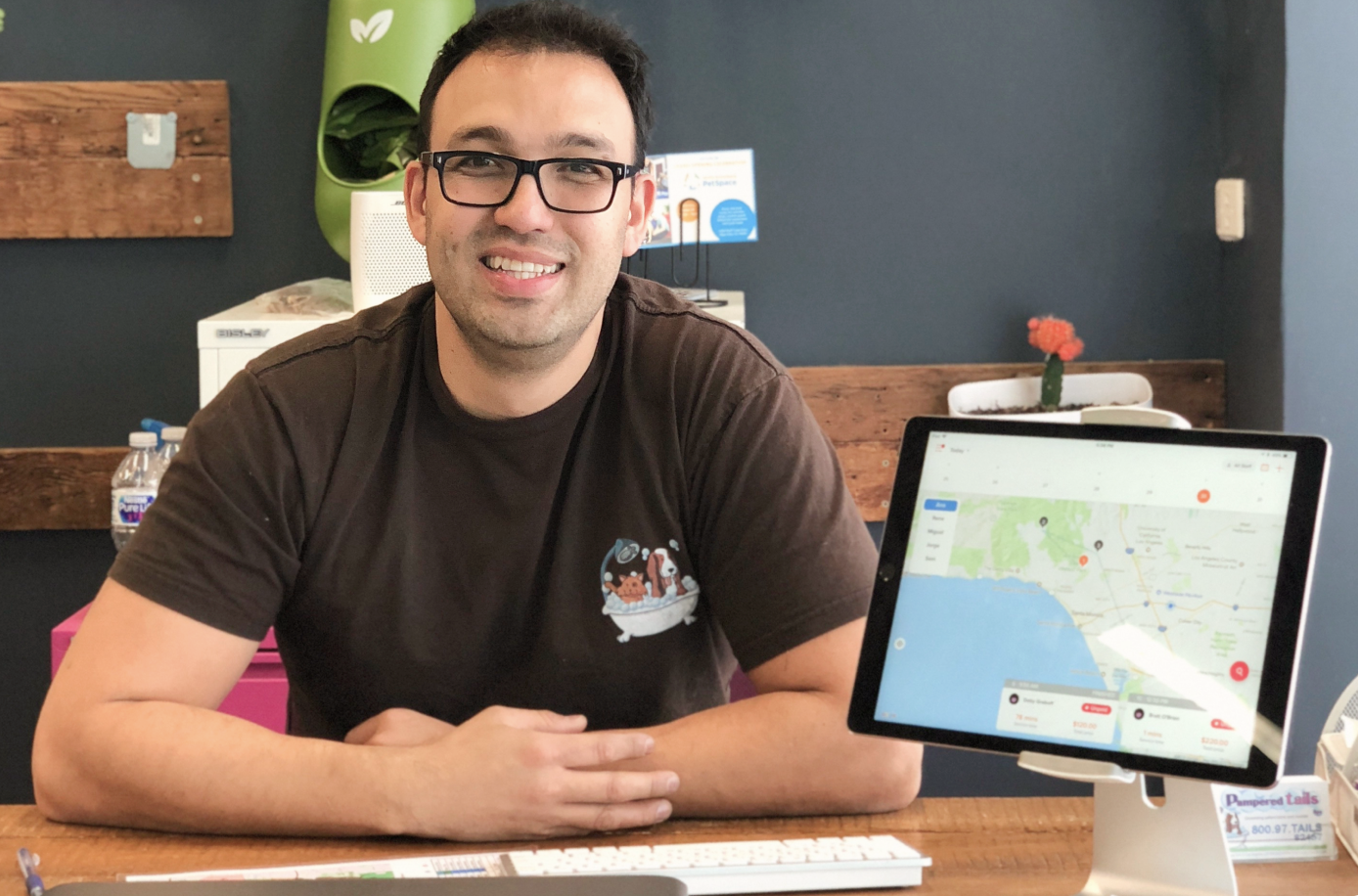 Streamlined Operations
On the Fast Lane to Success: From 5 Vans to 2 Salons and 11 Vans in 8 Years
Before MoeGo: Navigating the Complexity of 4 Different Software
Handling Multiple Software Systems
In Pampered Tails' early days, Nelson had four separate software systems. Each served specific purposes: one for invoicing and payments, another for credit card transactions, a third for scheduling appointments, and a fourth for client communication via emails and texts.
Handling Multiple Software Systems
Training Costs and Operational Challenges
Training employees to ouse multiple software systems was challenging and led to common issues like missed calls, payment discrepancies, and forgotten appointments. To handle this complexity, Nelson had to hire an extra person, driving up expenses.
Training Costs and Operational Challenges
A Relatively Slower Growth
The administrative burden slowed down business growth. "In my first 10 years, I was able to get a new van every 2 or 3 years. When I reached year 10 in 2015, I had 4 vans." Nelson said.
A Relatively Slower Growth
After MoeGo: Streamlined Efficiency and Enhanced Groomer Care
"I told them everything. I told the team what a pet groomer's software needed to be, and you made my dream software come true."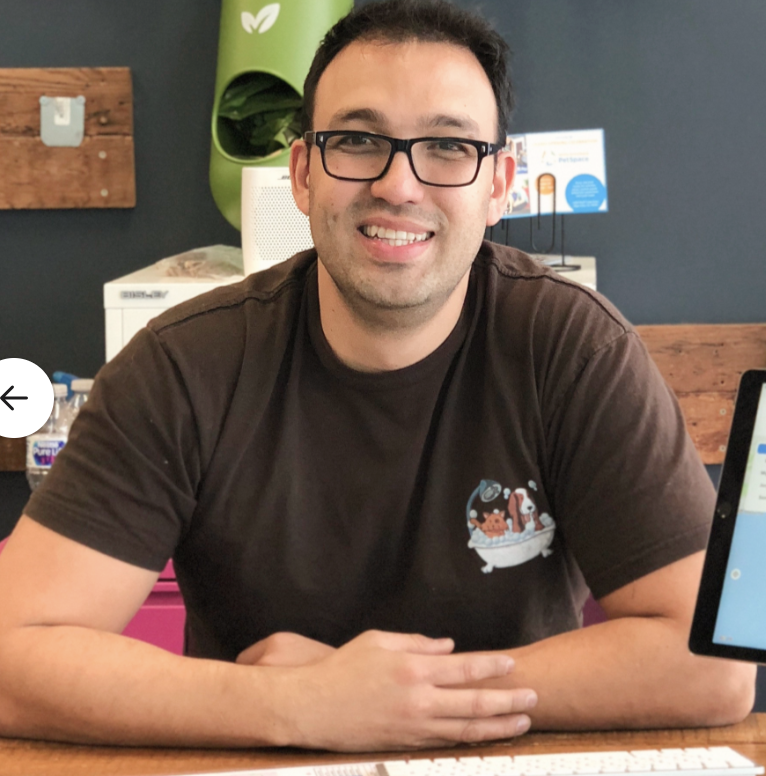 Nelson Quintero
Founder of Pampered Tails
From Costly Complexity to Seamless Efficiency: MoeGo's
All-in-One Solution
For Nelson, MoeGo's an all-in-one platform revolutionized Pampered Tails' operations. By consolidating disparate software functions into a single cohesive system, it simplified workflows, eliminating the need to juggle multiple programs. This not only reduced training complexities but also slashed the occurrence of human errors that had previously hindered the company's progress. Groomers could now seamlessly handle appointments, payments, and client communication – all within a unified platform.
Enhanced Groomer Care with
Groomer-First Solutions
Nelson has always taken employee's well-being as one of the top priorities of his business. "Dedication, listening to your groomers, and becoming family with your employees are what make Pampered Tails grow," he said. While maintaining consistency can be difficult, Nelson relies on pre-set agreements, including the basic service agreement as well as Release Forms for specific situations such as senior pets, matted pets, and double-coated pets. These scenarios are commonly encountered in the grooming industry and without proper explanation, they can lead to complications. By providing clients with these forms, potential risks are communicated upfront, reducing the need for costly explanations and minimizing the chances of conflicts arising.
Result: 🏠 x 2 + 🚚 x 11
Today, eight years on, Pampered Tails proudly operates 2 salons and a remarkable fleet of 11 vans, achieving a growth rate that has doubled compared to the pre-MoeGo era.
MoeGo Pay
The Secret to Only 1 No-Show: MoeGo Pay as the Safeguard for Business Success
Before MoeGo: The No-Show Struggle


A Constant Battle with No-Shows & Last-Minute Cancellations
Pampered Tails used to rely on traditional methods to secure appointments and take payments, and was left vulnerable to no-shows or last-minute cancellations. These not only disrupted the schedule but also resulted in lost revenue and, at times, a discouraging experience for employees.
A Constant Battle with No-Shows & Last-Minute Cancellations
After MoeGo: 3 Steps to Boost Booking Reliability Through Agreement and MoeGo Pay
Step 1: Crystal Clear Policies with a
Service Agreement
Nelson uses a pre-set service agreement to outline his policies on cancellations and no-shows. This agreement is presented to clients during the online booking process or sent to them to sign if they booked using other methods. Clients must agree to the terms before confirming their appointment.

This way, the business can make sure that clients fully understand the business's policies before securing an appointment, providing better transparency for pet parents in the process.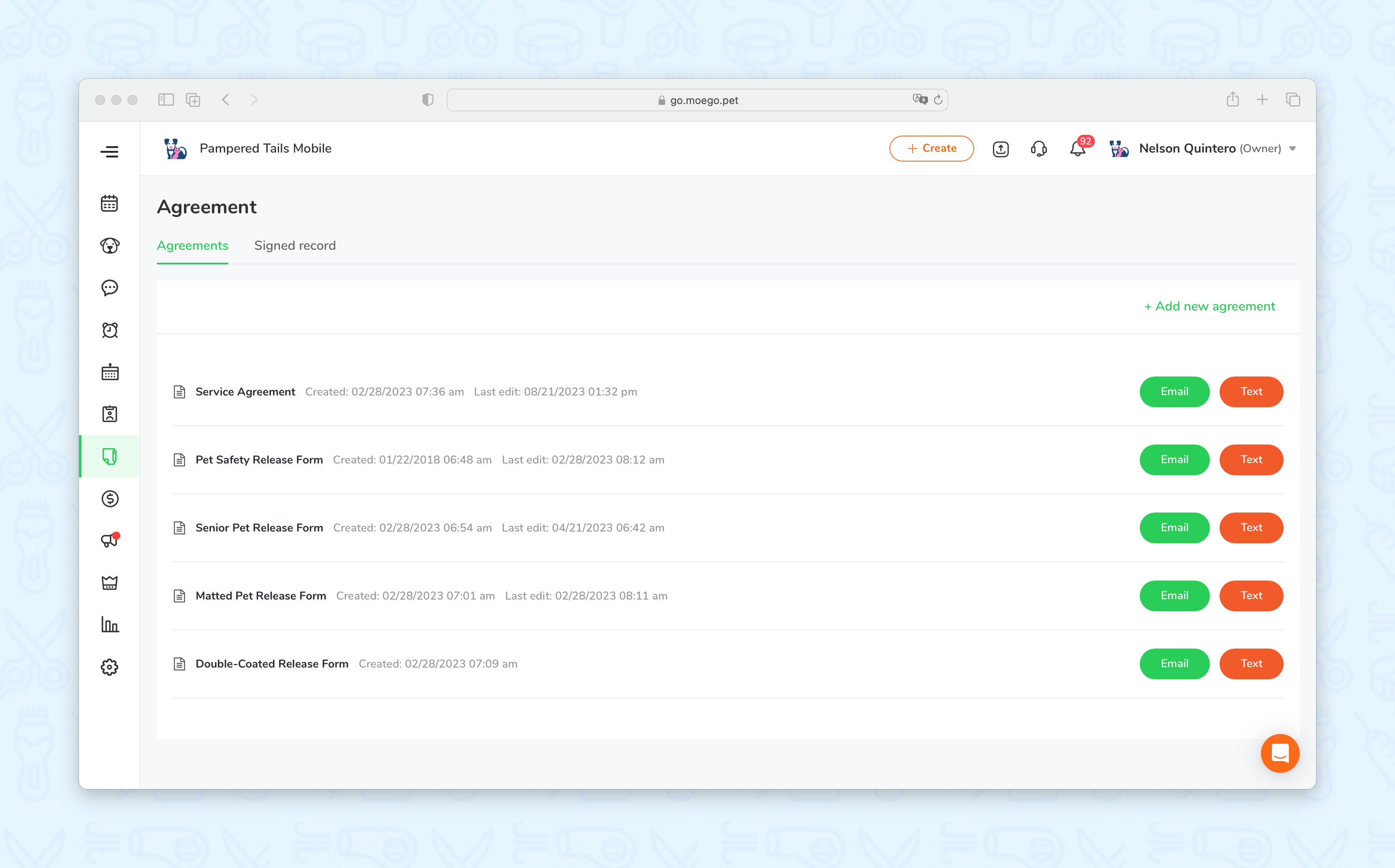 Step 2:

Adding Card on File Before Confirming Appointments
In addition to a service agreement, Pampered Tails uses the Card on File feature to further ensure booking reliability. This requires clients to save a valid credit or debit card in their MoeGo client profile. This could be done through text, intake form, manual input during a call or conversation, or asking the client to input it during the Online Booking process. These flexible methods make it easy for staff to add a Card on File under various circumstances, making sure that no revenue is lost when an appointment gets canceled last minute.
Step 3: Securing Card on File with
Card Authentication
Pampered Tails uses Card Authentication to verify the validity and functionality of a card by taking a $0.5 charge from the account and immediately refunding it. This almost unfelt action solidifies the security of the Card on File, guaranteeing its accuracy and deterring users from entering random card numbers or abandoning bookings.
By holding clients accountable for their appointments, the likelihood of no-shows is significantly reduced. Additionally, having a secure card on file enables Pampered Tails to charge clients who fail to show up for their appointments, thereby preventing lost revenue.
Result: 👀 Only 1 No-Show
From the start of 2023 until August, Pampered Tails experienced just a single no-show – a remarkable testament to the improvements made.
Online Booking
Converting Clicks to Clients with Online Booking: Where Visitors Become Happy Customers
Before MoeGo: The Pet Industry Needed a Grooming-Specific Tech Solution


Out-Dated Scheduling Systems That Are Not Built for Grooming Industry
In his early days in the grooming industry, Nelson depended on pen and paper to keep track of bookings. When he adopted his first online appointment software, the system primarily allowed clients to book appointments, but lacked the advanced efficiency-enhancing features that are designed to prioritize the needs of groomers.
Out-Dated Scheduling Systems That Are Not Built for Grooming Industry

After MoeGo: Streamlined Online Booking Efficiency
Customized
Online Booking

Landing Pages

Pampered Tails has taken its customer experience to the next level by adopting MoeGo's Online Booking feature. With individual landing pages for each of their 2 salons and separate landing pages for their 11 mobile units based on service locations in Camarillo and West LA, pet parents enjoy a customized and hassle-free booking process. The impressive results speak for themselves, with over 900 unique visits and 300 monthly booking requests generated through Online Booking at Pampered Tails.


Win Back Customers with
Abandoned Booking List
Despite the streamlined booking process, occasional roadblocks can still sometimes lead to abandoned bookings. MoeGo's Abandoned Booking feature tracks these instances and offers businesses the opportunity to win back customers. Through recovery outreach via text and email campaigns, one of Pampered Tails' salons achieved an impressive 83% recovery rate in the past 30 days. This high rate of recovery not only results in increased revenue for the business, but also ensures that clients are satisfied with their experience and more likely to return.


Result: 🚀 Over 30% of Online Visits Become Happy Customers
Pampered Tails' online booking site received an average of 300 visitors per month, with a remarkable conversion rate of around 30%. This influx of online traffic not only streamlined the booking process but also boosted customer engagement, contributing to the business's success.